'Prime Time' Scotties stomp Olympian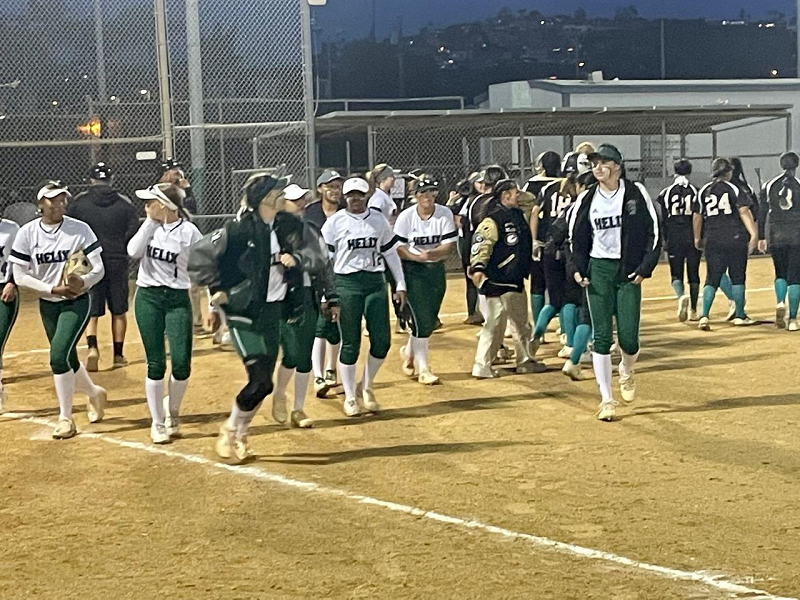 2022 EAST COUNTY PREP SOFTBALL
By Tyler Gribble
Special to ECS.com
LA MESA – The Helix Highlanders proved to be more than ready for the prime time. In the first of two home games scheduled under the lights, the Scotties exploded for seven runs in the fourth inning, more than enough to run-rule visiting Olympian, 11-1 in five innings.
The seven-run fourth, combined with a dominant pitching performance by Sophia Ramuno, was all the Highlanders needed to bring Saturday (Mar. 19) evening's contest to an early conclusion.
The biggest moments came in the big rally when Kori Jonilonis, who just re-joined the active roster, pumped a home run.
"The count was full and I got a good pitch that looked down the middle a little inside and I took it yard," said Jonilonis. "Hearing everyone screaming for me and all the cheers was such a great feeling to come back, too."
Ramuno, after striking out the side to lead off the game, dug into the batter's box in the bottom of the first and lined a 2-run double off of the left-field fence, scoring Lauren Farace and Angel Riggins and extending her team's early lead to 3. Ramuno stepped in again in the third, driving in Farace with a double to right-center to make the score 4-0.
The Eagles earned their lone run of the game off of a home run by catcher Katie Steinmetz in the top of the fourth inning. Not only did the homer break up the shutout bid, it gained the attention of the Highlanders.
Helix responded with run-scoring singles by Riggins, Amber Young, and Ramuno. The 7-run rally culminated with a three-run home run, driven over the scoreboard by Jonilonis in her first game back from injury.
"I finally got the okay to hit after I partially tore my MCL," said Jonilonis about her second appearance of the season after being sidelined for eight contests. "I wasn't trying to do too much especially since it was my first at-bats in a month, so I was really just working on 'see ball-hit ball'"
Ramuno closed the door in the top of the fifth, earning her sixth pitching win of the season while striking out eleven batters, allowing five hits and one run.
The Scotties will host their second primetime ballgame this Thursday against Torrey Pines at 6 pm. This Tuesday's contest with Escondido has been returned to its original 4 p.m. first pitch.
410 total views, 1 views today