Helix's Laub, Haar maul Mira Mesa
2022 EAST COUNTY PREP BASEBALL
ECS staff report
LA MESA — Helix High Wyatt Laub belted an early 3-run home run while slugging third baseman Ben Haar drove in three runs in leading the Scotties to a comfortable 9-2 verdict over Mira Mesa in Tuesday's (Mar. 22) non-league affair since they had a bye on Opening Day of the Grossmont Hills League schedule.
Laub's shot to left field capped a sequence when Helix placed the first three batters on base, then Laub went yard for a 4-0 lead.
.Leadoff batter Cameron Tarling, who reach three times on a single and a pair of walks, then James Whitman hit plunked by a pitch.
Haar followed with an RBI single, then shook up the Mira Mesa pitcher even more with a rare stolen base.
Despite the open base, Laub fouled off a 2-2 pitch, then sent the ensuing fastball out, which Mira Mesa never recovered from.
Helix starting pitcher Leyton Wirschem took it from there, lasting four easy innings in allowing just three hits. The bullpen was again solid behind Armando Nuanez for an inning, then a pair of no-hit frames by Trevor Morgan.
In the second, Marauders pitching as an error and a pair of walks loaded the bases for Haar, who already has two grand slams this season.
Instead, Haar pulled a hot roller to the right side for two more RBI and a 5-0 advantage
Mira Mesa compounded its problems by allowing Whitman to reach base three times on a walk and twice getting hit by a pitch, allowing Haar and Laub to follow continue their season-long run of offensive production.
Helix moves to 6-4 overall; the Marauders slipped to 3-8; they haven't defeated the Highlanders in more than a decade (Mar. 5, 2012).
El Capitan 12, Mount Miguel 7
SPRING VALLEY — When El Capitan receives pitching they can be okay. When the Vaqueros don't have their arms at full tilt, they don't.
However, the V's get both, you endure a wild Grossmont Valley League opener, surviving for a closer-than-it-looks 12-7 triumph at Mount Miguel on Tuesday (Mar. 22).
El Capitan erupted for a 5-0 lead, but then the arms started to slip in allowing seven consecutive Matadors runs to blow the lead.
But when the Mount Miguel defense displayed its usually poor inning of defense — this time in the sixth rather than the fifth — the Vaqueros tallied six unanswered runs for the win.
Talk about forgettable streaks by both pitching staffs and the defenses.
For El Capitan, the first five hitters on the batting card all had an RBI, then No. 6 hitting Cole Winsor collect three RBI Included was a two-run shot to left for a 5-0 cushion in the second.
The Matadors rally was fueled by a turning a double play in the fourth, then the bats followed.
Doubles in the fifth by pinch-hitter Jr. Ettleman and Steve Guley were surrounded by three walks and two El Cap errors, leading to five runs.
Two additional runs came home in the 7-run rally to grab a 7-5 lead on two more errors and two more walks.
Then without explanation, El Cap battled back with four runs in the sixth and two more in the seventh.
A pair of singles started the go-ahead rally, but the runs came home on walks and fielder's choice plays.
This contest was a scorekeeper's nightmare.
For El Capitan (5-6 overall, 1-0 GVL), shortstop Brody McAuliffe went 3-for-4, while center fielder Wyatt Carrillo and left fielder Bradley Larsen. This trio went a collective 7-for-13 and a walk for the top-third of the Vaqueros lineup card,
'Mount Miguel (4-6, 0-1 GVL) saw first baseman Eric Sandoval (2-for-3) as the lone player with multiple hits. Fortunately, for the Matadors they expect the return of their No. 1 pitcher, Eddie Delgado very soon.
"We fought back from a 5-0 deficit to take a 7-5 lead," noted head coach Frank Coit. "But our one poor defensive inning was the sixth instead of the fifth and it cost us a ballgame. We need to get this figured out — it's very frustrating, of course."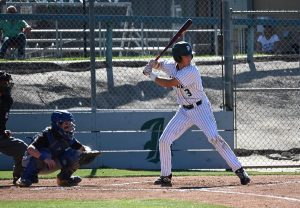 Valhalla 9, West Hills 4
RANCHO SAN DIEGO — In a scenario similar to the El Capitan-Mount Miguel contest, Valhalla jumped out to an early lead, almost gave it all away, then coasted home late in a 9-4 decision over visiting West Hills in Tuesday's (Mar. 22) Grossmont Valley League opener.
.Norsemen catcher Mace Wheeler and David Gordon both recorded two RBI to pace the 10-hit attack.
Just as soon after Valhalla built a 4-run cushion, the Wolf Pack closed to with 4-3 through four frames. However, the Norsemen scored three times in the fifth to pull away for good.
Valhalla starting pitcher Colton Stinkeoway fell one batter short of a complete game, striking out nine Wolf Pack batters. Half od the four runs allowed were unearned..
For West Hills, first baseman John Leija and shortstop Nate Sykowski had two hits each.
Valhalla (4-7 overall, 1-0 GVL) has captured three straight following a forgetful start, West Hills is 4-6 (0-1 GVL) .

Elsewhere in the GVL
Monte Vista and ECVHS were not scheduled. Weare told that with permission from the Grossmont Fistrict, the Braves will only play two rounds of ballgamesd against the other five schools, while thosefive will meet each other three times.