Look what's 'Bruin' at Foothills Christian
2022 EAST COUNTY PREP BASEBALL
By Nick Pellegrino
ECS staff writer
SPRING VALLEY — Steeped in irony, the Foothills Christian baseball team is much like the path one needs to travel in order to arrive at the Knights' home ballpark, located at Mount Miguel High.
From the parking lot, one needs to endure steel grades that prevent erosion, yet can be quite bumpy, but then settled into a smooth area making the final 100 yards of the journey much more plausible.
The same can be said for the Knights in their 12-3 non-league victory over previously unbeaten Chula Vista-High Tech High Bruins in Wednesday's (Mar. 34) lone ballgame involving East County schools.
Foothills Christian (4-7 overall) need to get through some early rough spots, but the second stage was clear and smooth, tallying 12 unanswered runs following a quick 3-0 deficit nedeed to be overcome.
"I had a hard time trying to locate my low pitches in the first inning, so some of their better players were hitting the ball" admitted Knights starting pitcher John Popka. "But after that, I think I only allowed one or two more hits — my location was really good and everything was working at the end."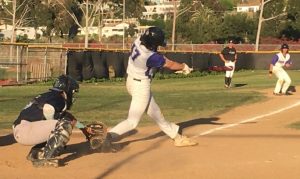 Good enough for Popka to last four full innings to garner the victory. Popka struck out five Bruins batters.
The FCHS bullpen did even better. Taylor Casey, in his return from the injury list, did even better fice five strikeouts among his six outs, then Seth Gilbody closed out the seventh with a 1-2-3 performance, all on strikes.
The absence of Casey has been a consideration in the slow start of the Knights. But now that the senior from Mount Helix is back, the ballclub can make a run for Pacific League and CIFSDS titles.
Casey, a first baseman when not on the mound, batted 3-for-3 with a double, a walk, and four RBI. Casey already has a baseball scholarship waiting for him :at San Diego Christian College in Santee.
Meanwhile, Popka has a pair of college options among two of San Diego Christian's rivals in the Golden State Athletic Conference — either Arizona Christian or Vanguard University in Costa Mesa.
"In fact, one of our former players, Kip Famolaro, plays for Vanguard," noted Popka.
Popka also appreciated the offensive support.
Besides Casey, who's a senior, we had Billy Temple, who's also a senior," he added.
Temple has been a catalyst at the top of the batting order all season, along with Elijah Morr. Meanwhile, Zach Ortiz batted 2-for-3 with a pair of RBI.
Foothills Christian next plays Saturday morning against El Capitan, at 10:30 a.m., from Hostetler Field in Lakeside.
CV-HTH (5-1) finished with seven hits, including two by third baseman Carlos Quinones, featuring a two-run triple in the first.
Mata-torium
The new gymnasium currently under construction at Mount Miguel is entering its final phases. There will also be a building with Physical Education Department offices and locker rooms. Final completion date is yet to be announced.