Hornets sting; more Mountain madness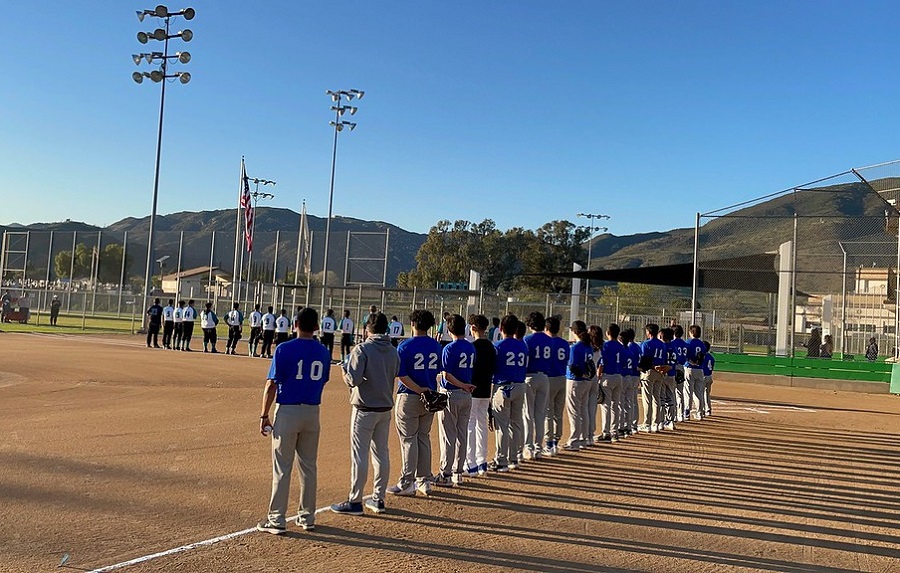 2022 EAST COUNTY PREP BASEBALL
By Nick Pellegrino
CS staff writer
EL CAJON — Through decades of pain and suffering in almost every sport, there has always been an effort to "talk up" teams at El Cajon Valley High athletics, especially in baseball.
Even the Braves' wild 13-13 tie with Kearny sparked interest because it was one of the highest-scoring draws ever recorded in the region (see more on this below).
However, sometimes all that can be reported is the pain, so here goes.
On Thursday (Mar. 24), with the Braves one out away from a 7-5 victory to move one game above the .500 plateau, instead the visiting Calipatria Hornets from the Imperial Valley scored nine times — all after two were down — in the seventh to punish ECVHS, 14-7, in non-league action.
It was nearly a "walk-off: decision for the visiting ballclub with the sun setting. However, the Braves took the sportsmanship approach and took their final three at-bats under heavily darkening skies to avoid the controversy of a suspended contest.
"We had a two-run lead with two outs and completely fell apart," lamented Braves head coach Clifton Thomas. "We gave up nine rights with two outs and that was something we couldn't bounce back from."
On the first pitch after ECVHS registered the second out, Calipatria saw first baseman Diego Romero drill a game-tying, 2-run single.
Two batters later, Hornet left fielder Juan Perez sent a shallow fly ball to right field. But with the low sun blinding the defender, the ball fell for a basehit to bring home the go-ahead marker.
Eight consecutive batters reached base before an inning-ending strikeout ended the nightmare.
"Chris Cosio, our starter, pitched well — well enough to where he should have received the win," Thomas added. "I made a decision to go with another pitcher and it didn't work out."
One could feel the pain coming from Thomas' voice although he maintained his composure during an extremely difficult time.
"Credit to Calipatria. They went up there in that last inning and were aggressive at the plate. They didn't try to do much and put the ball where it needed to be at the right moment. They are a good team, but we have to be better at finishing if we want to have a chance to make the playoffs and make a strong run.?
For El Cajon Valley (2-3-1 overall), Eduardo Cazarez registered three hits, including a double when the Braves scored five times in the fifth to take a 7-4 lead.
Calipatria answered with a run in the sixth before its breakout trip to the plate.
Tie game followup
PALA INDIAN RESERVATION — Unlike the Barona Nation reservation of Kumeyaay Indians, which is kicking off "the greater community" (translation: people not from its tribal land north of Lakeside, the band up at Pala is welcoming neighbors from across the North County and beyond, including the first-year baseball program at Bonsall High (part of the Fallbrook Union district),
Although the Sharks of Bayfront Charter of Chula Vista won that first contest, 21-2, the Bonsall Legionnaires  — that's their nickname –hit the record book in a ballgame with Julian this past Monday (Mar. 21).
Despite playing on a lighted field, the contest was called following seven regulation innings in a wild 18-18 deadlock.
As mentioned two weeks ago when El Cajon Valley tied Kearny, that tie is considered the East County "metro area" mark by a Grossmont District school in the 21st Century. However, some schools in the backcountry have reported their own craziness when it comes to draws.
According to several sources, Mountain Empire once garnered a crazy 14-14 deadlock with The Bishop's on Mar. 12, 2011.
Interestingly, the RedHawks and Knights also set the local 21st Century mark with an 11-11 draw on Mar. 9, 2009.
Thus, winless Julian (0-3-1) will be included in the record book in the school's first tie game this century.
Note: Following the passage of a bill that was signed into law by Governor Gavin Newsom, it requires all California public schools to start classes no earlier than 8:30 a.m. starting next school year.
Translation: there will be significantly less time in the afternoon for sports activities, especially baseball and softball, until Daylight Savings Time ends, especially since so few schools have lights.
The possible result: more ties!