'O' Henry! Eagles blank Steele Canyon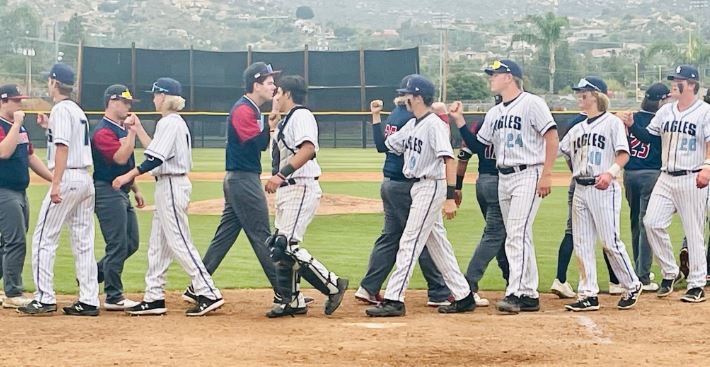 2022 EAST COUNTY PREP BASEBALL

By Nick Pellegrino
ECS staff writer
EL CAJON — In a year of outstanding pitching performances, the new season leader brought back memories of the wood-at era after Granite Hills' Chandler Henry out-dueled Gabe Diaz of Steele Canyon in a classic 1-0 triumph.
The Granite Hills League ballgame was decided on a fifth-inning double by Jacob Embleton. The shot to center field followed a two-out walk to No. 9 batter Hudson Beamon to turn over the batting order.
However, there's much, much more. In this case, Henry was barely, barely able to collect out No. 21 to polish off his complete game.
Following a pair of strikeouts, Steele Canyon veteran Will James sent a screamer to right field, which could've placed a potential game-tying runner into scoring position.
However, Eagles defender Ethan McNish-Heider registered a diving catch to cap a memorable ballgame, as the Eagles (10-2 overall) to remain on top of GHL with Santana, both at 3-0.
"Our team played very well today," said Chandler. "There were some clutch hitting and plays in the field."
"The biggest thing that helped me put up a "zero' was my off-speed pitch. I felt I could really control where the pitch was going."
Meanwhile, Steele Canyon (7-6), the newcomer to the "GHL Super League" this season, remains winless in three league starts.
Chandler, in throwing his second straight complete game, allowed just three hits in striking out nine Cougars batters.
Diaz also was almost uninhabitable, too, firing a 3-hitter with eight strikeouts. The key difference was his fifth-inning walk which set up the deciding run for a hard-luck setback.
"I felt great for sure," noted Diaz. "Runs happen, so I wasn't too worried about it. It felt good though to hold them to only one run"
Granite Hills was equally impressed.
"That was a really tough game," echoed Eagles coach James Davis. "Diaz is the best guy we have faced this year. Chandler really competed today, too."
"Next time, I would definitely throw more change-ups to give them a different look then go at them with the fastball."
Cougars coach Jesse Evans agreed, stating, "Diaz was awesome for us today. Too bad we couldn't get him any runs"
"We hit some balls well. Things just aren't going our way right now. Tomorrow is a new day we just gotta keep competing.
For the Cougars, Taylor Corella batted 2-for-2 with a double and a walk as the lone members of the Cougars to solve Henry.
The compressed series (because of Tuesday's rainout), continues Friday at Steele Canyon