Poway targets Helix in Fiesta semifinals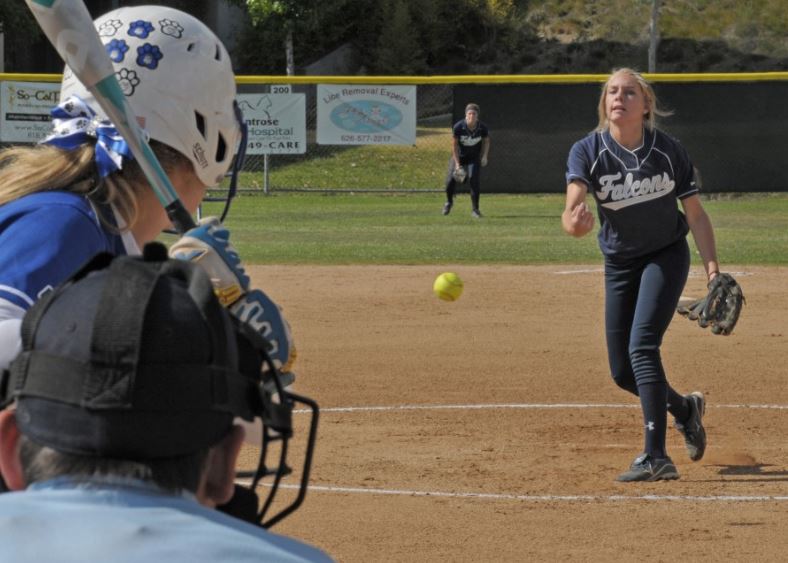 2022 EAST COUNTY PREP SOFTBALL
By Tyler Grabel
Special to ECS.com
POWAY — The Helix Highlanders and the Poway Titans, two of the top-ranked softball teams in CIFSDS Division II, faced off on Saturday (Apr. 2) morning in the Falcon Fiesta Tournament championship semifinals. The Highlanders battled against an early deficit but were unable to overcome a slew of defensive miscues, dropping the Final Four contest, 8-7.
Poway went to meet Rancho Bernardo for the championships, but failed. After the Broncos downed Bonita Vista, 5-1, in the second semifinal, then continued on to capture the trophy, 7-5, over Poway.
In the Helix ballgame, after giving up a run in the top of the first, the Highlanders struck back quickly with an RBI triple by Angel Riggins. The Titans tied it in the second with an RBI single by Reese Williams, before going ahead in the third inning with run scoring hits from Ryleigh Rinker and Sophia Grimm.
Facing a 6-2 deficit, Helix responded on a 3-run homer by Kori Jonilonis in the bottom of the third. The inning started on singles from Lauren Farace and Riggins, followed by the blast by Jonilonis .
The Titans bats responded in kind in the fourth inning, with the three leadoff batters reaching base safely. A ground out and a bases loaded walk granted Poway two more runs, bringing the score to 8-5.
In the sixth, the Scotties rallied to close the gap, with Amber Young and Sophia Ramuno each contributing RBI singles, before the rally was snuffed out by a Poway 5-3 double play. With an 8-7 lead going into the bottom of the seventh, Titan pitcher Allie Reese closed out the save opportunity, setting the final three Helix batters down in order.
Quotes
Lauren Farace, Helix
"Well, I knew the pitcher that we were going to face on Poway, so I specifically asked my batting coach to work on the things that I knew she threw."

"I was definitely nervous, but I feel like being able to out-run the ball — even when my hit is not so good — is something that helped me a lot against them."

"Since starting high school, I feel like I have been getting a lot better at not swinging at obvious movement pitches like I did in travel (ball)."

"One of the elements that made my team fall short was our fielding errors. We left some runners on the bases as well which didn't help, but if my team and I don't make some routine plays, the game will be close no matter what."

"Lastly, I struggled with the fact that no matter how many runs we put up, we couldn't get one up on them. It's rough when you're losing and all you can think about is the small things you could've done better. Simple, dumb mistakes, that might've changed the flow of the game to help Helix win. We hit really well, but I feel that our team, especially me, needs to keep our fielding clean, so that the hits don't go to waste."
Kori Jonilonis, Helix:
"The loss to Poway was a hard-fought battle. With the amount of errors we had and us still losing by one is pretty good. Our offense was on fire today and three of our pitchers pitched a great game."
"I still wish I could be in the field maybe playing outfield, but I'm still not cleared (medically) for that, so I'm just making impact batting is a huge deal to me. I like that I'm still in the game even if I'm just hitting."