Lions Classic finale: Granite edges Helix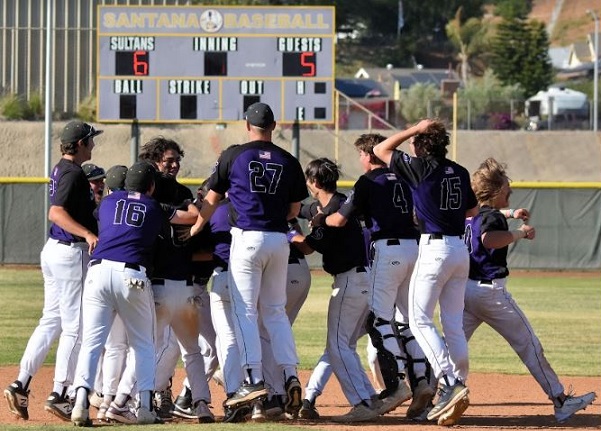 2022 EAST COUNTY PREP BASEBALL
By Nick Pellegrino
ECS Staff writer
EL CAJON — A pair of Grossmont Hills League ballclubs — Granite Hills and Helix — played for the Classic Division championship of the 71st annual Lions Tournament.
However, both sides, better known for their hitting ability, displayed over-looked skills on the mound which could also rise either program to a CIF San Diego Section crown as well.
The difficulty in winning a Lions title, when teams play four games in as many days, is which pitching staff can hold up. On Thursday (Apr. 14), it turned out to both ballclubs.
Both Granite Hills and Helix closed with four shutout innings despite both staffs running on fumes, so it was early offense which decided the winner, as Granite Hills saved off Helix, 4-2,in the Classic finale held at Granite Hills.
The Eagles' was named the co-Player of the Tournament — as named by the media — sharing the award with Ethan Wright of Santana.
Eagles pitchers Ethan McNish-Heider and Braden Lewis proved to be just a touch better on this day, combining to strike out nine Highlanders batters.
McNish-Heider fanned four over his five frames, of which the last two were shutout innings. Lewis followed with two innings of shutout ball yielding just one hit and registering five of his six outs on Ks.
"The last inning after the two strikeouts, the pressure was getting to me after two runners got on and moved into scoring position," said Lewis. "I was trying to take deep breathes and calm myself down because at the end of the day all I needed really was one out.
As expected, the final batter proved to be a battle in order to claim the tournament title.
"The last batter was a good lefty, so I had to spot up my pitches every single time," Lewis added. "He took it to 3-and-2 and I haven't thrown him anything inside at all during the plate appearance."
"So my catcher, Cody Macias, gave me an inside fastball to throw while it was 3-2 and luckily I got the call right on spot and got the save for Granite Hills and the open Lions tournament championship."
Not like the Scotties pitching wasn't equally as good.
Isaac Cota went three solid innings,with one of the runs coming unearned. Then Leyton Wirschem came out of the bullpen with three shutout innings, allowing just two hits to keep thr Scotties close.
"Today was a great game against easily one of the best teams in the county," said Wirschem. "I was really satisfied by my performance on the mound, given that Granite is such a competitive team."
"I've known and played alongside a bunch of the guys at Granite over the past couple of years, and none of them are easy outs."
Nerves were obvious early on when Granite Hills took a 3-1 in the first inning.
For Helix, corner infielders James Whitman (first base) and Wyatt Laub both (third base) each doubled to open the scoring. Whitman would later add a leadoff home run in the third.
Granite's fast start found runners on the corners when cleanup hitter Camden Sos intentionally ground the ball to the right side, allowing Lewis (lead double) to glide home.
Moments later with two down, Davis singled, then Tanner Vielguth drilled a two-run double to left field for a 3-1 lead.
The Eagles added on in the second on an unearned run as Lewis reached on an error, later scoring on a sacrifice fly from Jacob Embleton.
And when Whitman went yard in the third, both pitching staffs dominated the rest of the way.
Lewis expects additional battles with the Scotties.
"When we first got assigned with Helix," Lewis added. "We already knew that it would be a good game because they are always a good division rival."
Added Wirschem, "Going into the game, I knew that I had to have 100 percent focus on every pitch in order to prevent them from barreling the ball."
"This year our league is going to be extremely competitive, but helix is definitely up for the challenge."
For Granite Hills (15-3 overall), Lewis and catcher Cody Macias both finishede with two hits.
Helix (8-8) saw Whitman and right fielder Demarae Woods also collect a pair of basehits.
1,053 total views, 1 views today