Sultans Demonstrate the 'Wright' stuff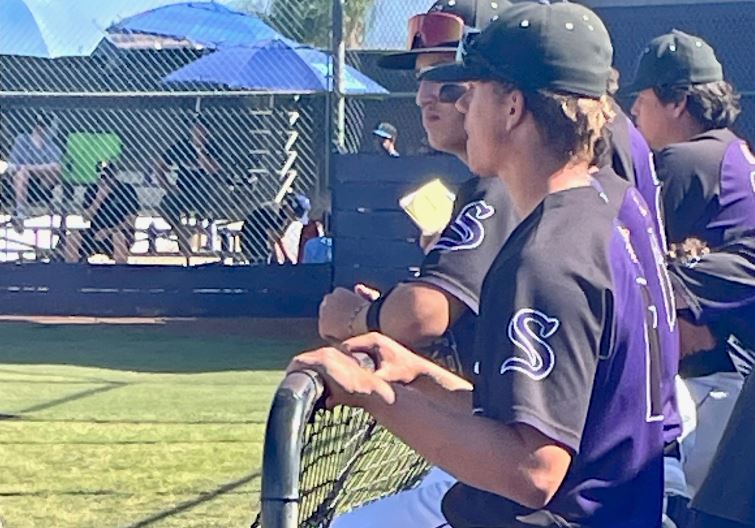 2022 EAST COUNTY PREP BASEBALL

By Nick Pellegrino
ECS Staff writer
SANTEE — Scouting the Santana Sultans just became significantly more complicated.
A pitching dominated ballclub all season, the Sultans played a bit of role reversal on Thursday (Apr. 14), instead utilizing their bats on the path to victory.
Batting with the bases loaded, Santana left fielder Jason Gonzalez drilled a two-run double to center field, bring home both Ethan Wright and Josh Hixson for a walk-off winner, giving Santana a thrilling 6-5 verdict over powerful El Camino Real of Woodland Hills.
The decision gave Santana one of the two Classic Division championships in the 71st annual Lions Tournament. The other division saw Granite Hills out-last Helix, 4-2.
Even with exceptional pitching depth, Gonzalez knew there was more when it comes to Sultans baseball.
"Our bats have been hot this tournament, especially Ethan Wright" said Gonzalez. " We had enough faith with our lineup."
Wright batted .643 (9-for-14) with four runs and six RBI. Included were two ground balls intentionally hit to the right side to score runners from third base or his average could be higher.
For his play, Wright was named co-Player of the Tournament by the media, sharing the award with Spencer Davis of Granite Hills.
Playing four games over a 4-day span is difficult for most high school teams, even the Sultans. The visiting Royals came rumbling late, scoring three times in the sixth inning to pull even, then securing a 5-4 lead in the seventh.
But Santana wasn't ready to roll over.
After Wright was balked to second base, Caleb Harris was hit by a pitch, then Landon Bailey singled to load the bases.
Gonzalez followed with his decisive double to doom the Royals.
"We knew if we were put in a situation like today, we would pull through."
Wright,went 1-for-3 with a walk, but more importantly, scoring each time.He also intentionally hit a slow roller to allow a runner to score from third base..
"We have really focused on our bats all season and all winter," noted Wright. "We knew we had the defense and the pitching, so all we need were the bats to get hot and that's what we are doing."
"We are going to keep moving forward and sticking to our plan."
Many thought Santana would get swamped by a CIF Southern Section opponent, even after  getting nipped by St. Augustine in pool play. But they survived a tie-breaking after the Saints later lost, forging a 3-way tie at the top of the pool.
In fact, all four finalists in the Classic Division — El Camino Real, Helix and Granite Hills — all advanced on tie-breakers, again demonstrating how the Lions Tournament is often considered one of the West Coast's top events.
Gonzalez also posted an RBI double to close the fifth, giving Santana a 4-1 cushion. However, another runner tried to score from first base and was gunned down at the plate.
Santana (14-43) has captured 11 of its last 12 contests. The Sultans return to action at Grossmont in the first of a home-and-home series, then face Granite Hills in another 2-game set.
After the Royals (14-8) pulled even, infielder Luis Torres stroked the go-ahead basehit in the seventh.
803 total views, 1 views today