Liberty Charter tops Mountain Empire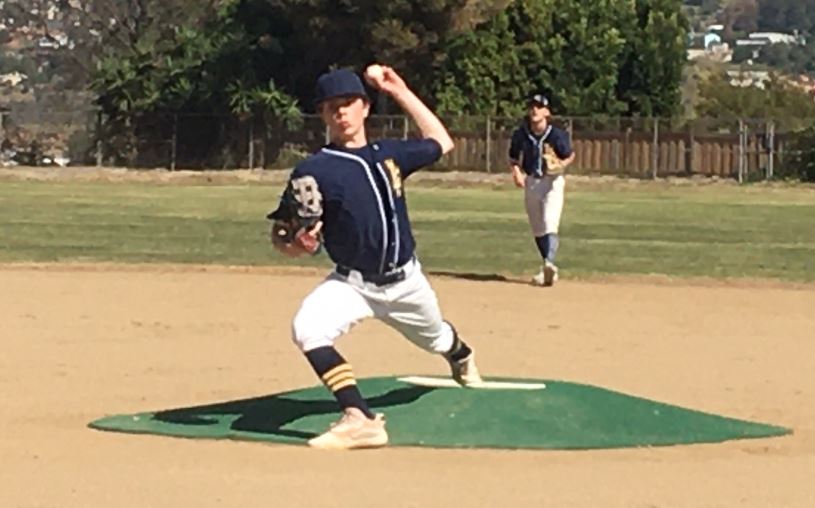 Liberty Charter delivers a pitch. / Nick Pellegrino
2022 EAST COUNTY PREP BASEBALL
ECS staff report
LEMON GROVE — Liberty Charter pitcher Jaxon Adrain carried a 1-hit shutout into the fifth (and final) inning Tuesday (Apr. 19), finishing with a 2-hitter to pace the host Lions to a 12-1 verdict over visiting Mountain Empire in non-league action held at the on-campus facility along Palm Ave.
Adrain, a 6-foot-4 sophomore, registered most of his 15 outs by striking out 11 RedHawks batters without issuing a walk.
Liberty Charter tallied nine times in the third inning to break the contest open, an outburst aided by three MEHS errors, a hit batter and several wild pitches.
Leading the Lions offense was senior Carter Davis and freshman Alex Castellano with two RBI each. Davis also posted two hits.
Meanwhile, the Lions defense shined, including a diving, back-handed stab by freshman second baseman Andruw Godinez on a low liner ticketed for the gap in right-center field.
Liberty Charter (8-5 overall,1-1 league) returns to Patriot League action on Thursday, hosting High Tech High of San Marcos at 3:15 p.m. The Lions stand just one game out of first place.
Mountain Empire (4-5) broke the shutout bid in the fifth on a line single to left-center field by junior Lowmen Willard.
Grossmont Valley League
West Hills 9, Monte Vista 0
SANTEE — West Hills pitcher Shane Stevens yielded six basehits, but scattered them well in toss a complete game shutout to carry the Wolf Pack past Monte Vista, 9-0, in the Grossmont Valley League ballgame at Wolf Pack Park.
Stevens, a sophomore, struck out eight Monarchs batters against just one walk, His only rough inning came in the fourth when he allowed a pair of singles, but registered a shallow fly ball to stop the budding rally.
Most of the runs by West Hills sandwiched Monte Vista's best try, as the Pack tallied five runs in the third, then two more in the fourth.
The first fur runs were earned thanks to doubles from Connor Evans and Evon Drake.
An inning later, T.K. Madera started the outburst with a line triple to center field, immediately scoring when Conner Tanga lined a single to left.
For West Gills (13-7-1 overall, 3-0 GVL), Evans and Bryce Smith each had two basehits.
Monte Vista (7-14, 0-2 GVL) also got two hits from Isaiah Hilke, but the speed of the East County triples leader failed him.
In Hilke's three attempts to steal a base only worked once. Stevens picked him off, while Tanga, the catcher, also nailed him on a throw to shortstop Nate Sykowski.
Valhalla 10, Mount Miguel 6
SPRING VALLEY — Valhalla second baseman Aidan Treltas drove in three runs, while pitcher Colton Stinkeoway tossed a complete game,as the pair of sophomores paced the Norsemen past host Mount Miguel, 10-6, in Tuesday's Grossmont Valley League contest.
Treltas recorded a key 2-run single in the first inning, a sacrifice fly in the third, and later walked.
Meanwhile, Stinkeoway was charged with just one earned run over his seven innings, as defenses on both ballclubs suffered all afternoon. He struck out six Matadors batters.
The Norsemen mounted a 7-0 advantage before being countered, putting this puppy to bed early. They collected their 10- runs on just four hits off a quintet of hard-luck Mount Miguel pitchers.
Valhalla (8-13 overall, 2-1 GVL) also finished with 10 stolen bases,including three thefts from Stinkeoway.
Mount Miguel (4-16, 0-3 GVL), which received two hits from both right fielder Joseph Ortega and catcher Julian Lopez, has dropped 14 straight

El Capitan 16, ECVHS 0
LAKESIDE — El Capitan High doused visiting El Cajon Valley, 16-0, in Tuesday's (Apr. 19) Grossmont Valley League affair at Hostetler Field.
813 total views, 1 views today