Pair of Patriots set for Eastern faceoff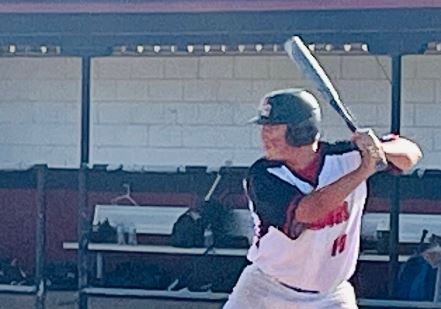 2022 EAST COUNTY PREP BASEBALL
ECS staff report
Patrick Henry 7, University City 2
UNIVERSITY CITY — Patrick Henry needed three victories over University City to maintain its first-place deadlock with Christian on top of the Eastern League, but even the Patriots didn't know it would be this hard.
University City, a school not known as a baseball power, already avoided a series sweep from Coronado, then upset Christian to again avoid a sweep. And on Friday (May 6), they held a 2-0 lead to again prove to be the league's pest.
However, Patrick Henry, possibly stalled in a look-ahead situation, rallied with three runs in both the fifth and sixth innings, taking a narrow 6-2 decision over the host Centurions.
Along with Christians' 10-8 victory at Coronado, the stage is set for next week's 3-game, season-ending series to determine the league champion. Christian won the title last season; Henry was in the Western League in 21.
Henry senior Dylan Dyersen, who struggle in his four innings, gained the victory when his teammates rallied in the fifth. Overson, the probable starter next Friday should both Patriots ballclubs split the first two games, allowed two runs on five hits.
More importantly, reliever Jonah Stepner gained the save with three frames of shutout ball, allowing just one hits although he was also in trouble with five walks.
The Centurions (6-19-1 overall) just couldn't develop any key hits like UC had in previous wins over Christian and Coronado.
The comeback ws fueled by a pair of RBI by sophomore Eddy Gomez, while seniors Dominic Benami, Nolan Kluge and Jonah Stepner all drove in runs. Dominic Benami and Gomes each posted two basehits, including a Gomez triple.
Ryan Ellis, who is expected to pitch next week's second game on Wednesday, added a double for Patrick Henry (19-6 overall, 8-1 league). The Centurions fell to 6-19-1 (2-7 league), yet remain one game in front of Clairemont.
Christian 10, Coronado 8
Along the SILVER STRAND — The Christian Patriots overcame an early 4-2 deficit by scoring three times in both the fourht and fifth innings, going to a 19-8 victory over host Coronado in Friday's (May 6) Eastern League contests.
The Islanders did rally back to within 9-8 in the sixth, but the Patriots added a key marker in the seventh to win.
The bottom four batters inthe Christian batting order drove in seven runs, including three by two different players.
However, Coronado failed to supply the names of the players, listing them simply as "PlayerF" and "PlayerH."
On Monday, Christian ytravels to Patrick Henry for the first game in a 3-game set to decide the Eastern League champion. The clubs enter with identical league marks of 8-1.
479 total views, 1 views today