Helix finding their level, thump Santana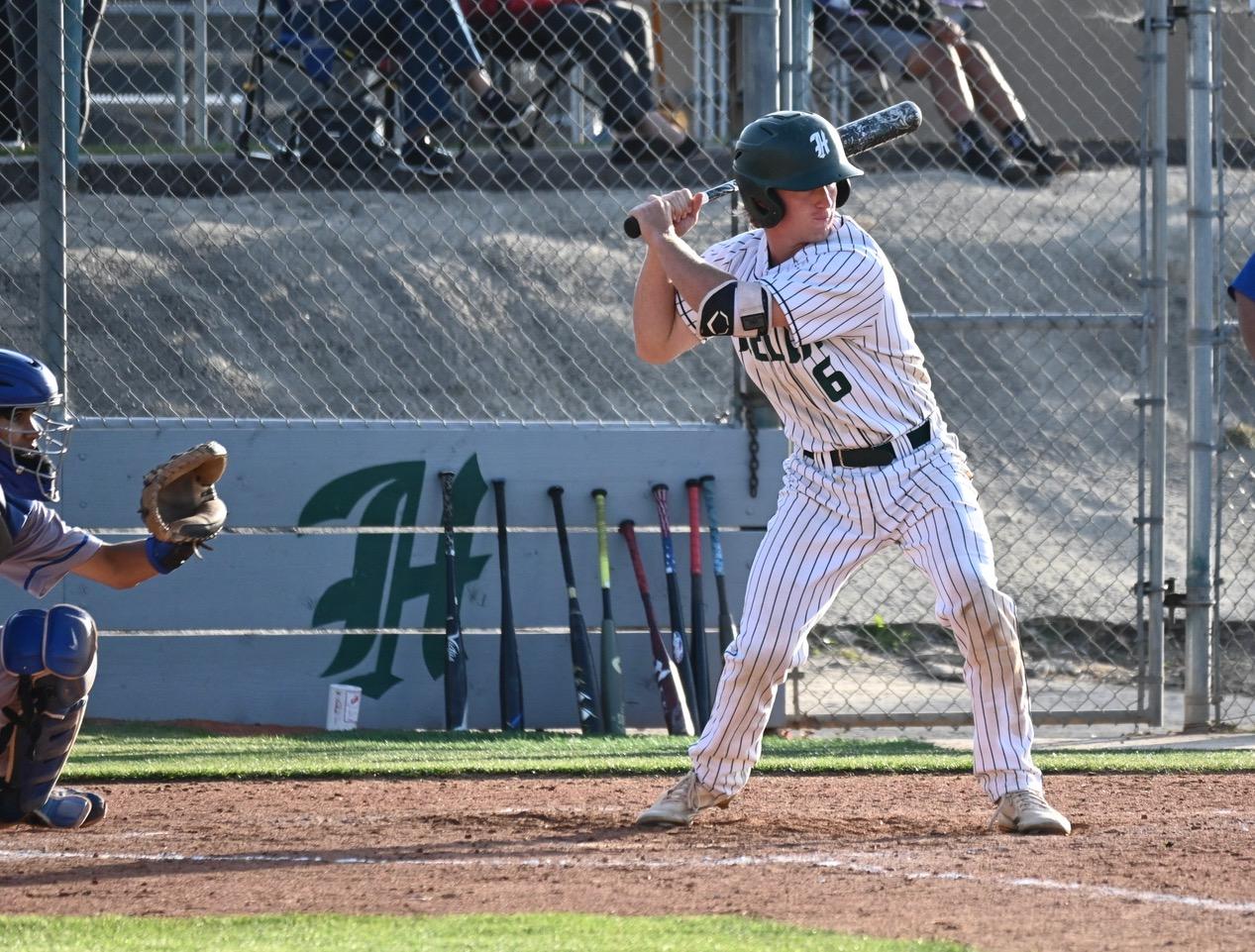 2022 EAST COUNTY PREP BASEBALL
By Nick Pellegrino
ECS staff writer
SANTEE — It seems like Helix High has been seeking a level playing field all season.
In the Lions Tournament, the Scotties were placed in the same pool against San Marcos, then the top-ranked ballclub in the San Diego Section. No breaks there.
Them the Highlanders began Grossmont Hills League play with a 2-game bye, allowing others to get a jump-start and bury Helix a full two games behind in the win column before the Scotties could lace their spikes.
However, as San Diego based triathlete Kurt Madden, a former world champion who is currently ranked No. 1 in the world in his age group for the fourth straight year, would state, "After every uphill climb, there's always a downhill run before things level off."
Downhill? Currently, the Scotties look like they're storming downward like an avalanche.
Following an earlier GHL victory over first-place Granite Hills, the Scotties are suddenly in strong contention for the league crown after smacking the second-place Santana Sultans, 14-3, in one of two GHL smack-downs on Thursday (May 5).
The other one-sided affair saw the newly-named, top-ranked Eagles storm over Steele Canyon by an identical 14-3 margin
Helix 14, Santana 3
SANTEE — For those parents leaving work at 5 p.m. to enjoy this contest, you might well have received a text message to head straight home after the Helix Highlanders mounted a mammoth 13-1 lead by the third inning to leave Santana looking (Cincinnati) red in embarrassment.
Three Highlanders — Ben Harr, Cameron Tarling and Demarae Woods — all smacked two home runs each.
The six homers are the most by a Helix ballclub since the San Diego Section was created in 1960.
The CIFSDS record is nine, by coincidence, held by the Sultans in a ballgame from 1985.
The six are also a GHL since the Grossmont Conference realignment for the 2010 season.
Interestingly, Helix head coach Cole Holland stated that his troops are not really a power-hitting ballclub.
Sorry, coach. They are now, especially after their fast start, needing just three batters to mount a 3-0 start.
Tarling opened with a ground single, James Whitman began the power display with a double, then Haar cleared the center field fence with his first homer.
The next three batters nearly doubled the score in near-identical fashion.
Wyatt Laub slapped a ground single, Trevor Young just missed an extra-base hit with a deep fly out, then a Woods line to left was gone for a 5-0 lead before the Sultans ever touched their bats.
That's when text messaging started to jam local cell towers.
In the second, Tarling's leadoff bomb made it 6-1, followed by three singles sandwiched around an error for an 8-1 margin
Then in the third, moments after the Helix defense turned a double play, No. 9 hitter David Blode was hit by a pitch, scoring moments later in Tarling liner to left. Haar also homer in the inning, followed by a Laub double.
Finally, the Helix fed the offense, as another double play by the Scotties allowed Woods to open the fifth with his second long-ball.
Haar was also the winning pitcher, needing the basic four innings to qualify for the "W." By simply throwing strikes and staying out of trouble while holding a double-digit lead,Haar only struck out ine, saving his arm for the final week of the regular season.
For Helix (14-9 overall, 6-2 GHL), Haar, Tarling and Woods each finished with three hits, Woods and Haar also finished with four RBI each, as the Scotties moved a half-game ahead of the second-ranked Sultans for second place in the Hills.
Santana (17-6, 6-3 GHL) received a Tyler Begg homer to leadoff the seventh, while Caden Corderman registered a pair of basehits.
Historical Note: When the Sultans and Scotties met in La Mesa earlier this season on March 31, Santana hit three homer runs — by Landon Bailey, Caden Corderman and Ethan Wright — the first home runs by the Purple and Gold all season.
Granite Hills 14, Steele Canyon 3
RANCHO SAN DIEGO — Granite Hills clean-up batter Spencer Davis matched a season-best by driving in five runs in a 3-for-4 outing at the plate, as the Eagles welcomed their naming as the top-ranked ballclub in the San Diefo Section by burying host Steele Canyon.
Davis and Brenden Lewis both smacked home runs, while Jacob Embleton and Grant Mac Arthur both doubled to highlight an 11-hit attack.
The Eagles led from the start, scoring twice in the first, third and fifth innings for a 6-3 advantage, then busted loose with an 8-run sixth.
The fast start saw Mac Arthur stroke a one-out double, scoring on a Camden Sos basehit. Davis followed with another RBI single.
In the third, Davis added an RBI single with two down, The fifth saw Lewis' solo shot.
But the sixth was ruined the Cougars pitching staff with four arms used before getting out of the inning.
After the Eagles loaded the bases, four straight batters recorded RBI by Hudson Beamon (single), Lewis (single), Mac Arthur (walk) and Embleton (single).
Davis capped the rally with a 3-run homer to right field.
Meanwhile, Granite Hills relief pitcher Tanner Vielguth fired the final four innings to gain the victory. Both Vielguth and starter Chandler Henry each struck out five Cougars batters.
Granite Hills (19-04 overall, 8-1 GHL) saw Jacob Embleton finish with three hits and three runs scored.
Steele Canyon (12-12, 1-8 GHL) did display some sped with stolen bases by Weston Clark, Ray Marrero and Will James.
---
Grossmont Valley League
West Hills 10, Monte Vista 4
SPRING VALLEY — West Hills High has mathematically clinched the school's second-ever league title following Thursday's (May 5) Grossmont Valley League triumph over host Monte Vista, 10-4.
But there's more ahead for the Wolf Pack, which seeks an outright championship with victories intheir final two contests next week. The school's 2003 crown was a shared banner with Grossmont.
West Hills was matched when Monte Vista also scored twice in the first inning, but then the Pack tallied eight straight runs over the ensuing five frames to pull away.
West Hills (18-7-1 overall, 8-0 GVL) can achieve the 20-win plateau fr for the first-time ever by sweeping next week, but the later game is against second-standing El Capitan.
Monte Vista (9-17, 3-5 GVL) saw Gavin Daley collect two RBI, while Isaiah Hilke, Tyler Lemen and Justyn Stone all stole bases.
Valhalla 14, Mount Miguel 4
RANCHO SAN DIEGO — Trailing 3-0, the Valhalla Norsemen responded with five runs inthe third inning as part of 13 consecutive runs to stop visiting Mount Miguel, 14-4, in Thursday's (May 5) GVL contest.
Norsemen No. 9 hitter Hughes led the offense with three RBI. Winning pitcher David Gordon went six frmes, striking out five Matadors batters.
Valhalla (12-14 overall, 6-2 GVL).saw the bottom three hitters in their batting order — Julian Jerjees, Aidan Treltas and Hughes — all collect two hits each.
Mount Miguel (REC) received RBI doubles from David Keller and Steve Gulley to mount a 3-0 lead.
El Capitan 11, ECVHS 0
EL CAJON — The El Capitan Vaqueros maintained a slight mathematical chance to catch West Hills for the Grossmont Valley League title, but need all three of next week's contest to fall their way after thery blanked El Cajon Valley, 11-0 on Thursday (May 5).
Vaqueros junor Preston McMillin fired a complete-game, 5-hitter, striking out 10 Braves batters. McMillin also smacked a double.
El Cap scored four in the first and led 7-0 through three frames.
El Capitan (15-11 overall, 6-2 GVL) clinched a .500 or above record for the season with the decision.
ECVHS (4-15-1, 0-8 GVL) received two hits from center fielder Ruben Cosio.
---
Wednesday's Game
Eastern League
Christian 13, Coronado 6
Patrick Henry 3, University City 2 (9 inn.)
EL CAJON — The Eastern League base race between the Patriots — both Christian and Patrick Henry high schools — nearly went sideways Wednesday (May 4).
While the Christian Patriots breezed to a 13-6 triumph over Coronado, Patrick Henry was nearly toppled before finally getting even in the seventh inning, going on a 3-2 decision in 9 innings over University City.
For Cgristian, they mounted a 10-0 lead before the Islanders could respond.
The ballclub's "circus" offense saw catcher Xavier Farnum drove in a game-best four runs while Shane Bailey batted 2-for-4 with scored twice.
On the mound, winning pitcher Vaughn Major had a casual appearance, saving his non-fastball assortment of pitches for next week's showdown with Patrick Henry's Ryan Ellis.
Major struck out nine Islanders batters and yielded a mere three hits.
For Christian (18-5, 7-1 league), Chris Mellos, Dominic Zepeda and Major also added two basehits each.
The C-Pats seek a series sweep of Coronadfo (13-13, 5-6 league) Friday in a contest to be held at Silver Strand Elementary School, located about two miles south of the Hotel del Coronado.
717 total views, 1 views today