Christian walks to Eastern series lead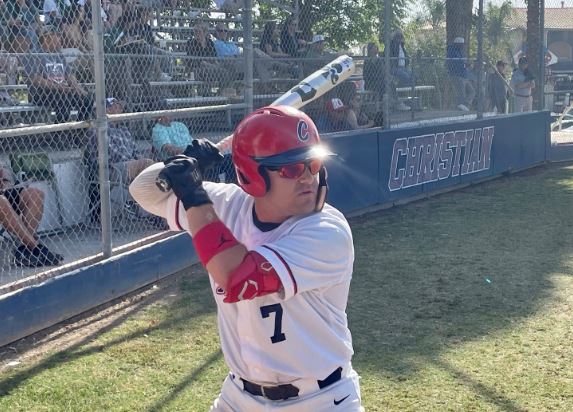 2022 EAST COUNTY PREP BASEBALL
ECS staff report
DEL CERRO — It wasn't the high-power, display of offense which spelled the difference, but it was the dramatic difference in the Battle for the Eastern League baseball championship.
Senor left fielder Chris Mellos drew a bases-loaded walk to force home Vaughn Major with the tie-breaking run Monday (May 9), lifting the Christian Patriots over the Patrick Henry Patriots, 3-2, in the first game of the ballclubs' season-ending, 3-game series.
The teams entered the week tied for the Eastern lead, thus, Christian moves one game in front and only needs to claim one of thew final two meetings to claim a second straight league title.
The first opportunity for the C-Pats will be Wednesday at Christian, starting at 3:30 p.m. If Henry wins, the season finale returns to Del Cerro on Friday.
Christian pitcher Shane Bailey won his duel against Henry sophomore Talin Gardini in a pairing against two of the top pitchers in East County.
Bailey finished with a complete-game, 6-hitter with five strike outs. Only one run was earned.
Both squads scored single runs in the first two innings before both sets of bats went into the deep freeze.
Christian received runs on a Sacrifice fly by second baseman Andruw McCurty, the cleanup hitter,, but Henry pulled even on a Gardini basehit.
Patrick Henry also ad a chance to claim the lead, but Christian escaped when Bailey fielded a grounder to start an inning-ending double play.
An inning later, designated hitter Dominic Zepeda also lifted a sacrifice fly to bring home third baseman Caden Leonard.
Once again, Henry answered pn yet another sacrifice fly, this time by shortstop Eddy Gomez.to bring home Nolan Kluge.
Christian (20-5 overall, 9-1 league) saw Major register three hits, while Zavier Farnum and Hunter Kaul each added two hits.
In addition, head coach Mike Mitchell also reached the 20-victory plateau for the 14th time in his career at Christian.
Patrick Henry (19-7, 8-2 league)also received two hits from Gardini and Ryan Ellis, the anticipated starting pitcher on Wednesday against Christian's Major.
414 total views, 1 views today