Valhalla opponent determined for CIF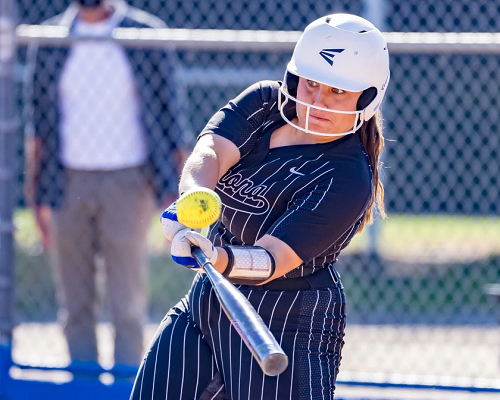 Ramona left-handed batter Breanna Lutz, the shortstop / COurtesy Ramona Sentinel fie photo
2022 EAST COUNTY PREP SOFTBALL
ECS staff report
CLAIREMONT — The Ramona Bulldogs softball team was given a second chance to extend its season,but when it needed a "second second chance," the Bulldogs came up just short.
On Monday (May 16), the CIF San Diego Section softball championships opened with a special play-in contest to gain entry into the Division II main draw after Ramona and Clairemont finished in a virtual tie for the final playoff berth. Since the CIF Computer Power Index was unable to resolve the issue, the ballclubs met on the field to decide the final entry into Tuesday's official opener at No. 5 seed Valhalla.
However, Ramona needed one additional opportunity after scoring in the seventh inning, but fell just short as Clairemont held on to take a 2-1 decision.
With the victory, the Chieftains (14-12) are the No. 12 seed, traveling to meet  the Norsemen (18-7 overall). First pitch from Leto Family Field at set for 3:30 p.m.
Clairemont moved on thanks to an RBI triple by senior Macy Mohrlock, who also scored when junior Lanikai Breskin followed with a ground ball to the right side in the first inning.
Meanwhile, Clairemont pitcher Payton Correia carried a shutout into the seventh when Ramona 14-15) registered its lone run. Correia registered just one strikeout in her 7-hitter, getting tons of ground balls with her drop pitch.
Ramona (14-15) was the second place finisher in North County;s Valley League, placing one full game behind champion San Pasqual.
The Bulldogs comeback attempt saw Heather Sabin walk, advance to second base on a sacrifice bunt from Emily Wright, then scored when freshman Savanna Rhea sent a hard grounder up the middle and into center field.
Sabin, the left fielder, had a perfect day at the plate, going 2-for-2 with the walk.
Rhea eventually advanced to third base with the potential game-tying run, but was started on a pair of ground outs.
On Tuesday, there are a half-dozen other East County schools starting CIF action, with two meeting each other — Santana is at Eastern League co-champion Patrick Henry — for a total of six contests, as follows (all at 3:30 p.m.):
Division 1
Scripps Ranch at Steele Canyon
Santana at Patrick Henry
Division 2
Clairemont at Valhalla
Division 3
Mission Vista at Christian
Division 4
Monte Vista at Montgomery
Division 5
Borrego Springs vs. Bonsall,, at Pala Indian Reservation Athletics Center
471 total views, 1 views today