Standout brothers reunite at Boise State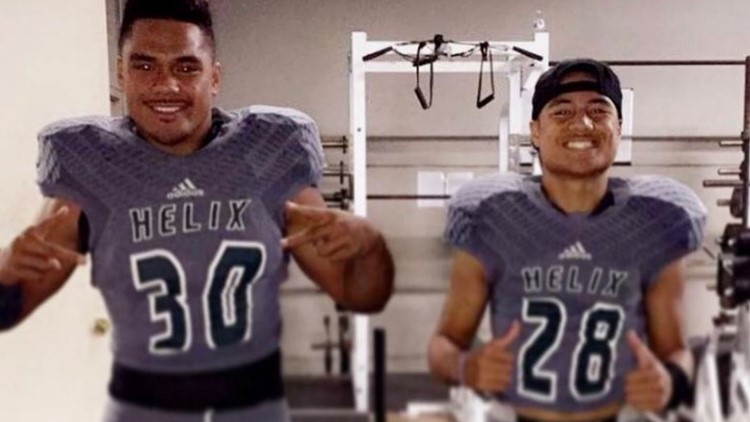 2022 LOCAL COVERAGE / EAST COUNTY ALUMNI
From staff and wire reports
BOISE, Idaho — Hours before the first Boise State fall camp practice of 2022, the Broncos filled their final roster spot with a big-time transfer with ties to the Mountain West.
Boise State head coach Andy Avalos on Wednesday (Aug. 3)announced running back Elelyon Noa has joined the football program. Elelyon is the brother of sixth-year senior Bronco middle linebacker Ezekiel Noa. Both were All-East County performers out of Helix High School.
Elelyon spent the past two seasons at Utah State, rushing for 597 yards and four touchdowns in 2021. Elelyon averaged 4.3 yards per carry and tallied 85 receiving yards on 11 grabs with the Aggies last fall.
Prior to Boise State's 42-13 win over Utah State in October 2020, Ezekiel told KTVB the brothers were "excited" to face off on the gridiron, adding "we've never really played against each other until now." Fast forward nearly two years and the Noa brothers are reunited in the City of Trees.
"We're just excited. We've never really played against each other until now."
Zeke gained a sixth season of eligibility on the temporary NCAA rule regarding COVID-19 protocols.
The older Noa brothers, Zeke is one of 20 Broncos on the current roster to have appeared in at least 20 career games for Boise State. Ezekiel started all 12 games last fall, finishing third among all players with 66 tackles.
The 5-11, 240-pound linebacker is one of a grand total of six Broncos able to start in every game of the 2021 campaign at a consistent position.
At Helix, Elelyon was the East County Player of the Year, an all-CIF San Diego Section, and named to the all-state team by CalHiSports.
As a member of the Scotties, Zeke help the program capture the 2015 CIFSDS Open Division championship (runner-up in 2016). He was also the CIFSDS Defensive Player of the Year, named to every county all-star team over three seasons, including his sophomore campaign.
Boise State opens the season at  OOOregon State on Sept. 3 (ESPN). Yjr Broncos conference game at San Diego State — at the brand-new Snapdragon Stadium — is slated for September 30 at 6 p.m. (FS1).
506 total views, 1 views today