Christian's Stowers doubles in MLB debut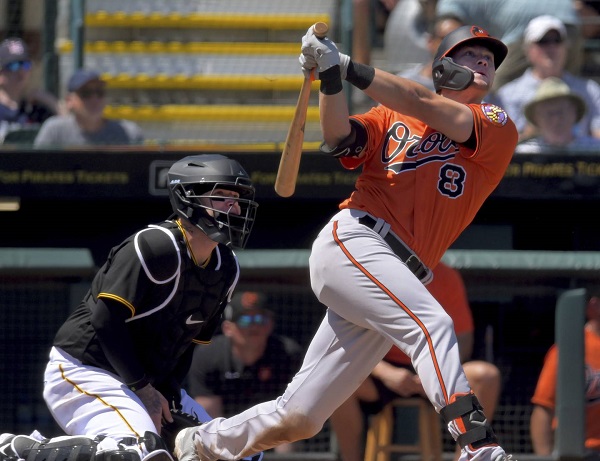 EAST COUNTY ALUMNI
From staff and wire reports
TORONTO— Former Christian High standout Kyle Stowers credits his mental approach in reaching a career goal in making his Major League Baseball debut Monday (June 13). but sometimes you need to be a bit lucky, too.
Attempting to break a slump for Triple-A Norfolk, Va., Stowers took it upon himself to find a way to return to the hitting approach which made him a standout as an All-East County selection, a starter at Stanford, then making the adjustment to wood-bat summer leagues and through the Baltimore Orioles minor-league system.
A change a few weeks in helped him break out of his funk, and the change wasn't purely mechanical. That was a big part, of course, standing more upright in his stance to be more "athletic," as Stowers described it
"Athletic," said Stowers about some minor corrections to some mechanical flaws. "But I also needed to change my total approach to hitting."
Not only did the organization notice, they placed him on the new MLB "taxi squad," which allows players to join the Big League ballclub under special situation for brief stints.
"It is part of the COVID loop-hole," sad veteran Christian High head coach Mike Mitchell. "In situations like his, it allow players to be brought only to Toronto and not be charged service time or be on the 40-man roster."
"So there's a good chance he will play all four games of the series because that way he gets some major league experience, but it doesn't count against 'his clock.'"
The coach talked to Stowers on Monday morning, after the outfield prospects learned the Orioles placed Anthony Santander and Keegan Akin on restricted list ahead of four-game series in Toronto.
Making the start in left field and batting in the No. 8 spot for the Orioles at at Rogers Centre, Stowers make scores of family and friends proud by producing his first MLB hit against the Blue Jays. Stowers slammed an RBI double in the seventh inning, but it was the O's lone marker in an 11-1 setback to the Blue Jays.
WATCH Stowers' double HERE (Courtesy MLB.com)
Caption: Kyle Stowers ropes a double into left-center field to drive in a run for his first MLB hit as his family celebrates in the stands at Rogers Centre in Toronto.
"If that type of stretch would've happened last year, it would've taken me a lot longer to get out of it," Stowers told the Baltimore Sun. "But to be able to be the same guy every day and keep my head held high, put in the work, it makes things a lot easier to get out of."
Mitchell echoed Stowers' thoughts.
"He always been a hard worked and even comes out and works out with our kids in the off-season," said the coach.
Through Stowers, 24, batted a mere .193 over his first 26 games (3 HRs, 25 strikeouts) with the Triple-A Tides, his changes produced a breakout, 9-game hitting streak, vatting ,314 (1.144 OPS) with 9 homers and 24 RBI over the past month.
Thus, promotion to the taxi squad.
The performances backed up Stowers' No. 9 ranking in Baseball America list of Baltimore's prospect pipeline. Stowers also became the third top 10 prospect to make his debut for the Orioles this season, joining right-hander Kyle Bradish and catcher Adley Rutschman — and all three of them played for the "Baby Birds" on Monday.
Stowers was a supplemental, second-round pick out of Stanford back in 2019, the left-handed hitter has been one of the organization's most interesting prospects since that point. Stowers appeared among the top 30 farmhands in a quality Baltimore system each season from 2020-22, according to Baseball America, then elevated him to No. 9 in late April.
—  Compiled by Nick Pellegrino