Ruffer calls new home Ohio State
2022 EAST COUN TY PREP SOFTBALL
By Nick Pellegrino
ECS staff writer
RANCHO SAN DIEGO — Record-breaking power hitter Cadyn Ruffer, who will become a four-year starter for Valhalla High this season, has made a verbal commitment to play her college ball for the Ohio State Buckeyes of the Big 10 Conference for the 2023-24 school year.
Ruffer, who plays catcher and both left-side positions in the infield for the Norsemen, announced her decision Sunday (Aug. 7).
Ruffer, in her online announcement, said she worked with her coaches "to target 31 different schools" before setting for four years in Columbus, Ohio.
Coach Christian Sanchez said, "Cadyn is an amazing athlete with great presence on the field. She shows great leadership skills, and work ethic."
Ruffer gained her starting role with Valhalla as a sophomore, batting .353.
A year later as a junior, she ranked second on the ballclub with ,471 batting average while also demonstrated power with 8 home runs and 10 doubles. In fact, her home run total was one more than the entire Valhalla roster hit collectively the prior season,
In addition, Ruffer's 8 home runs equals the school record for an underclassman (Kelley Seitz, 10th, 2006.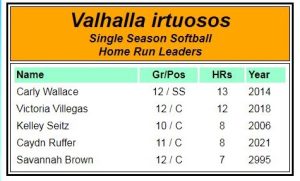 Valhalla sahred the Grossmont Valley League championship with West Hills, advancing to the CIFSDS Division 2 fiurth round before being eliminated by eventual champion — and Norsemen arch-rival — Granite Hills.
Hrt club ballclub is the Southern California Firecrackers.
Hicks passes
Bill Hicks, a long-time club coach and recruiting director for the Firecrackers Organization, has passed away. The cause of death has not yet been confirmed. News of his death was released on social media by the official site for Firecrackers Softball Inc
Hicls leaves behind his wife, Rtleen, and daughters Kati and Tori.
Hicks' 18U ballclub has been taken over by Sean Brashear.
2,023 total views, 2 views today