Dawgs pitch shutout with 5 turnovers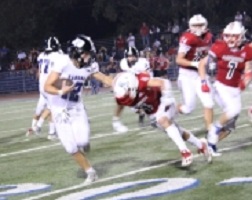 2022 EAST COUNTY PREP FOOTBALL
By Nick Pellegrino
ECS staff writer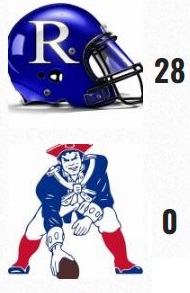 RAMONA  — Ramona senior quarterback Colin Lester, in his first craeer start behind center, accounted for three touchdowns on Friday (Aug. 19), rushing for a pair and passing for another, as the Bulldogs captured their season opener,  28-0, over visiting Christian High on Pop Warner Night on the mountain.
The other score also came on the ground by junior Ryan Dutra.
The passing scoring went to senior Azlan Enriquez on a 3-yard reception, who caught seven TD passes a year ago. Enriquez also fueled the defense from his outside linebacker spot to lead the defense to the shutout.
Lester, a rare quarterback that plays both ways (among the larger enrollment schools) also registered a sack, as the Dawgs Defense forced five turnovers.
Included were interceptions by juniors Jamal Kassab and Kyle Patenaud . and senor Ryan Bisher, plus fumbles by senior Nicolas Driscoll and junior Zach Stene
"We had a productive off-season and the kids couldn't wait to get under the lights to kick the season off. It was a good start," said Ramona head coach Damon Baldwin, who just started his 18th season at the helm of the Bulldogs.
The ballgame was the first between the schools since 1986 *Ramona 33-0) They previously were annual opponents in the 1970s before San Diego Country Estates was constructed, thus, doubling the local population in Ramona and exploding school enrollment totals.
As expected, the massive offensive line for Ramona did as they pleased with a talented ground game. The initial driver was a massive 14-play, 71-yard march to opening the scoring, capped by a goal-line dive from Lester. Later, his second short-yardage score came with seconds left in the first half for a 14-0 advantage at the break.
The second half was mostly similar, as the Patriots failed to hold onto the ball, then Ramona taking drives totaling double-digits in plays.
The lone Christian highlight was blocking a conversion following Ramona's first third-quarter touchdown.
Dutra (16-for-83 yards rushing) capped the scoring on a 4-yard run off tackle.
Lester completed 13-of-17 passes for 173 yards. part of Ramon's 364 yards in total offense.
Christian (0-1) continues its road trip with a neutral site contest next week, meeting The Bishop's at La Jolla's Scripps Field. Ramona 1-0)heads for Rancho Bernardo.
BULLDOGS 28, PATRIOTS 0
Christian (0-1) 0 0 0  0 — 0
Ramona    (1-0) 7 7 14 0 — 28
R — Lester 2 run (Torres kick)
R — Lester 1 run (Torres kick)
R — Az. Enriquez 3 pass from Lester (kick blocked)
R — Dutra 4 run (Willford run)
339 total views, 1 views today