ROUNDUP: Cougars, Vaqueros win first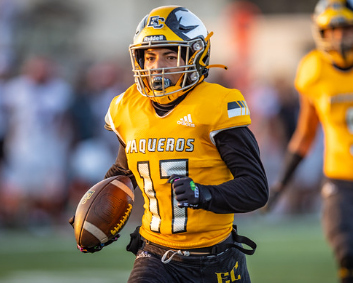 El Capitan junior Julian May races to the end zone on Friday. / Rob Riingen
2022 EAST COUNTY PREP FOOTBALL
ECS staff report
SPRING VALLEY – Steele Canyon senior Major Givens rushed for 232 yards and three touchdowns on 14 carries, including scoring runs of 56 and 73 yards to power the Cougars past Heritage High of Menifee (SW Riverside County), 41-30. The hosts carried a comfortable 41-16 lead into the fourth quarter.
Cougar Michael Dodds had a 17-yard touchdown reception from sophomore Joshua Herber, who passed for 113 yards.
Junior Mike Lindley had a 3-yard touchdown run which gave Steele a 34-6 lead late in the first half. Lindley had two receptions for 72 yards.
"This was a good team win for us and a great start to the season," Givens said. "Heritage came in, played hard, and fought to the end.
"It felt good to get out there and run the rock but it felt even better to see my teammates have success. Michael Lindley, Michael Dodds, and Josh Herber played very well and my O-Line did their thing. We were up 41-16 going into the fourth quarter. We weren't too concerned about the comeback attempt, but that just shows the character of Heritage."
Herber, a transfer from Christian High, was 4-for-8 passing.
---
EL CAPITAN 37, CANYON HILLS 6
LAKESIDE- El Capitan junior wide receiver Julian May scored on touchdown receptions of 54 and 38 yards, as the Vaqueros made mincemeat of the Canyon Hills Rattlers for the second straight season opener.
Vaquero senior Bruce Newland threw a 4-yard touchdown pass to sophomore Chance LaChappa, who added another touchdown.
On defense, El Cap senior Manuel Vicencio had a sack and forced a fumble.
A pair of quarterbacks for the Vaqueros threw for almost identical numbers. Sophomore Brandt Barker went 7-for-10 for 151 yards, while senior Bruce Newland went 4-for-11 and 109 yards.; both averaged more than 20 yards per completion.
In addition, everyone seemed to get a chance to run the ball with four players reaching double figures, including a team-best 66 yards from senior Angel Diaz.
El Cap's defense was led by linebacker free safety Ryder Lynn (7 tackles).
Meanwhile, May and a pair of seniors — Michael Segovia and Austin Cordeiro — registered interceptions.
In all, the Vaquero attack forced five takeaways, including fumble recoveries by LaChappa and Michael Segovia.
---
MONTE VISTA 42, MARANATHA CHRISTIAN 21
SPRING VALLEY -No one said winning was easy, but when you haven't won in nearly two years, a taste of victory would be sweet and savored.
For Monte Vista, it finally occurred Friday (Aug. 19, snapping a 12-game losing streak by downing Maranatha Christian, 49-21, at Monarch Stadium.
Monte Vista held a 14-0 advantage, only to see the Eagles pull even early in the second quarter. But after that, it was all Monarchs to avoid the school's longest losing skid ever — 15 games (twice) when the school first opened its doors back in the 1950s.
A trio of backs combined for 301 yards on the ground.
Senior Uziel Avalon carried 22 times for 153 yards and two touchdowns, junior Matthew Felix carried 17 times for 96 yards, and junior Daniel Renteria added 52 yards and two scores on nine carries for the Monarchs.
Monte Vista sophomore Alex Villanueva had a 37-yard interception return for a touchdown.
---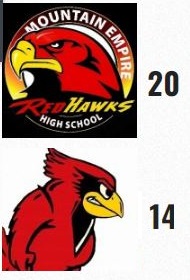 MOUNTAIN EMPIRE 20, HOOVER 14
SAN DIEGO – Mountain Empire junior Corey Vann threw three touchdown passes, including a 47-yard scoring connection with senior David Lothspeich and another to senior Hunter Morgan, as the RedHawks outlasted the Hoover Cardinals, 21-14.
RedHawk junior Phoenix Tani had a sack to thwart a Hoover possession in the fourth quarter with MEHS holding a 20-14 lead.
Lothspeich refused to go down on his long touchdown, as he got away from three separate Cardinal tackle attempts inside the 20-yard line.
Mountain Empire led 14-0 at halftime and 20-6 entering the fourth quarter.
The RedHawks were led on the offensive line by seniors Jason Sandoval and Hector Cruz.
"Our run game was pretty good," Mountain Empire head coach Bernard Vann said. "It allowed us to stay balanced. Our running back is freshman Isaac Gonzalez. He's shifty and has speed. He had to have at least 80 yards rushing for us tonight."
Shiattea Londholm had the other touchdown for the RedHawks on a reception from Vann.
Vann finished with 144 yards passing, while Mannix Gonzalez had three receptions for 24 yards.
Morgan led the defense for MEHS with 11 tackles, including two for loss. He also forced a pair of fumbles and recorded a sack.
Lothspeich had nine tackles, including one for loss, while Gonzalez added six stops.
Josh Cortez had five tackles and forced a fumble for the RedHawks, while teammate Hunter Alvarez had three tackles and a fumble recovery.
Despite being two of the oldest schools in San Diego County, they had never met in football until 2012 when the Cards won. Since then, the RedHawks have now tallied five straight victories.
Technically, the schools did meet in 1949, but it was the "Redskins" (as they were then known) falling to the Hoover JV. Before "Redskins," the school was known as the Emperors when the school opener in 1925, then switched its nickname sometime between 1926 to 1933).
Hoover opened its doors in 1930. It was (mostly) rebuilt in 1974-76, then again two years ago.
---
POINT LOMA 48, SANTANA 10
POINT LOMA – To be strictly on pointe, it is difficult for a medium-size school such as Santana to be facing a large-enrollment school such as Point Loma in football.
When you throw in record-setting head coach Joel Allen, the former Christian High standout quarterback who won 100 games over 10 seasons at The Bishop's School, the Sultans entered the season opener with only an outside chance to compete in the end, it seemed.
With Allen's diverse offense on display, the hosts coasted to an easy 48-10 triumph on Friday (Aug. 19) first jumping to a 21-3 advantage through the opening 12 minutes,
Point Loma quarterback Brady Allen scored two touchdowns, including a 37-yard run, and had an interception.
Pointer senior Drake Cobb had a 68-yard touchdown on a pass from Jackson Emerson.
Santana junior Keith Mizell had a 47-yard fumble return for a touchdown.
---
MISSION BAY 27, EL CAJON VALLEY 13
PACIFIC BEACH — Mission Bay senior Ethan Silber completed 18-for-30 passes for 220 yards and three touchdowns, leading the Buccaneers to a come-from-behind triumph over El Cajon Valley.
Silber had touchdown passes to Jonah Priest (22 yards), David Meier (24 yards), and Jacob Sloan (17 yards).
Meanwhile, El Cajon Valley senior Kal-el Gordon had 131 yards and two touchdowns, covering 33 and 3 yards.
Both Gordon scores came in the first quarter, but the Buccaneers were able to close the period tied at 13-all.
Mission Bay then added two more second-half scores while shutting out the Braves to collect the triumph.
ECVHS junior quarterback Darick Dubose completed 4-of-11 passes for 50 yards, but the Braves' ground attack went barren after the intermission.
A pair of juniors — Darick Dubose and Massih Ehsan — rushed for 52 and 34 yards, respectively.
The top Braves tackler was Gordon with five solo tackles, followed by four each from Dubose (one tackle for loss) and junior Paris Dixon, who also posted an interception.
---
POWAY 31, GRANITE HILLS 19
POWAY – Poway senior Connor Rath rushed for a pair of 1-yard touchdowns and teammate Johnathon Butler had a 92-yard kickoff return as the Titans erased a 10-0 deficit.
Poway scored late in the first half on a 20-yard touchdown reception by Brady Tremble, but Granite Hills countered just before halftime on a 30-yard touchdown reception by Joaquin Thomas from Nico Tomasello.
Granite's Josh Zander scored on an 82-yard touchdown pass from Isaiah Jackson on the opening drive. The Eagles' Robert Petrich had field goals of 40 and 41 yards.
---
HILLTOP 28, VALHALLA 14
CHULA VISTA – The Lancers tallied a touchdown in every quarter to defeat the visiting Norsemen in the season opener.
Hilltop senior Jorge Garcia rushed for 118 yards and two touchdowns.
For Valhalla, Trevor Dawood picked up a fumble and returned the ball 74 yards for a touchdown.
Dominic Silva had a 33-yard touchdown run for the Norsemen.
The score was tied 7-all after one quarter but Hilltop led 14-7 at halftime.
The Lancers led 21-7 after three quarters.
Seniors Tyeron Washington and Sebastian Calara each scored a rushing touchdown for the Lancers.
918 total views, 3 views today