Highlanders win in Jones' HC debut
Helix tight end Quincy Herron celebrates a touchdown.
2021 EAST COUNTY PREP FOOTBALL
ECS staff report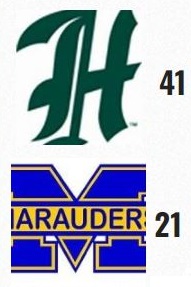 MIRA MESA – In his debut as the Helix Highlanders' head coach, Damaja Jones saw his new team, which is also his old one, defeat the Mira Mesa Marauders, 41-21, in a road win on Friday night.
The new headman at Helix may put his own twist on this year's club whether he expected to or not.
Helix has been a run-first team during its recent run of success under Jones' predecessors but the 13-year defensive coordinator's first entry into the fray might be out of character than what Scottie fans are used to, especially for a man that has turned out several of the county's elite defensive teams year-in-and-year-out.
The Scotties pretty much aired it out against Mira Mesa.
If Friday night's result is any indication, the Highlander faithful would love to see their beloved club move in the direction of a pro-style offense.
Junior quarterback Ryland Jessee, in his third year as the varsity starter, has apparently grown into the role over the summer, literally. From a fresh-faced freshman during the pandemic season to the role of a quarterback that now looks like he just got the keys to the car for the first time.
Jessee already has a Division I championship ring even if he isn't yet being lumped in with the county's top quarterback prospects.
However, he turned in one of the county's top performances on opening night against the Marauders, throwing for 236 yards and four touchdowns – all of them to one man.
One thing that can make any good quarterback look great is having a dominating pass-catching tight end and the Highlanders apparently have that man in senior Quincy Herron.
Herron was already standing out last season with 18 receptions and a pair of touchdowns but his stock flew on Friday night like Elon Musk just tweeted about him. It helped that Mira Mesa didn't realize that tight ends were eligible receivers.
Herron caught relatively easy TD receptions from Jessee from 5 yards and 18 yards in the first half.
However, Herron also scored on a 50-yard reception and a 27-yard reception, giving him four touchdowns in a little more than 2 1/2 quarters.
Herron is a 6-foot-3, 195-pounder that looks the part of a high school tight end and then some. Every team has them but few can put up the numbers like an NFL all-pro.
Jones told the team before the game that they weren't receiving the preseason respect they deserve as the defending Division I champions. The Highlanders were ranked sixth in the local preseason panel of county coaches, possibly one or two spots lower than a team of their caliber might deserve.
Privately, their aspirations are higher even if they will have to find a way to win their spot among the top four teams.
Mira Mesa is a school that has played the Scotties close, even in recent matchups,, but that doesn't appear to be the case any longer.
Helix led 27-0 at halftime and extended the lead to 34-0 on Herron's long touchdown on the first play from scrimmage in the third quarter.
Herron finished with eight receptions for 168 yards. That's a huge night for a prep tight end.
Junior Kevin Allen rushed for 93 first-half yards and one touchdown.
Jessee completed 14-of-27 passes and the Highlanders received another touchdown run by Jason Sisneros.
Mira Mesa's Makei Thompson scored in the third quarter to end the shutout bid by a defense that still has Jones' stamp.
The Marauders plain couldn't make hay on the ground against the dominating Helix front.
Mira Mesa quarterback Tyson Line ran for a touchdown and passed for a touchdown in the fourth quarter.
Nevin Dir had a 39-yard score on the completion from Line.
The Highlanders will host Otay Ranch next Friday. Helix defeated the Mustangs, 29-14, last season after leading 21-7 at halftime.
The Mustangs lost their opener, 47-7, against Madison, a team ranked just below the Highlanders in last week's preseason poll.