Highlanders feelin' hot, hot, hot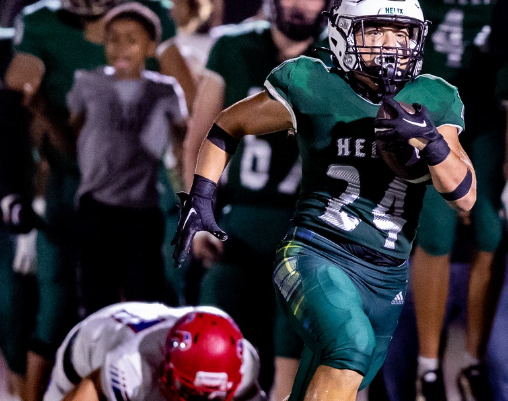 Helix junior Jason Cisneros runs for an 83-yard touchdown. / P.J. Panebianco
2022 EAST COUNTY PREP FOOTBALL
No. 6 HELIX 24, MOUNTAIN VIEW (Mesa, Ariz.) 21
EastCountySports.com staff report
LA MESA — Helix junior Jason Cisneros had nearly all of Helix's 116 rushing yards on two touchdown runs on Friday night, as the Highlanders edged Arizona invader Mountain View, of Mesa, at Hart Stadium.
Helix's offense may look a little different this season with a pass-heavy approach but Cisneros had touchdown runs of 87 and 22 yards for sixth-ranked Helix (3-0).
The Highlanders'  Adren Parker had a 4-yard TD reception from quarterback Ryland Jessee for a 14-7 lead but the Toros tied the game at 14-all.
Jessee was 21-of-28 passing for 180 yards, as the junior may not be the flashiest or most dynamic in the county, but maybe the least mistake-prone. Jessee has nine touchdowns with no interceptions in three games.
Parker is known for his speed but he's a possession receiver in the Highlanders' scheme. He caught 10 passes for 50 yards.
Junior Jackson Daniels added four receptions.
The actual difference in the game was a field goal by junior Josh Hossman-Lees with 7:14 left in the game. Helix gained field position on the Mountain View 20 following a botched punt snap that was recovered by Brandon Nathan.
Helix's defense then went to work with sacks by Kairo Kahananui, Puka Noa, and Jirah Savaiinaea con consecutive plays.
A great punt put Helix back at its own 13-yard line but, Cisneros broke off the big run, as the Highlanders actually did very little in the running game outside of the two game-breakers.
The Toros added a touchdown with 1:11 left for the final margin when tight end Jackson Bowers, a BYU commit, found the end zone.
The Toros scored with four minutes to play in the first quarter on a quarterback keeper by Jack Germaine, the son of the Mountain Valley head coach, Joe Germaine, who quarterbacked Ohio State to victory in the 1997 Rose Bowl of Arizona State.
The Highlanders tied the game late in the first quarter Cisneros' 22-yard run with 4:25 left in the second quarter.
Helix extended the lead to 14-7 on the completion to Parker with just 15.4 seconds left in the first half.
399 total views, 2 views today