ROUNDUP: Vaqueros, Pack, Sultans win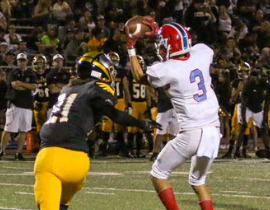 El Cajon Valley's Paris Dixon makes a catch on Friday/ Rob Riingen
2022 EAST COUNTY PREP FOOTBALL
EL CAJON — The Granite Hills Eagles made their case to be the East County's top-ranked team against the visiting Central Spartans on Friday night.
While the Helix Highlanders are ranked fifth in the county, the Eagles are making a quick ascension up the rankings.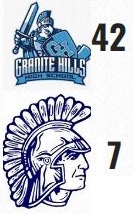 Granite Hills improved to 4-1 with a convincing 42-7 win. The Eagles moved up to seventh in the county media poll, which was released on Monday.
The two teams will meet in El Cajon on the final night of the season, quite possibly for the Grossmont Hills League championship, although both would have to defeat the closest contender, Steele Canyon, leading up to the potential showdown.
In another twist to the scenario, the two teams could end up as two of the top contenders for the section Division I championship. Both teams also have monster non-league matchups this Friday night, as the Eagles travel to face No. 1 Madison (4-0), and the Highlanders host Servite (1-3) then travel to meet Mission Viejo (4-1) next Friday.
Granite Hills took a 7-0 lead against the Spartans on just its third play from scrimmage when senior Zak Darling burst up the seam and raced 55 yards for a touchdown just 2:35 into the contest.
The Eagles extended their lead to 14-0 on a 19-yard touchdown pass reception in the back left side of the end zone by senior Colin Riley from senior quarterback Parlan Sanders.
Then the Spartans decided to give the game away to the Eagles when they botched a simple handoff on a running play on consecutive possession in their own territory.
Granite Hills quickly capitalized on both miscues and turned them into scores. Derek Ibarra and Tyler Bertalan were credited with the recoveries.
Maxwell Turner turned in the first of the sudden back-to-back scores with a 6-yard run at the 9:34 mark of the second quarter, then Joaquin Thomas Jr. was on the receiving end of a 3-yard pass from Sanders to give the Eagles a 28-0 lead midway through the second quarter.
The Spartans were able to get on the scoreboard just 2 1/2 minutes later with a swift drive that resulted in a 29-yard touchdown reception by sophomore Sergio Garcia from senior quarterback Damien Rodriguez.
Central made its best effort to climb back into the game midway through the third quarter when they pushed the ball to the Eagle 1-yard line, but Granite Hills came up with a pair of goal-line stops for a turnover on downs.
The Eagles put the game out of reach on the ensuing 99-yard drive when sophomore Isaiah "Pablo" Jackson ran through his blockers for a 55-yard touchdown with seven minutes remaining in the third quarter.
Jackson finished with 147 yards on 11 carries, while Darling had 107 yards on seven carries. Turner finished the night with 92 yards on five carries. Jackson and Turner are both sophomores.
"We knew this was a huge game for us," Granite Hills head coach Kellan Cobbs said. "(Central) is a good football team and I was expecting a physical football game. Our team responded with some really good plays and our running backs were making people miss.
"Offensively, we've gone to more of an up-tempo, trying to get plays and I think that we are able to wear teams out. Our defense played physical and with our depth, we were able to rotate guys and stay fresh."
Darling would add an 8-yard score with 4:28 left in the third quarter for the final margin.
Easton Peterson had a diving interception in the end zone to stop an earlier Spartan drive in the third quarter. Davion Green also had an interception and defended three passes for Granite Hills.
"We professed a lot this week in terms of preparation," Green said. "We didn't have a great week of practice but we did come prepared and looked good during the game. We are a deep team. Everyone here is a good player.
"Our team will be prepared for Madison and hopefully, we can earn that win, too. We got taken out of the playoffs by them last season (28-20) and we're coming back to beat them and get to 5-1."
Junior Jordan Glaze had a team-high 10 tackles, including three solos, for Granite Hills,
Senior Jonathan McClement had a sack for the Eagles.
Following the game, the Eagles celebrated career victory No. 73 for head coach Kellan Cobbs at Granite Hills. Paul Wargo (1978-87) was the previous all-time leader in career wins guiding the Eagles' program.
Mitch Burton had 56 wins from 1991-2000, while Jim Symington had 39 wins from 1966-73, and Dwight Morris had 34 wins (but a .877 winning percentage and three Grossmont League titles) from 1974-77 at Granite Hills.
Cobbs has five league championships with the Eagles, including three Grossmont Valley League championships, one Grossmont Hills League co-championship, and another Hills League title which came during the Spring season of 2020.
No. 5 HELIX 42, ST. AUGUSTINE 29 — Helix (4-1) trailed 23-14 at halftime but survived the scare from the rapidly-improving Saints as Kevin Allen III finished with three TDs for the Highlanders.
Jason Sisneros had a 2-yard TD to give Helix its first lead in the final minute of the third quarter. He had two rushing scores in the game.
Jackson Daniels caught an 8-yard TD from Helix QB Ryland Jessee.
Daniels also had an interception on defense.
Allen III rushed for two of the scores and caught a touchdown pass, as he had three receptions for 30 yards. He finished with 118 yards on the ground.
For St. Augustine (2-3), Brady Palmer threw a 21-yard TD pass to Isaiah Hasten for a 6-0 lead and a 52-yard TD pass to Landen Kassab. The Saints' freshman QB also rushed for a TD and caught a TD pass.
Jessee passed for 148 yards on 11-of-14 attempts.
WEST HILLS 21, MOUNT MIGUEL 7 — Both teams came into the gridlocked at 2-2 and hoping to make some headway going into the Grossmont Valley League season.
The Matadors put the scare in early, taking a 7-0 lead at home into halftime.
However, the Wolf Pack scored the only three touchdowns of the second half to open the GVL season 1-0.
After a scoreless first quarter filled with missed opportunities by both teams, the Matadors rose up with a touchdown pass from junior to junior – Matthew Barton to Jeremiah Castillo – and the Mount led 7-0 at the half.
In the third, the Wolf Pack woke up and after a fumble ruling allowed them to maintain possession, the Pack's own junior-junior combo in quarterback Collin Dill hooked up with wideout Nate Stevens wide open in the end zone for the easy score from 25 yards to make it 7-all.
The Pack took their first lead of the game after a nice pass from Dill to junior wideout Alexander Grubbs for 34 yards, which set up fellow junior Diego Calderon's third-down punch-in from the goal line to make it 14-7
After a botched snap by the Matadors resulted in a fumble that gave West Hills possession, Calderon tacked on a nice run for his second rushing score of the night from 17 yards.
An interception by Stevens late in the fourth sealed the deal and the Wolf Pack moved to 3-2. Mount Miguel (2-3, 0-1) was held to 141 total yards.
Dill finished with 142 yards of total offense.
West Hills racked up four sacks as Braden Wilson, Jack Tracy, Lance Briseno, and Stevens got to the quarterback. Grubbs also had an interception.
EL CAPITAN 55, EL CAJON VALLEY 27 — In the GVL opener on Thursday, Bruce Newland III passed for two TDs and ran for another for El Capitan (3-2, 1-0), while the Vaqueros rushed for seven touchdowns in total
Junior Julian May rushed for two of the scores, while teammates Angel Diaz, Clifford Wilson, Ayden Banegas, and Davion Phillips also scored rushing TDs.
El Cajon Valley (1-4, 0-1) got TD receptions by Chris Cosio and Paris Dixon from QB Darick Dubose.
Daelin Richardson had a rushing TD for the Braves to cap a 57-yard drive. Richardson rushed for 83 yards.
Newland III capped a 35-yard drive with a 2-yard touchdown run for the game's first score
Diaz added a 2-yard touchdown run later in the first quarter on El Capitan's second drive.
Cosio's touchdown reception in the second quarter capped a 94-yard drive for El Cajon Valley and drew the Braves to within 14-7.
Newland III's touchdown run extended the lead to 21-7.
May had a 5-yard touchdown run to make it 28-7 late in the second quarter.
The Vaqueros scored a touchdown in the third quarter on the first series to make it 35-7.
El Cajon Valley's touchdown reception by Dixon in the third quarter closed the gap to 42-14 following a 65-yard drive.
The Braves' Richardson added his second touchdown on the final play of the game but no point-after try was awarded. Many outlets missed the score and the wrong final was widely reported.
Senior Austin Cordeiro had a game-high 10 tackles for El Capi, including six solo stops. He also had an interception.
El Capitan senior Michael Segovia also recorded an interception on defense.
May also had a long kickoff return but was stopped 2 yards shy of the goal.
One of Laila Rodriguez's point-after tries for the Vaqueros was tipped by the Braves ending her consecutive PAT streak at 15 to open the season.
Dixon had a team-high eight tackles for ECVHS, while teammate Yasir Blair had a sack.
SANTANA 48, VALHALLA 6 — Michael Valenzuela had two TD receptions, while Santana (1-4, 1-0 GVL) got rushing touchdowns from Nick Leger, Linden Benson, Fabian Ibarra, and Zachary Bader.
Santana senior Jackson Scott kicked two field goals.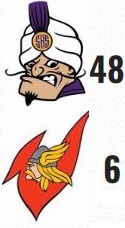 Valhalla (0-5, 0-1 GVL) scored on a TD pass to Arsalam Ghazialam from Braxton Estes with five minutes left in the game.
Leger scored on a touchdown keeper in the first quarter.
The second TD was scored by Benson.
Leger connected Valenzuela on a double pass to make it 21-0.
Jackson Scott's 22-yard field goal extended the lead. He also had a 21-yard field goal in the game.
Alex Rico, a junior, threw a 42-yard touchdown pass to Valenzuela down the right sideline.
Ibarra scored with 2:30 left in the third quarter 7-yard TD run 42-0
Bader rushed for a touchdown 20-yard touchdown run to make it 48-0
No. 2 LINCOLN 49, STEELE CANYON 7 — Major Givens had a 9-yard TD run for Steele Canyon (1-4) which made the score 14-7 in the second quarter.
Givens finished with 106 yards on 24 carries.
Kai Chatham passed to for Granite Hills Eagle Corey Thompson-Miller for a 39-yard TD pass and later connected with Aiden Jackson for a 65-yard TD for Lincoln (4-1).
Thompson-Miller also had a 65-yard punt return for a TD.
Roderick Robinson had a rushing TD and a receiving TD for Lincoln.
Thomas Miller had a 53-yard interception return for a TD for the Hornets.
Point Loma 45, Christian 16 — For Chrsitian (2-3), Jake Davila threw a 60-yard touchdown pass to Ryan De Los Reyes to tie the game at 7-all. Hunter Provience caught his fourth TD of the season in the fourth quarter for CHS.
For Point Loma (4-1), Chase Lowary scored three TDs, while Jackson Emerson threw a TD pass. Ryan Burdine had a 29-yard interception return for a TD.
Sweetwater 29, Monte Vista 7 — On Thursday, Gabriel Gomez rushed for two TDs, while teammates Zaryan Crews and Carlos David Delgado both scored a rushing TD for Sweetwater (3-2), which led 15-7 at halftime. Monte Vista fell to 1-3.nder four minutes to play in the first half.
Matthew Felix scored on a 1-yard rushing touchdown for Monte Vista, which finished with just 90 yards of total offense against the Red Devils.
Gomez had a 65-yard touchdown to make it 15-0 Sweetwater.
Gomez added a 33-yard rushing TD to make it 22-7. He also had an interception, which he returned 48 yards.
Sweetwater's Julian Ramos had a 68-yard punt in the contest.
372 total views, 1 views today