East County Fearless Forecaster – Week 6
Updated: September 23, 2022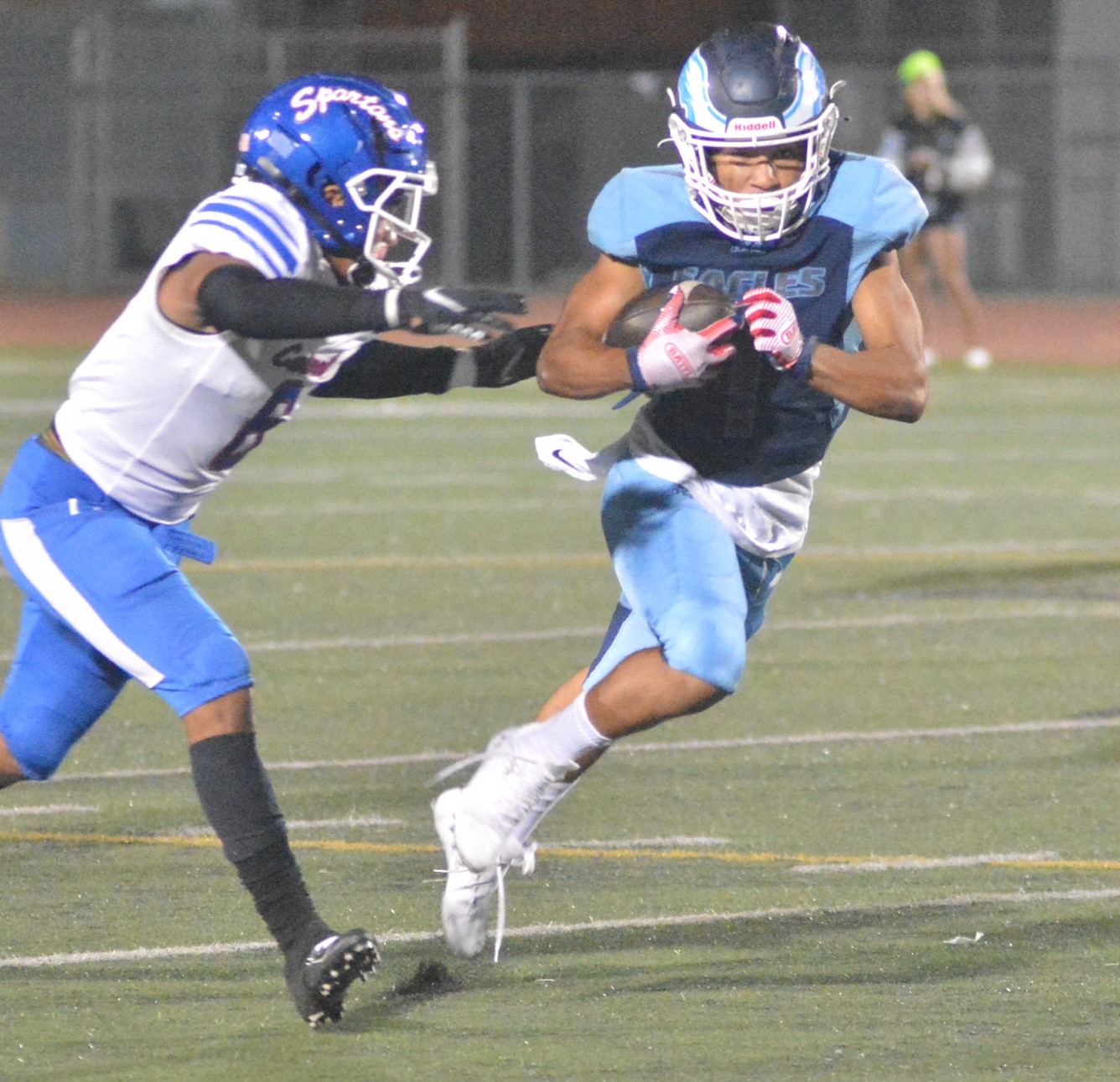 Granite Hills rushes against Central Union last Friday. / Ramon Scott
2022 EAST COUNTY PREP FOOTBALL
By Ramon Scott
EastCountySports.com
SPRING VALLEY — Troy Starr has already etched his name among the East County's most successful head coaches ever.
With 83 wins and a pair of section titles at Helix from 2008 through 2015, the current Mount Miguel head coach can achieve a milestone locally that only a few have reached.
Although Starr owns 238 total wins as a head football coach, including 139 as the skipper of Taft High, of Woodland Hills, for 14 seasons starting in 1992, Starr can win his 100th game locally with his next victory, which would be his 17th at Mount Miguel.
The Matadors can deliver that win to their coach tonight with a win over an evenly-matched Santana High ballclub.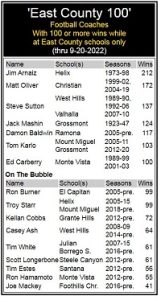 Only five other Grossmont Conference head coaches (Jim Arnaiz, Steve Sutton, Jack Mashin, Tom Karlo, and Ed Carberry) have reached the 100-win milestone exclusively as a head coach while with a GUHSD program.
Another local mentor, head coach Ron Burner, of El Capitan, is also just one win away from career win No. 100, but the Vaqueros have a bye this week before facing the Sultans in Santee next Friday.
Should Santana win its next two games, Starr and Burner could find themselves facing off both with 99 wins as Grossmont Conference head coaches.
Mount Miguel used to hold over the Sultans with eight straight wins in the series but Santana's recent resurgence has allowed them to win the last two meetings in 2019-20. However, last year's anticipated matchup was canceled due to health and safety protocols as a result of the pandemic.
The Sultans can shake off a rare 0-4 start by winning a second-straight Grossmont Valley League contest here on Friday night. Santana smashed lowly-rated Valhalla, 48-6, in El Cajon last week to pick up its first win of the season.
The teams can use the matchup as a measuring stick since they appear to trail the top two teams – defending league champ West Hills and El Capitan – currently, but may be ahead of the league's bottom two teams – El Cajon Valley and the Norsemen – at the moment.
The Matadors figure to be a slight favorite despite their 0-1 league start (2-3 overall) following a 21-7 home loss to West Hills last week, Mount Miguel's third-straight defeat.
Mount Miguel's Jeremiah Castillo had a 38-yard touchdown reception in the first half but the Wolf Pack scored the only three touchdowns of the second half.
Santana, meanwhile, built some much-needed confidence following their decisive win at Valhalla.
Michael Valenzuena continues to be an impact player when it comes to reaching the end zone, scoring twice against the Norsemen.
The overall series sits at 30-15-1 in favor of Mount Miguel but this one is expected to be close… SANTANA, 21-20.
No. 7 GRANITE HILLS (4-1) at No. 1 MADISON (4-0) — The Eagles are garing a lot of attention of late, surging into the county's top ten, but they will be up against the current No. 1-ranked team in the county tonight.
Madison won twice in 2021, including a CIF quarterfinal, 28-20, after Granite Hills upset Oceanside on road. The Eagles have already defeated the Pirates this season, as well.
Madison also also won in 2019, while Granite Hills won a 1975 playoff game, 32-14, at Aztecs Bowl, so the Eagles haven't beat Warhawks in 47 years.
And that's not likely to change tonight, as Madison has impressed enough for pollsters to have them ahead of higher-rated teams and Western League foes Cathedral Catholic and Lincoln.
The Eagles are even somewhat exceeding expectations and will be the host for possibly the biggest game of the season in the finale when they host Helix in the Grossmont Hills League key game.
But for now, the Warhawks serve as the biggest test so far.
Madison has a stunning offense with quarterback Reggie Johnson and receiver Jake Jackson. Johnson has passed for nine touchdowns. Jackson and two other receivers – Sean Webb and Dylan McFeely – all have three touchdown receptions on the season.
The Eagles have an unheralded running game with backs Zak Darling, a senior, and sophomores Maxwell Turner and Pablo Jackson. Jackson has four rushing touchdowns.
Granite Hills has felt more comfortable in its offense of late and has increased the tempo at the line of scrimmage to keep defenses huffing and puffing, but tonight will be a stiffer test.
Despite Madison's strong start to the season, there is reason to think the Eagles can keep this one close… MADISON, 28-21. 
SERVITE (1-3) at No. 5 HELIX (4-1) — The teams met last season with Servite claiming a 42-7 victory as the Friars racked up 442 yards of offense against Helix.
That result alone may give the favoritism here to the visitors from Anaheim but the Friars also come in as the higher-ranked team despite the disparity in records.
Servite is just 1-3 albeit against its usual tough schedule. That Highlander loss on their 4-1 record should've probably been a win. Cathedral Catholic was credited with a touchdown on a play that should've been a touchback in a 14-13 home loss.
Still, this is no easy task for the Scotties. Servite has lost to Los Alamitos, Mission Viejo, and Rancho Cucamonga, a schedule that still places them 10 points higher that the Highlanders in the computer ratings. Helix faces Mission Viejo on the road in two weeks.
Helix's run game was shut down by Servite in the mid-season meeting but the Scotties' passing game fared pretty well, as Ryland Jessee passed for 183 yards. That could provide the boost Helix needs.
Servite's win came against La Mirada but just a 10-7 count. The Friars are a much younger team than last year's group but feature a sophomore passing connection with quarterback Leon Hannan and receiver A.J. Campbell. Two other quarterbacks have also seen considerable time in the mix, including J.J. Johnson. Senior receiver Ethan Scaffidi also poses a threat.
Helix doesn't have the dominant ground game as in the past several years, but junior backs Kevin Allen III and Jason Sisneros have combined for 583 yards and nine touchdowns this season.
A loss wouldn't necessarily damage Helix's chances to still reach the Open Division playoffs but a win would be something to note… SERVITE, 27-24.
STEELE CANYON (1-4) at No. 3 CATHEDRAL CATHOLIC (2-3) — The Cougars have lost four-straight and will be in a difficult matchup on the road with the fourth-ranked Dons.
Cathedral leads the all-time series 7-3 with the last Cougar on-field win coming in 2010 (SC won in 2012 when CCHS forfeited all of its wins). Dons are 4-0 at home in the series.
The Dons are turning into more of a passing team with each game, it seems, continuing to evolve offensively this season against their rigourous schedule.
The Cougars rely on their major threat, running back Major Givens, a senior bound for Montana State. He has nearly 850 yards and eight touchdowns this season.
Steele Canyon senior Enzo D'augusta has five sacks this season.
The Cougars have been playing a tough nonleague schedule for years but right now that is catching up with them a bit… CATHEDRAL CATHOLIC, 42-7.
VALHALLA at WEST HILLS –– West Hills will roll against Valhalla, especially given last year's 49-0 final margin of victory for the Wolf Pack in El Cajon.
This will be the 30th meeting between the schools.
Despite Valhalla's recent woes, it was only back in 2019 when the Norsemen last tipped the Pack in a 42-14 win in Santee.
West Hills has a strong defense which is likely to carry them to a season-ending showdown for the Grossmont Hills League championship against El Capitan.
Senior Jack Tracy leads the team with four sacks this season for the Wolf Pack.
West Hills quarterback Collin Dill has 675 yards of total offense this season, as the team's leading rusher and passer.
Valhalla (0-5, 0-1 GVL) scored its fourth touchdown of the season last week on a pass to Arsalam Ghazialam from Braxton Estes with five minutes left in the game.
The two TDs Valhalla has scored against conference opponents Granite Hills and Santana have come near the end of the game.
West Hills leads the all-time series, 18-10-1, but the Wolf Pack has won just seven of the last 13 meetings. Both of the least two meetings here in Santee have ended 24-21, with each team winning once… WEST HILLS, 42-6.
MONTE VISTA (1-3) at EL CAJON VALLEY (1-4) — This figures to be one of the better match ups of local teams on Friday night.
Both teams have poor records but the Braves have been competitive in their losses and also had a record-setting shutout margin in their victory.
Meanwhile, the Monarchs seem to be improved over last season and will be out for revenge for a win by the Braves in Spring Valley, 41-22.
The Braves feature running back Kal-el Gordon, one of the top backs in the East County. He has rushed for 475 yards and eight touchdowns this season.
The Monarchs also have a predominant rushing game. Last week, Matthew Felix scored the team's only touchdown in a 29-7 loss to Sweetwater.
Monte Vista has rushed for nearly 1,000 yards in four games.
This will be the 48th meeting between the schools,
The series resumed in 2007 after stopping following 1998 game, with Monte Vista up 12-3 since the resumption.
In the all-time series, Monte Vista is up, 31-15-1
El Cajon Valley seeks to win two straight from the Moanrchs for the first time since back-to-back wins in 1974 and 1975… EL CAJON VALLEY, 27-20.
No. 10 MIRA MESA (3-1) at GROSSMONT (0-5) — The Foothillers are in need of a strong performance, win or lose. Grossmont suffered its second shutout of the season – both to out-of-section opponents – in a 45-0 loss to the Cajon Cowboys in San Bernardino.
Mira Mesa is ranked 10th in the latest media poll and figures to be able to win on the Hillers' home turf.
The Marauders won, 13-7, last season in a game played in Mira Mesa but Grossmont has regressed dramatically this season.
Just as recently as 2019, the Foothillers won a season opener at home against Mira Mesa 43-17. The all-time series is tied, including a split of playoff games in back-to-back years (2010-11)
Mira Mesa shutout Scripps Ranch last week, 28-0. The Marauders lone loss was a season-opening 41-21 loss at home to Helix.
Marauder senior running back Makei Thompson has rushed for over 600 yards and has scored eight touchdowns.
Grossmont will be considerable underdogs here… MIRA MESA, 42-7.
MOUNTAIN EMPIRE (2-2) at ARMY-NAVY (4-1) — This is a historical small-school rivalry daring back to at least 1947 and is now a league opener as Mountain Empire starts play in the Pacific League.
The RedHawks prefer to travel to San Diego out of convenience, so the trips are nothing new for the team over the past few seasons.
The RedHawks won last week at home against Tri-City Christian, 21-7,  behind a 283-yard, three-touchdown effort by freshman running back Isaac Gonzalez, who continues to impress.
Senior David Lothspeich had a pair of sacks last week, while senior Roberto Andrade recorded an interception.
This century, ANA leads 9-8, with MEHS winning the last three, including a CIF game in 2018 in the first round, 28-7, as the 5th-seeded 'Hawks got the better of the 12th-seeded Army and Navy.
The all-time series shows ANA with a 29-21-1, but the Warriors won the first six meetings (1947-55), including five by shutout. Since then, the series is almost dead-even at Army-Navy, 23-21-1.
The ratings may point to a Warrior win but the RedHawks are one of the best teams in the county and keeping games within one possession, often giving them a chance as underdogs late… ARMY AND NAVY ACADEMY, 21-14.