Eagles just miss upset of No. 1 team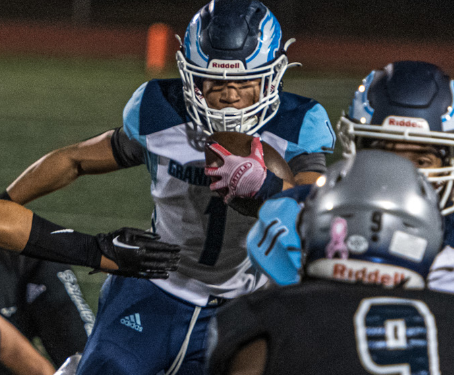 Pablo Jackson carries on Friday night for Granite Hills.
2022 EAST COUNTY PREP FOOTBALL
MADISON 15, GRANITE HILLS 13
EastCountySports.com staff report
SAN DIEGO — Despite the heartbreak of losing to the county's top-ranked team, the Granite Hills Eagles continued to earn respect on Friday night.
The Madison Warhawks rallied in the fourth quarter to take a 15-12 victory over the serious upset bid of the visiting Eagles.
Granite Hills held a 12-0 lead in the fourth quarter until the Madison comeback.
The Eagles recorded five sacks in the contest.
Pablo Jackson rushed for 77 yards, including a 15-yard touchdown for the Eagles in the third quarter.
Top-ranked Madison, which was coming off a bye, improved to 5-0. Seventh-ranked Granite Hills fell to 4-2.
Junior Jaylon Brown scored on a 25-yard run to get Madison on the board in the fourth.
Madison went 87 yards for the go-ahead drive, as  James Tivao scored on a 2-yard run with 2:36 to play.
Granite Hills' defense was legit for nearly the entire contest, coming up with a pair of stops when the Warhawks got inside the Eagle 10.
The Eagles opted to go for a fourth-and-1 at the Madison 13 in the fourth quarter, but the Warhawks forced a turnover on downs.
Granite Hills kicker Robert Petrich, one of the best in the conference, had field goals of 32 and 25 yards in the second quarter, as the Eagles led 6-0 at halftime.
Madison's Titus Toilolo had an interception with 42 seconds to play in the game. Tivao also had a pick in the game.
659 total views, 1 views today