Three goals in final 10 fuel Hawks upset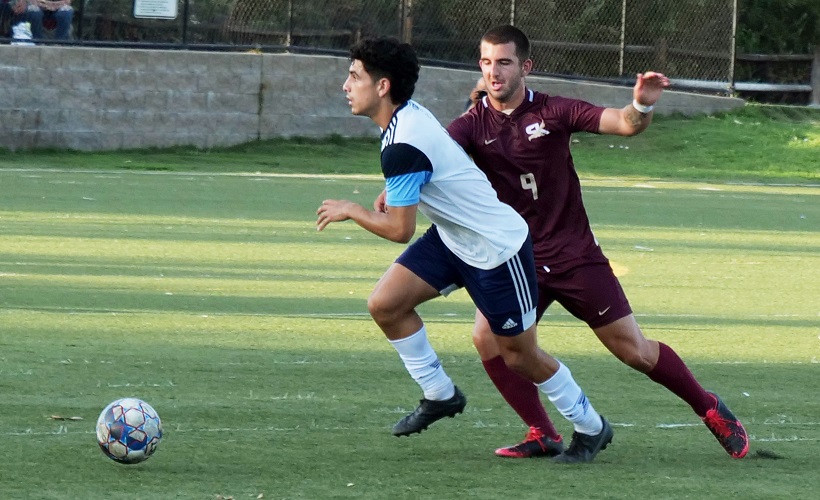 2022 SAN DIEGO CHRISTIAN COLLEGE MEN'S SOCCER
ECS staff report
TEMECULA — San Diego Christian College forward Gael Ruiz rallied both the game-tying and go-ahead goals in the final 10 minutes, lifting the Hawks to a stunning 4-2 triumph over visaiting Menlo College in Thursday's (Oct.6) Golden State Athletic Conference men's soccer match at Galway Downs.
Ruiz, a junior out of Hilltop High in Chula Vista, scored his goals with a bit of the dramatic.
On the tying goal, junior midfielder Gabriel Willadsen (West Hills HS)accepted a service from the back and carried the ball to midfield. He then sent a long pass to Ruiz along the left wing, open because both Menlo players went to cover a different forward.
Ruiz was off on a mini-breakaway, but the Menlo fullback cut the angle to prevent qa shot. Still, Ruiz pulled the ball back onto ther top of his booth and shin, then flipped an 8-yard shot over the goalie and into the ridgt-side corner of the goal to pull the Hawks even at 80:40 (81st minute).
Less than five minutes later, Ruiz took another pass from the right-sideline, this time from J esus Garcia, a freshman out of Mater Dei Catholic, and drilled a lowq shot into the net for a 3-2 advantage.
With seven seconds remaining and Menlo pushing all 11 players forward, n a forward pass from Ruben Betancourt (Fontana) found senior James Williamn (Quebec City, Quebec) — a transfer from Maine-Fort Kent (the Bengals) — for a breakaway, empty net tally.
Ruiz and William now lead the Hawks ion goal scoring with three each.
San Diego Christian (4-4-3 overall, 1-1-0 GSAC) returns to action on Saturday (Oct. 8), hosting William Jessup University at 1:30 p.m.
In the first game of the doubleheader, Menlo women's soccer downed the Hawks, 3-1.