Hawks set speed mark to shock Westmont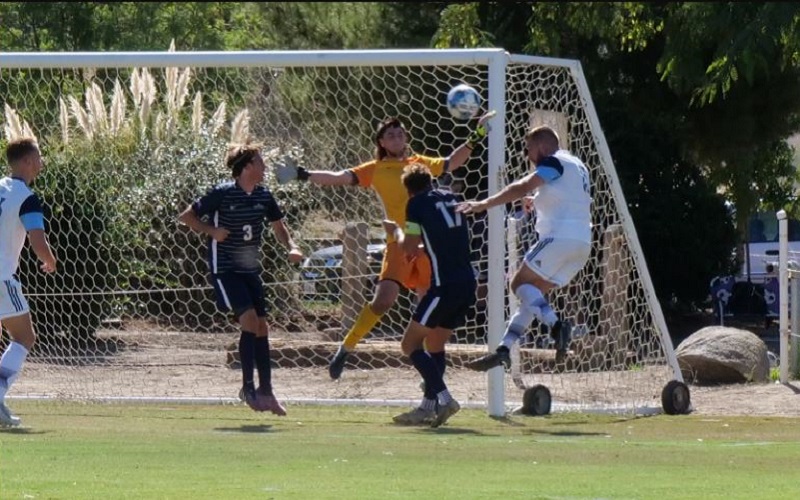 2022 SAN DIEGO CHRISTIAN COLLEGE MEN'S SOCCER
ECS staff report
TEMECULA — San Diego Christian College owns a knack to score goals in bunches — but never this fast.
The Hawks men's soccer team tallied a pair of second-half goals in a span of just 59 seconds on Saturday (Oct. 22),enough to stun visiting Westmont, 2-1, in Golden State Athletic Conference action.
The Senior Day affair was held at Galway Downs, an equestrian center, which uses its polo field as a soccer facility when polo is out of season.
A 29th minute goal by Westmont's Landon Amaral looked like it would stand up all afternoon before the Hawks turned a dull performance on offense into explosive fireworks.
Both San Diego Christian goals were a true international variety.
Midfielder James William, a midfielder from Quebec, gained a share of the Hawks club scoring lead in the 60th minute at 59:28. The assist went to Andrija Mihajlovi, another midfielder, but from Belgrade, Serbia, in eastern Europe.
William, a transfer from University of Maine-Fort Kent, is tied with Ruben Aguiniga with four goals each.
Less than a minute later, William intercepted a Warriors pass, forwarding the ball to teammate Arie Boersma of The Netherlands.
For Boersma, a 6-foot-7 freshman from Utrecht (the country's fourth-largest city, located 20 miles from Amsterdam), it was his second collegiate goal in just his third start.
Otherwise, it was a quiet outing for the Westmont goalie, who registered just one save.
Meanwhile, SDCC goalie Mark Cardenas, a junior out of Flagstaff, Ariz., overcame a slow start with five saves to collect the victory.
Both ballclubs are now 2-4-1 in GSAC play.
San Diego Christian (5-7-4 overall) snapped a 4-game losing streak.Next week, the Hawks close the regular season with road games at Hope International and Life Pacific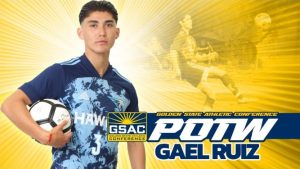 Note: San Diego Christian forward Gael Ruiz was named the GSAC Player of the Week on offense for the period of Oct. 2-8.
Ruiz scored twice in a 4-2 comeback victory over Menlo College on Octo. 6, and provided the game-tying assist in a 1-1 draw Oct. 8, against William Jessup.
275 total views, 1 views today