Givens' 454 yards sets East Co. record
Updated: November 4, 2022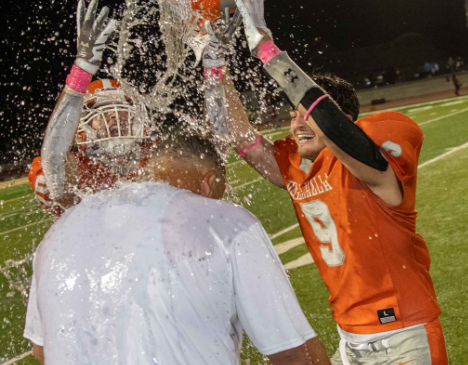 Valhalla players douse head coach Wayne Cherry on Friday. / Don De Mars
2022 EAST COUNTY PREP FOOTBALL
EastCountySports.com staff report

FLETCHER HILLS — Major Givens rushed for a Grossmont Conference-record 454 yards and three touchdowns on 31 carries, surpassing the Steele Canyon record for career rushing yards in a 31-10 triumph over host Grossmont
Givens had TD runs of 2, 70, and 79 yards as Steele Canyon (2-8, 1-2) finished with 474 yards on the ground.
Michael Lindley added a 6-yard TD run while teammate Matt Thornton kicked a 22-yard FG for SC.
Elijah Webb had two interceptions for Grossmont (0-10, 0-3), which trailed just 17-7 at halftime, but was limited to just 68 total yards.
Givens' total is the fourth-highest in San Diego CIF history for a single game.
Dorian Richardson rushed for 499 yards in a San Diego CIF playoff game in 2017. He also rushed for 493 yards in a regular season game in 2018.
Earlier this season, Roderick Robinson rushed for 476 yards against Mater Dei Catholic.
Junior Manoouel Saka led the Cougars with 14 tackles.
Senior Quentin Stevens and sophomore John Weaver IV both had six solo tackles for the Cougars.
Weaver had two sacks, while Saka added a sack, as well.
Santana 26, El Cajon Valley 6 — Linden Benson rushed for 141 yards and a TD for Santana (5-5, 5-1), while teammates Nick Leger and Alex Rico both threw a TD pass.
Landen Bailey and Reed Robertson were on the receiving end of the TDs for the Sultans, who led 19-6 at halftime.
Robertson had five receptions for 36 yards.
Logan Ellis blocked a punt which was recovered by teammate Hayden Sheehan in the end zone for a touchdown.
Bailey also forced a fumble on defense.
Paris Dixon had a 9-yard receiving TD for El Cajon Valley (4-6, 3-3).
Valhalla 22, Monte Vista 14 –
RANCHO SAN DIEGO – Valhalla's Ashak Reheema had a 45-yard fumble return for a TD in the second half.
Also for the Norsemen, Dominic Silva had a touchdown on the ground.
Brasen Madden had a 4-yard touchdown reception in the first half for Valhalla (1-9, 1-5), which earned the first win for head coach Wayne Cherry.
Jayden Ellison threw a 24-yard TD pass for Sabastian Pitoau in the third quarter for Monte Vista (1-9, 0-6), while teammate Damarcus Hill had a 6-yard rushing TD.
Christian 34, San Diego 10
DOWNTOWN SAN DIEGO — Christian (6-4, 4-0) finished the Eastern League season as the outright champion as Hunter Provience had three TD receptions from Jake Davila.
Brady Bingham had a 15-yard rushing TD in the second quarter for a 7-0 lead.
Aidan Hypes added a rushing TD for the Pats. San Diego (4-6, 1-3) trailed just 13-3 at halftime.
Bingham led the defense with seven total tackles, including a sack.
Mountain Empire 38. Orange Glen 34
CAMPO — RedHawks freshman Isaac Gonzalez had 12 rushes for 225 yards and three TDs as Mountain Empire defeated winless Orange Glen .
David Lothspeich had a pair of rushing touchdowns for the RedHawks, who improved to 3-7.
Hunter Morgan had 10 tackles, including one for loss, and two fumble recoveries, including a scoop-and-score.
Phoenix Tani added eight tackles for MEHS, while teammate Johnny Peltan had a fumble recovery and four tackles, including a sack.
Drew Reed, of the RedHawks, had seven tackles, including two for loss and a sack.
The 'Hawks' Michael Hoffner had four tackles and a fumble recovery.
Junior quarterback Corey Vann was 4-of-5 for 83 yards. He also passed for a two-point conversion to Peanut Lindholm.