EAST COUNTY FEARLESS FORECASTER – First Round Playoffs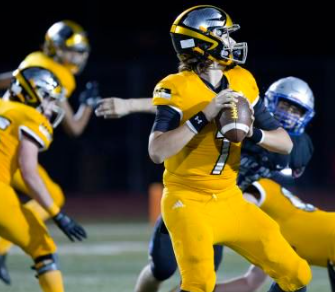 El Capitan sophomore QB Brandt Barker. / Vic Marano
2022 EAST COUNTY PREP FOOTBALL
EAST COUNTY FEARLESS FORECASTER – PLAYOFFS (OPENING ROUND)
EastCountySports.com staff report
LAKESIDE – The El Capitan Vaqueros have the hottest quarterback in the East County heading into the postseason.
Sophomore Brandt Barker leads the scorching Vaquero offense against the Morse Tigers in a San Diego CIF Division III opening-round contest on Friday night in Lakeside.
El Capitan (8-2), the Grossmont Valley League champions, are the No. 7 seed entering the division playoffs. Morse, the ten seed, is 6-4.
Barker finished the regular season with 15 touchdowns and just one interception, throwing for nearly 1,400 yards.
Junior receiver Chance LaChappa has emerged as one of the East County's top playmakers this season.
LaChappa has 11 touchdown receptions and averaged over 20 yards per catch. He had 42 catches during the regular season.
Junior Julian May can be a slashing-style running back but is also dangerous catching passes. He had nearly 850 yards of total offense during the season and scored eight touchdowns.
El Capitan also has a bruising-style running back in senior Angel Diaz, who rushed for nearly 700 yards and six touchdowns.
The Vaquero defense had a big role in securing the league title but had some struggles against non-league opponents.
However, seniors Austin Cordeiro and Dominic Denha are both candidates for the league's defensive player of the year. The pair combined for 158 total tackles and six interceptions.
The Morse Tigers might, or might not, be an underdog in this one.
The Tigers' losses all have come to good teams, including common opponent Rancho Buena Vista. Morse also lost to Point Loma, University City.
Morse lost to RBV on the road, 51-35, while the Vaqueros lost at home to the Longhorns, 42-14. However, the El Cap offense is a far more polished outfit now than they were at that time.
Both teams also faced City cellar-dweller Canyon Hills, as the Vaqueros beat the Rattlers, 37-6, while the Tigers defeated them, 52-26.
More quarterback Johnny Mosti has thrown for 2,415 yards this season and 20 touchdowns, but with eight interceptions.
Morse has five receivers that had at least 22 receptions this season, including team leader Aleonte Logan, who scored 10 touchdowns.
The Tigers also have a 1,100-yard rusher in Damarion White, who also scored 17 touchdowns.
This is the third meeting between the teams, as the clubs met in back-to-back seasons in 2007-08 (including this 24-0 shutout on the Tigers' field in the '08 contest http://www.eastcountysports.com/main/2008-09/prep/football_week1.shtml), splitting the games.
This one will likely be too close to call… EL CAPITAN, 35-34.
CLAIREMONT (3-7) at EL CAJON VALLEY (4-6) – The seventh-seeded Braves host the 10th-seeded Chieftains in a Division V first-round matchup at Priest Field.
The Braves had a team dinner at Marechiaro's on Thursday evening and Daryl Priest, a Braves alum, spoke the to team about aspiring to be successful in the future.
Priest was referring to the players' personal futures in education and the workplace but the underlying tone was to be prepared for success, including tonight's game with Clairemont.
The teams met just last season and the Braves stomped the Chieftains, 41-12, in a Week 4 matchup on this same field. The Braves were 0-3 coming into that game.
This one could be just as one-sided.
El Cajon Valley's Kal-El Gordon rushed for 230 yards in last season's matchup. He scored three touchdowns in the game, including a 27-yard reception.
Braves junior Paris Dixon, who has six touchdown receptions this season, also had a touchdown reception in last year's Clairemont game.
El Cajon Valley stunned Army-Navy Academy on the road last season in the opening round of the D-V playoffs.
The Braves have a good defense, especially in this division, led by senior Yasir Blair, who comes in with seven sacks.
Junior Chris Cosio leads ECV with three interceptions on the year.
The Braves have won seven of 10 all-time meetings, including four of five this century… EL CAJON VALLEY, 38-14.
WEST HILLS (6-4) at SAN PASQUAL (7-3) – The 11th-seeded Wolf Pack will face the rushing attack of the sixth-seeded Golden Eagles in a Division III first-round game.
While San Pasqual is considered a substantial favorite, West Hills could stand a chance thanks to its good defense, but the key will be to make the reads on the Golden Eagles' triple-option.
West Hills comes in allowing just under 18 points per game, while the Golden Eagles allow less than 16 points per game.
The Wolf Pack were without their starting quarterback last week, who suffered an ankle sprain off the field just 24 hours before kickoff. They were able to compete early with El Capitan but lost decisively in the end.
In order to keep San Pasqual's ball-control offense off the field, West Hills needs to possess the ball on their own long, sustained drives.
That isn't out of the question with running back Diego Calderon.
West Hills won a road playoff game as recently as 2019 when it defeated Valhalla, 21-14. San Pasqual's last playoff win came in 2017, a 27-25 victory over visiting Rancho Buena Vista.
The Wolf Pack does most of its work on the ground offensively but it will be the defense that will need big plays in order to be in position for an upset… SAN PASQUAL, 21-10.
SANTANA (5-5) at RANCHO BUENA VISTA (5-5) – The Sultans once allowed a San Diego Section record 499 yards rushing to RBV's Dorian Richardson in a 2017 first-round road playoff game.
Santana is a much better defensive team this season. But this is still a tough Division III road test.
The Longhorns have a good offense that came into Lakeside and beat El Capitan during the regular season, 42-14, as part of a season-opening five-game winning streak.
Santana lost to the Vaqueros in a defensive thriller, 7-0, on Sept. 30.
Rancho Buena Vista has lost five-straight games, however, and their top rusher, Gino Trapasso missed the season finale.
The Sultans have their quarterback of the future already in place in freshman Jayden Goldman, but he has just three games of varsity experience under his belt.
The quarterback for RBV, Connor Underhill started hot but has thrown 11 interceptions with 12 touchdowns.
Santana's defense may be the East County's most underrated unit. The Sultans allowed 7 points or less in six games this season.
The teams have another common opponent in Fallbrook, which dispatched the 'Horns last week, 20-6, while the Sultans lost to the Warriors, 37-12, back on Sept. 8.
Santana is considered a two-touchdown underdog here but they have proven resilient time and again and have the defense to possibly be in the game late… RANCHO BUENA VISTA, 21-7.
MOUNT MIGUEL (4-6) at PALO VERDE VALLEY (9-1) – The 10th-seeded Matadors would be a dangerous opponent for most of the teams in the Division IV playoffs.
Palo Verde Valley, the disrespected No. 7 seed, is probably the one club that can handle what the Matadors have to offer.
The YellowJackets, champions of the Desert League, have won nine-straight games.
Palo Verde Valley has rushed for nearly 4,000 yards and 55 touchdowns this season.
Mount Miguel's defense has performed well against its comparable competition this season but this figures to be a whole nother level.
Xzavier Bejerano and Marcus Macon, a pair of senior running backs, have combined to rush for over 2,800 of the yards on the ground and have 42 of the TDs.
Still, the Matadors figure to keep firing with quarterback Matthew Barton and his talented receivers Jeremiah Castillo and Chris Akridge.
In 2017, Mount Miguel played two desert games, beating Imperial, 20-14, in a regular season matchup before falling at Southwest High, of El Centro, 39-21, in a Division III second-round matchup.
This is Mount Miguel's longest road trip in the history of the school, even farther than the previous trip to face Yuma (Ariz.) High back in 1958, in the school's second year of varsity football… PALO VERDE VALLEY, 48-21.
STEELE CANYON (2-8) at LA COSTA CANYON (6-4) – Steele Canyon senior Major Givens, who recently de-committed from Montana State, rushed for an East County-record 454 yards last week in a win over Grossmont.
Despite the disparity of the records, Givens gives Steele Canyon a chance in any reasonable matchup, including this one against the Mavericks.
The Cougars won their season opener and their season finale but lost the eight games in between.
Steele Canyon also played a difficult schedule, which including top ten teams Madison, Lincoln, Cathedral Catholic, Helix, and Granite Hills.
La Costa Canyon spent three weeks in the top ten this season in weeks four-through-six.
Both clubs met out-of-section opponent San Clemente.
The visiting Mavs lost, 17-0, to the Tritons, while the Cougars fell, 35-0, in Spring Valley.
LCC also defeated San Marcos, 30-7, at home, while Steele lost to the Knights, 41-18, also in Spring Valley.
This is the first meeting between the two schools… LA COSTA CANYON, 28-14.
MOUNTAIN EMPIRE (3-7) at VINCENT MEMORIAL (6-3) (at Southwest High, of El Centro) – The RedHawks scored 39 points against winless Orange Glen last week, but only won by three points.
These programs have faced one another 26 times, sometimes twice during a league season.
The game will feature the Scots' offense led by quarterback Jacobo Ellis.
Meanwhile, the RedHawks have an exciting running back prospect in freshman Isaac Gonzalez.
With over 800 yards in his first season, Gonzalez could have some pretty impressive numbers by the end of his prep career.
The Scots have currently won seven straight against Mountain Empire. Before that, however, MEHS had won eight straight against Vincent.
Still, the last RedHawk win over Vincent Memorial came back in 2013 – a 52-30 win in a game played at Calexico High.
Vincent leads the all-time series, 15-11… VINCENT MEMORIAL, 35-14.
542 total views, 1 views today