Eagles: East's lone playoff survivor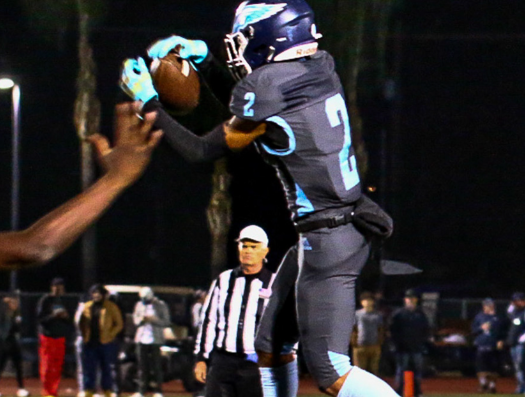 Davion Green records and interception for Granite Hills. / Stephanie Montion Marquez
2022 EAST COUNTY PREP FOOTBALL
SAN DIEGO CIF PLAYOFF QUARTERFINALS
EastCountySports.com staff report
(1) Granite Hills 56, (8) La Jolla 25
EL CAJON — The Granite Hills Eagles didn't necessarily put away the La Jolla Vikings early but there was no doubt which team was better by the end of their San Diego CIF Divison II quarterfinal at Valley Stadium on Friday night.
After it looked like another Eagle blowout of a playoff-caliber team with a 21-7 lead after one quarter, the Vikings were still within 35-18 at halftime.
However, Granite Hills scored a pair of touchdowns in the third quarter to take a 49-18 lead into the final stanza.
Granite Hills senior Zak Darling rushed for three touchdowns, while teammate Davion Green had two interceptions, returning one 67 yards for a TD.
Green also had a touchdown reception from quarterback Nico Tomasello.
Eagle quarterback Parlan Sanders connected with Colin Riley for touchdown passes of 34 and 51 yards for the Eagles, who won their fifth-straight game.
Riley finished with 120 yards receiving.
Maxwell Turner also rushed for two touchdowns for Granite Hills (9-2), finishing with 58 yards on the ground on seven carries.
Derrek Ibarra had three sacks, while Tyler Bertalan added a sack for the Eagles. Granite Hills registered seven sacks total.
Bertalan had a team-high 13 tackles, including five solo tackles.
Junior Nokoi Maddox had a team-high six solo tackles, including a sack.
Damarrion White also had a sack for Granite, while Easton Peterson defended a pair of passes and recovered a fumble.
The quarterbacking duo of Sanders and Tomasello combined to pass for 193 yards on 12-of-15 completions. Sanders also had a 58-yard run.
Solid junior kicker Robert Petrich was 8-for-8 on conversions for the Eagles.
Justin Scully and Jackson Diehl rushed for TDs, while Austin Bale threw a TD pass to Nick Sebro for La Jolla (6-6).
The 81 combined points in the second-highest scoring game in Granite Hills' postseason history (55-28 over Patrick Henry in '14).
Granite Hills will host 10th-seeded Mira Mesa next Friday.
(5) Mira Mesa 35, (4) Christian 33
EL CAJON — Jake Davila rushed for three touchdowns and threw a touchdown pass for Dylan Eads for Christian (6-5) but the Mira Mesa Marauders were able to come away with a 35-33 victory over the Patriots in a San Diego CIF Division II quarterfinal at El Cajon Valley High on Friday night.
Brady Bingham had a fourth-quarter TD run from 6 yards out to close the Mira Mesa lead to 28-26.
Davila passed for 246 yards on the night, going 16-for-28 overall. He also rushed 15 times for 78 yards.
Junior Shane Bailey had four receptions for 101 yards, including a 57-yard hook-up with Davila.
Hunter Provience also had four receptions for CHS.
Bingham nearly had a 100-yard night, as he also had three catches for 63 yards, including a 31-yard pass play completion. He also forced a fumble on defense.
Christian senior Brady Dierkop had a sack.
Mira Mesa (9-3) rushed for four touchdowns, including a pair from Makei Thompson, who rushed for 131 yards on 24 carries.
Tyson Line and Aiden Watts had short rushing scores for the Marauders.
Chris Brown had a 90-yard kickoff return in the first half for Mira Mesa, as the score was tied, 14-all, at halftime.
(5) El Camino 19, (4) Helix 14
LA MESA – The Helix Highlanders couldn't stop on El Camino Wildcats' combination of Carson Howard and Tate Reid on the game's final drive, which allowed the visitors from the Avocado League to take home a San Diego CIF Divison I quarterfinal win at Hart Stadium on Friday night.
Howard, the quarterback, hooked up with Reid four times for 59 yards on a late fourth-quarter drive for El Camino (10-3), and Howard had a 4-yard TD run with 44.5 seconds left in the game as the Wildcats avenged a D-I semifinal loss to Helix last season.
Howard and Reid connected nine times in the contest for 123 yards.
It was particularly satisfying for many of the Wildcats, including Reid, since Helix defeated El Camino last season in a playoff semifinal on the same field. Reid's quarterback last season was his brother, Kiah, who was a senior at the time.
With the Wildcats down 7-3 at halftime, El Camino senior Elton Hurd had an 82-yard kickoff return for a TD to open the second half.
Helix (7-5) was able to answer with a 10-play, 60-yard drive as Jason Sisneros capped the march with his second rushing TD of the game from a yard out.
On the game's opening drive, Sisneros rushed in from 3 yards away, capping an 11-play, 70-yard march. Pedro Fuiza booted a pair of 37-yard field goals, the second coming with 5:40 remaining in the fourth. El Camino's Taj Tavale had a key sack on a Helix three-and-out, forcing a punt with 3:52 to play in the game.
Carson connected with Reid on a 29-yard completion to take the ball down to the 7 with just over a minute to play.
Helix finished with 205 yards of offense.
Cisneros had 49 yards on the ground and a 19-yard reception from Ryland Jessee (106 yards passing), while Kevin Allen III had 44 yards rushing and 46 yards receiving.
Helix had five sacks on the night, as Jirah Savaiinaea, Travis Ford, Daniel Larsina, Premiere Whitely, and Jeremy Davis had the wrapups.
El Camino advances to face top-seeded Mission Hills in next Friday's division semifinals.
The last time Helix dropped it's CIF playoff opener was in 1999 (to Poway, 35-31).
(2) Escondido Charter 49, El Cajon Valley 0
ESCONDIDO – The El Cajon Valley Braves' terrific season ended with a bit of a thump, although it came against one of the top teams in the division, the Escondido Charter White Tigers.
The White Tigers led 21-0 at halftime, however.
Nicholas Patterson had a pair of touchdowns for a 14-0 lead.
Skylar McMahon was 15 for 16 passing for 253 yards and three touchdowns for Escondido Charter (9-2).
John Scates caught six passes for 134 yards and two touchdowns. He also had an interception.
Dominic Schwarm had an interception return for a 45-yard touchdown.
El Cajon Valley finished 5-7, the most wins by the team since 2016.
(2) St. Joseph Academy 38, (6) Foothills Christian 22: St. Joseph Academy (9-1) advances to Saturday's championship game by defeating No. 6-seed Foothills Christian, which finishes 8-4.
Senior Trey Clark rushed for 56 yards and a touchdown for the Knights.
Senior Jayden Gascon had 30 yards on three carries, including a touchdown run, as well.
Gascon also had a touchdown reception from sophomore quarterback Ben Hernandez.
The Knights had a pair of studs working hard on defense, as Jason Hardison had 16 solo tackles, while freshman Hunter Hamilton had 12 solo tackles.
403 total views, 2 views today