Griffs score plenty; Hawks fall to USD
Updated: November 21, 2022
2022-23 EAST COUNTY COLLEGE BASKETBALL
ECS staff report
FLETCHER HILLS — Posting their most complete game of the season, Grossmont College utilized a late 12-0 run to pull away to defeat visiting Compton College, 99-88, in non-cinference action Monday (Nov. 21) at The G-House.
The Griffins (2-3) have taken almost all of their opponents down to the wire this season (except once), but always seem to make a critical mistake.
Against the Tartars, hitting 5-of-6 shots from the floor during their late surge, Grossmont pulled away to take an 18-point lead with 2:17 remaining before clearing the bench.
Grossmont scored a season-best 53 points in the second half.
Early on, the close contest saw the game ted seven times, but Grossmont Usually scored the next bucket to maintain an advantage.
For the Griffins, starter Samuel Stewart IV shared scoring honors with 13 points. But look at the bench scoring.
Reserves Daevin Celaya (14 points), Spencer Hall (13), Ryan Yoder (12) and Tyrone Lester Jr. (11) all scored in double figures.
Throw in the 11 points by starter Brandon Tully, Grossmont had a half-dozen players score in double figures, equaling the most by the Griffins this century.
For Compton (1-5), James Baker- Dunlap led the Tartars with 22 points, while Derrell Jones Jr came off the bench to also tally 22.
However, the Tartars committed 23 turnovers (just 12 for Grossmont), leading to an array of easy, transition baskets as 8 different Grossmont players posted at least one steal.
Following the holiday, Grossmont returns to action next Tuesday (Nov. 29), traveling to Santa Ana to meet the Dons at historic Cook Gymnasium.
Hawks Men's Basketball
ALCALA PARK — San Diego Christian College finished its string of contests against NCAA Division I  programs by falling to the University of San Diego, 98-69, at Jenny Craig Pavilion.
The contest is considered an exhibition for NAIA schools like the Hawks (1-2 overall), but it counts on the record for USD (3-1).
Jase Townsend, a fifth-year guard from Dallas, led with 18 points, as the Toreros mounted a 30-point halftime lead by scoring 59 point in the opening 20 minutes.
Yavuz Gultekin also added 17 points for USD.
For San Diego Christian, Stewart posted a team-best 17 points on 6-for-9 shooting from the floor, as the Hawks reserves out-scored the Toreros bench, 40-39, in the second half.
Meanwhile, USD standout guard Eric Williams, Jr., the West Coast Conference Player of the Week after establishing a new school record (at Division I) with 43 points against Utah State, did not play,
Williams is the first USD player to capture the WCC award in five seasons,
San Diego Christian next returns to Golden State Athletic Conference action aftrer the holiday with a 2-game trip to Arizona. The Hawks will meet Ottawa (Ariz.) on Dec. 1, then Arizona Christian on Dec. 3.
Hawks Women's Basketball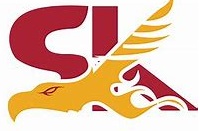 SAN MARCOS — Earlier this season, the men's basketball team from San Diego Christian College became the county's small-college king after defeating University of Saint Katherine.
Meanwhile, the Hawks women's basketball team, with a new coach and a revamped roster, learned just far they need to grow to also achieve such success.
On Monday (Nov. 21), SDCC visitied unbeaten Saint Katherine and were quickly down 21-10, eventually falling to the Firebitds, 71-44, at the USK Events Center.
For the Firebirds (5-0), Precious Masters, a junior from McDermitt, Nev.(a small town next to the Idaho border), paced the Firebirds with 19 points on 60 percent shootingfrom beyond the arc. Meanwhile, senior Olivia Riojas (Lake Stevens,Wash.) added 15 points. Both are guards.
San Diego Christian received 8 bench points from Mamaeia Makoni, matching ynnadie Whatley for team scoring laurels.
The Hawks still lead the all-time series, 8-2.
San Diego Christian (2-5 overall) next travelto Lancaster to meet University of Antelope Valley before entering Golden State Athletic Conference play.