The LAX Life outdoors
Updated: December 6, 2022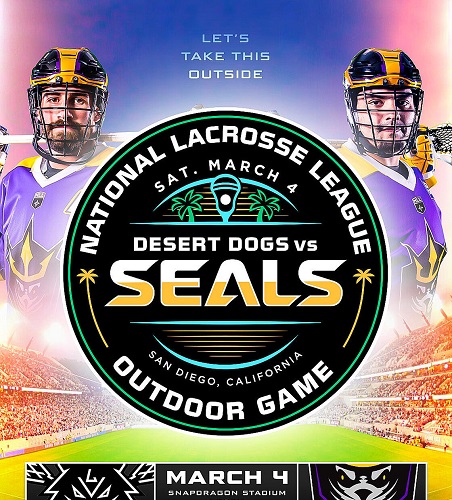 2022 LOCAL COVERAGE
From staff and wire reports
SAN DIEGO – San Diego State University men's basketball has played outdoors on an aircraft carrier. The National Hockey League holds its "Holiday Classic" each New Year's Day on an outdoor rink somewhere across North America. And now, the San Diego Seals pro lacrosse team is also headed to the Great Outdoors.
On the eve of Friday's home opener against Saskatchewan, the Seals will host the first  National Lacrosse League outdoors game later this season. The contest will be held at Snapdragon Stadium on March 4, meeting the Las Vegas Desert Dogs.
Also that weekend, the stadium is also set to host an NCAA Women's lacrosse tournament with two games on Friday and two on Sunday.
San Diego opened the season with a 15-14 victory on the road at the New York  Riptide. RECAP