Points-a-plenty recall days long ago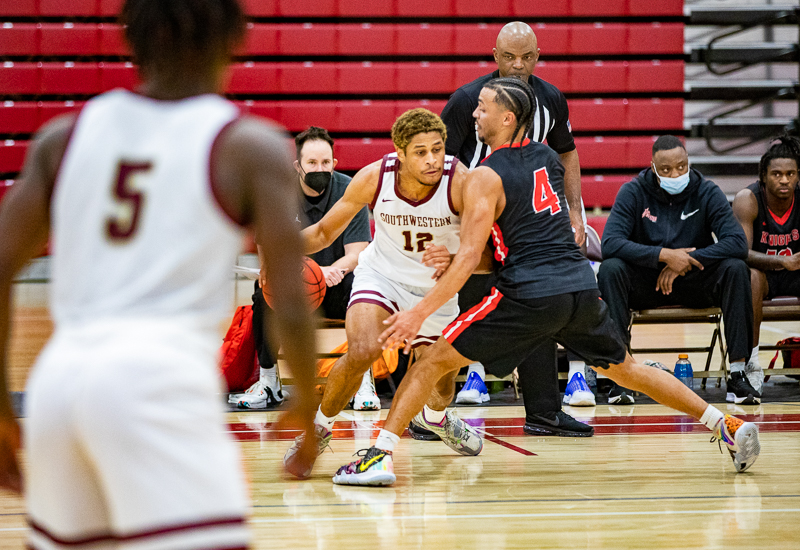 2022-23 COMMUNITY COLLEGE MEN'S BASKETBALL
From staff and wire reports
CHULA VISTA — Although not overly successful, the early 1980s was an interesting time for major college basketball in San Diego County.
The University of San Diego captured its one and only West Coast Conference title, tying for first place with the new, upstart Gonzaga Bulldogs with point guard John Stockton.
The Toreros' assistant coach was John Consentino, who moved on to head Southwestern College to its best seasons in school history.
Meanwhile, United State International University (better known simply as "USIU"), gained national attention by runnin'-n-gunnin', giving no bother to defense just like Division I contemporary Loyola Marymount, also of the WCC.
The history between Southwestern collided with the new fast-paced style of Grossmont College for another high-scoring affair on Friday (Dec. 16).
For the fifth straight game, a school collected 100 or more points, as the Griffins fell at Southwestern, 117-88. It wasn't the combined highest-scoring game of the season (by just one point), but the wave of offense and increased scoring averages among the players are making high school players definitely looking in the direction of Grossmont.
Unfortunately, following the retirement of Cosentino, Southwestern is no longer is the same program and failed to post a boxscore on the contest by press deadlines so game details were unavailable (well, except the final score).
This seems off-kilter since Southwestern (8-6 overall,3-0 PCAC) is now tied for first place in the Pacific Coast Athletic Conference with state-ranked San Diego City and San Diego Miramar.
Elsewhere
San Diego City 106, Cuyamaca College 68
RANCHO SAN DIEGO — Just like Southwestern College, host Cuyamaca College failed to offer details or a boxscore on its setback to fifth-ranked San Diego City in a 38-point bludgeoning.
The Knights remain in a three-way tie for the PCAC lead with Miramar and Southwestern, but for the Coyotes, history may be repeating.
Meanwhile, the Cuyamaca Coyotes won just one victory in 11 starts this season, the school's poorest start since dropping their first 18 straight in to open the 2017-18 campaign (1-23 overall).
Cuyamaca's lone triumph was a neutral court decision against Barstow (1-11); the Vikings recently snapped a 9-game losing streak.
San Diego Miramar 72, Palomar 70
SAN MARCOS — Palomar nailed a 3-point basketball in the closing seconds, yet couldn't get the ball back as the Miramar Jets held on to crown the Comets, 72-70, Friday *(Dec. 16) at Palomar Dome.
Miramar point-forward Jakob Milling scored 15 of his 21 points in the second half, when the Jets rallied from a mild 37-35 halftime deficit.
MiraCosta 103, Imperial Valley 69
IMPERIAL — Read the story from The Imperial Valley Press.
190 total views, 1 views today