Aztecs coach Lindley gains promotion

2023 EAST COUNTY ALUMNI
ECS staff report
SAN DIEGO — Ryan Lindley, the all-time leading passer at both El Capitan High and San Diego State, has been elevated to Offensive Coordinator for the Aztecs, it was announced this afternoon (Tue., Jan.17). He will also remain the quarterbacks coach.
"There's a way that it's done and a blueprint for success here at San Diego State," said Lindley. "We're going to follow that. My No. 1 thing is we've got to look at what our players do best and we're going to put them in situations to be successful."
Lindley's current SDSU BIO HERE.
Background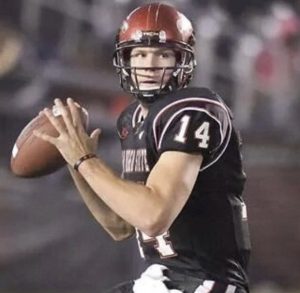 Lindley was selected by the Arizona Cardinals in the sixth round of the 2012 NFL Draft. He spent part of the 2014 season on the San Diego Chargers practice squad before re-signing with the Cardinals.
The New England Patriots signed him as a free agent in August 2015, likely needing someone to take reps in practice and back up Jimmy Garoppolo early in the regular season if Tom Brady's suspension remains in place.
At El Capitan, Lindley was the 2006 East County Player of the Year, leading the Vaqueros ti a perfect 10-0 regular-season record and the championship of the Grossmont North League, downing Grosmont on the final night, 21-14, to clinch the crown.  In the CIF playoffs, El Capitan defeated Cathedral Catholic,  52-28, before falling in the semifinals at St. Augustine, 51-43.
Following his professional playing career, Lindley spent two seasons as a position coach with the Cleveland Browns before taking a position as an offensive analyst at the University of Utah in 2020.
In 2021, he moved to Mississippi State where he served as a defensive analyst under the late Mike Leach.
During the middle of the 2022 season, Lindley left Mississippi State to take over the role of quarterbacks coach at San Diego State.
Lindley's NFL stats HERE.
214 total views, 1 views today