Steele's Barksdale commits to Oregon
The Oregon Ducksm shwon celebrating a Holiday Bowl win over North Carolina, received a football commitment from Xavier Barksdale of Steele Canyon / Oregon Ducks courtesy photo
2022-23 EAST COUNTY PREP FOOTBALL
ECS staff report
RANCHO SAN DIEGO — On the weekend Roderick Robinson of Lincoln became the 10th player from San Diego County to be named California State Player of the Year by CalHiSports, an East County football product made his college plans public.
While Robinson is headed to play at Georgia, Steele Canyon's Xavier Barkadale announced he will be a "preferred walk-on" with Oregon. The three-sport standout will like play quarterback for the Ducks.
Among the school looking at Barksdale were San Diego State, UCLA and Arizona, but none made scholarship offers, so he elected to play in Eugene, Ore., after watching Oregon play in the Holiday Bowl — a 28-27 victory over North Carolina — at Petco Park.
Barksdale made the announcement on his Twitter account.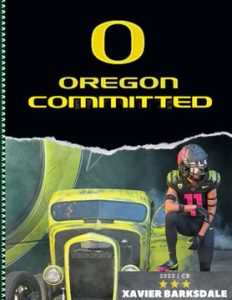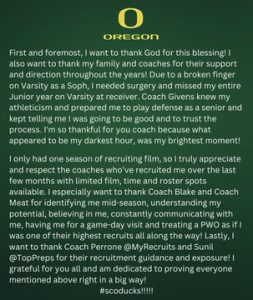 Barksdale is a member of a family with historic national and international ties in athletics.
Family Legacy
His late grandfather, Don Barksdale, was a pioneer in basketball, posthumously inducted into the Naismith Memorial Basketball Hall of Fame.
Born in Oakland in 1923, Barksdale broke many color barriers, becoming the first African-American to play for UCLA, leading the way for such notable greats as Lew Alcindor (now Kareem Abdul-Jabbar),and — according to Wikipedia — Sidney Wicks, Curtis Rowe, Lynn Shackelford, Larry Farmer, Henry Bibby, Steve Patterson, Kenny Heitz, Jon Chapman, John Ecker, Andy Hill, Terry Schofield, Bill Sweek, and Larry Hollyfield.
While with the Bruins, Barksdale became the first to be named the NCAA All-America team, then the first to play on a United States men's Olympic basketball team, winning the gold medal at the 1948 London Games.
Later, he was the first to play in an NBA All-Star Game, splitting time in his pro playing career with the Baltimore Bullets (now Washington Wizards) and the Boston Celtics as a power forward despite going undrafted in 1947 even though the NBA had begun to integrate.
In his post-playing career, Barksdale returned to his hometown in the Bay Area, starting his own recording label He also created the Save High School Sports Foundation, which is credited with rescuing Oakland school athletics programs from collapse.
His uniform — Number 11 — is one of nine numbers (among 10 players) retired at UCLA. The number is also a number that may be utilized by a football quarterback, so the younger Barksdale will have some big shoes to fit.