Joseph leads SDC to increasing daylight
Updated: January 29, 2023
Hawks forward Jamie Joseph / File photo
2022-23 SAN DIEGO CHRISTIAN COLLEGE BASKETBALL / WOMEN'S & MEN'S
ECS staff report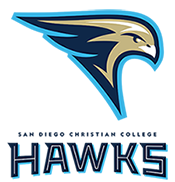 FLETCHER HILLS –  One  sure-fire, trustworthy way to escape the cellar: win some ballgames.
It's taken a while, but first-year San Diego Christian College women's basketball coach Anessa Wolfblack has her Hawks going in the proper direction, escaping a three-way tie for the bottom of the Golden State Athletic Conference standings with their second win in three outings, taking down Ottawa University (Ariz.), 77-58, Saturday (Jan. 28) at Grossmont College.
"We were doing a lot of the little things which were bogging us down earlier in the season," said Wolfblack. "And we stuck to the game plan."
The result has a constant expansion of the lead following an even first quarter, helping SDCC post their biggest victory (by margin) in conference play this season.
Jamie Joseph, a senior forward, finished with 19 points — one short of her season-best — on 7-for-11 shooting to allow SDCC to dominate in the paint.
Her  stat-line of 8 rebounds was the usual, but Joseph even shocked the coaching staff with a career-high 8 assists.
"Jamie was a big difference-maker for us," added Wolfblack. "I haven't seen passing like that from a forward in a long time."
Meanwhile, forward Mamaeia Makoni posted a pair of career-highs — 18 points and 10 boards — for her initial career double-double. The rebound total was especially gratifying after gabbing just two caroms against Arizona Christian earlier in the week.
For the Hawks, Brianna Humphries added 11 points, Keren Hogue added 9 points for the second straight game following missing a week with an injury, , while Elaina Martinez and Cynnadie Whatley each had 8.
San Diego Christian (4-11, 2-11 GSAC) moves one full game ahead of the Spirit and Life Pacific in the standings.
Men
Ottawa (Ariz.) 70, San Diego Christian 66
FLETCHER HILLS – San Diego Christian College moved to within a bucket on several occasions in the closing minutes, yet could never overtake visiting Ottawa University (Ariz.), 70-66, in Saturday's (Jan. 28) Golden State Athletic Conference contest at Grossmont College.
A consistent effort saw five Hawks score in double-figures, led by 14 from Josh O'Campo.  But it seemed like every time SDCC would score to move within striking distance, the Spirit would immediately answer with a basket or free throws.
How even was this ballgame? SDCC grab one more rebound, the turnover count was even, and both sides shot almost the same percentage from behind the arc. However, points in the paint scoring from center Josiah De'laCerda (30 points, 11-for-15 on field goals) won the contest for Ottawa (16-6 overall, 8-05 GSAC).
San Diego Christian (4-10, 3-10 GSAC) makes their final GSAC road trip to Santa Barbara to meet the departing Westmont Warriors on Thursday.