Adiós… with a boot: Hawks kick Westmont
Updated: February 2, 2023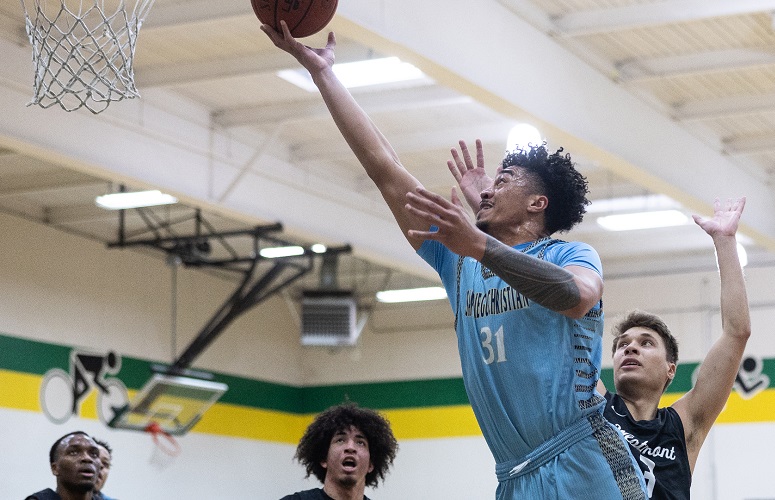 22-23 SAN DIEGO CHRISTIAN COLLEGE MEN'S BASKETBALL
ECS staff report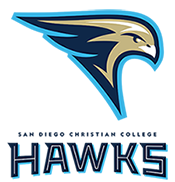 SANTA BARBARA – In the final Golden State Athletic Conference metting between the schools, the San Diego Christian College didn't just wave good-bye to the departing Westmont College Warriors, they drilled them out n their own home court.
The Hawks raced to a double-digit, first-half lead with perhaps their best defensive effort of the season. Westmont battled back to take several 1-point leads in the second half, but the SDCC defense returned to re-claim the lead, to wave over the Warriors, 68-63, at historic Murchison Gymnasium on Thursday (Feb. 2).
It's the second major road victory by San Diego Christian in recent weeks., also winning at Menlo College.
The Hawks consider themselves road-tested following six setbacks to NCAA Division I schools — all on the road — to open the season. However, road victories in GSAC are often just as rare, yet the Hawks are finding a way.
In-game
Hawks forward Ausage Siamu tallied a career-high 21 points to fuel the offense. Siamu's previous best was 17 in the conference opener at Vanguard in mid-December.
Siamu , a support scorer all season, consistently penetrated the Warriors defense to earn tough points in the paint. He shot a resounding 9-for-10 from the floor, falling one shot short of the San Diego Christian school record (10-for-11).
The opening minutes were interesting as Westmont did not know who to defend, as all five Hawks starters scored on consecutive possessions to take the lead. And when Jonah Felix hit a payin midway through the half, SDCC went on a 20-12 run to c lose the half with a 31-23 advantage.
The Warriors would answer in the second half,but every tume they took the lead, San Diego Christian would respond and re-claim the lead.
Along wth Felix (12 points), other important contributors for the Hawks included thee hard work of Cameron Dashiell (9 points), Josh O'Campo (9 points, 4 assists), and Ryan Blackmon (8 points, 3 rebounds).
San Diego Christian (5-10 overall, 4-10 GSAC_ next play Saturday at The Master's University, starting at 7:30 p.m.
Westmont (12-10 overall) not sits just one game above the Hawks in the GSAC standingsat 5-8 following the Warriors' fourth straight steback.
Westmont is one of the six charter members of the Golden State Athletic Conference. When the school leaves this June, the lone remaining charter school will be Vanguard University of Costa Mesa.