Griffs ring the bell, ding Cuyamaca
Updated: February 9, 2023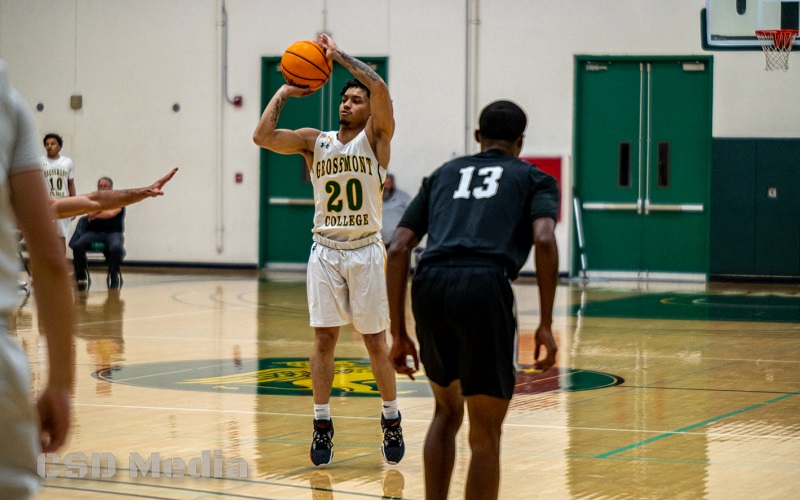 Grossmont College guard Daevin Celaya/ File photo by Mo Okita
2022-23 COMMUNITY COLLEGE BASKETBALL / MEN'S & WOMEN'S
From staff and wire reports
RANCHO SAN DIEGO — Entering the season, the last time Grossmont College reached the 100-point plateau was nearly a decade ago — December 2012 to be precise — in a thrilling 102-100 nail-biter over San Diego Mesa.
On Wednesday (Feb. 8), the Griffins rang the century bell for the record fifth time this season in decisive fashion, taking down district rival Cuyamaca College, 100-65, in Pacific Coast Athletic Conference action.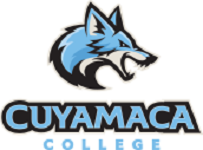 Grossmont did more than control the host Coyotes, then dominated them inside with an amazing 27 offensive rebounds. Many were converted into put-backs for baskets, others were kicked out for wide-open 3-point shots as the outcome was never in doubt with the Coyotes unable to find any answers.
Grossmont (8-16, 3-10 PCAC) now lead the state in offensive rebounding, topping the California Community College Athletics Association charts at 20.6 per contest, The Griffins also rank third in overall rebouding  utilizing an up-tempo attack which the players love.
Speaking about players, Daevin Celaya lead all scorers with  20 points to match his career high.
Celaya also hit for 20 against L.A. Trade-Tech on Dec. 4, when he shot 4-for-5 from beyond the arc.
. Sophomore Calvin Payne registered a double-double with 14 points and 10 rebounds in the win. Tyrone Lester Jr (15 points) and Spencer Hall (11) also joined the duo with double figures scoring.
Following a determined start by Cuyamaca (3-22 overall, 1-12 PCAC) since they were playing its district rivals, Grossmont pulled away for keeps just four minutes into the contest and were rarely challenged the rest of the way.
According to a Grossmont College press release (since Cuyamaca did not publicly release a boxscore):
The Griffins played with the lead for over 36 minutes in a game they were not really challenged after the first seven minutes. Grossmont dominated all of the peripheral stat categories: points off turnovers (29-10), points in the paint (46-32), second chance points (28-6), fast break points (31-14) and points off the bench (37-18). 
Grossmont comes home on Friday when they host MiraCosta at 5 p.m. as part of a doubleheader with the Griffins women's basketball team taking on San Diego Mesa at 7 p.m.
Women
CHULA VISTA – Grossmont College women's basketball dropped a 82-51 decision to host Southwestern.
Embarrassingly, even though they won, Southwestern did not release a box score or any game information.
Meanwhile, Cuyamaca College also fell on the road, dropping a 66-51 decision in Oceanside against MiraCosta.
MiraCosta also failed to publish/post its box score, so details were not available.