CIFSDS Girls Hoops: Not much happening
2022-23 EAST COUNTY PREP GIRLS BASKETBALL
CIF-SAN DIEGO SECTION CHAMPIONSHIPS / Quarterfinals
From staff and social media reports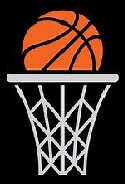 EL CAJON – Every participating team to the CIF San Diego Section girls basketball championships failed to report even their score. So we offer you a front page of a photo of a basketball — and nothing else.
The balance of the game details are mostly courtesy of social media,
Open Division
Del Norte 57, Mount Miguel 56
SPRING VALLEY – CIF officials thought they got it right by making every contestant in the elite Open Division field wait for more than a week for their first postseason contest.
So Mount Miguel moved ahead of the curse with a series of non-league contests in the final week of the regular season, defeating both Poway (an Open Division sixth-seed) and Mater Dei Catholic (the top seed in Division I) before capping a 3-games-in-3-days span with a first-place showdown game with Helix for the Grossmont Hills League championship.
The Matadors won all three. They also own a 48-46 home-court win over Del Norte, 48-46, back in mid-November.
However, despite a No. 2 seed behind state-power La Jolla Country Day School, a title-game meeting with the Torreys will not to be in the offering after seventh-seeded Del Norte came to town to upset the Matadors in the final minute, 57-56, in Saturday's (Feb. 18) quarterfinals.
According to social media, both sides exchanged 1-point leads at the end of the first two quarters, then the Matadors grabbed a 6-point lead through three periods.
Las Matadores still held a 56-55 lead entering the final minute, but all that was posted is that the Nighthaws made a last-minute (last-second?) bucket to win.
Mount Miguel, after winning its 23rd consecutive league title in the Grossmont Conference, ends its season with a 22-7 overall record,
Del Norte (19-9) again heads on the road to battle third-seeded Westview. The Wolverines planked No. 6 Poway, 61-36.
LJCDS will meet Mission Hills in the semifinals , after the No. 5 Grizzlies scored a mild upset of No. 4 Bonita Vista, 61-58.
Division III
A pair of Grossmont District school will meet in the CIFSDS Division III Final Four after second-seeded Granite Hills stopped Point Loma 40-23, while No. 3 Steele Canyon also won at home, downing Calexico in a defensive-fest, 34-28.
As usual, neither school reported – and they won!
Granite defeated Steele twice this season —  by 3 and 23 points — to capture the Grossmont Valley League with a perfect league record, handing the Cougars their lone GVL setbacks.
Division V
Patrick Henry 62, Vincent Memorial 44 
CALEXICO – CIF officials were hunting for this score on Saturday night, not knowing the contest was held Friday in the Iperial Valley, as the No. 6 Patriots upset the No. 3 Scots.
Even the Imperial Valley Press did not know the score, but the veteran crew at East County Sports has the outcome. How? We asked the basketball association, albeit, they only know whoch team won and not the score. Still, their assistance is much appreciated.
With the Patrick Henry victory, Imperial Valley's dream of an all-local semifinal was ruined. The Patriots will now meet second-seeded El Central-Central, which topped the No. 7 Calipatria Hornets, 49-38.
Division V
Valhalla 72, High Tech-Mesa 31
RANCHO SAN DIEGO – Top-seeded Valhalla owns the more difficult path to the Division V title game after stopping the Stormof High Tech High of San Diego, 72-31.
The Norsemen next host No. 4 El Centro-Southwest; the Eagles whipped Kearny, 68-54.
In the other half of the draw, it's been all upsets, called by Saturday's victories by No. 6 Mission Bay and No. 10 Mar Vista.
There was no report from Orange Nation – and they won!
Scoreboard
CIFSDS Quarterfinals
Open Division
No. 1 LJCDS 61, No. 8 Scripps Ranch 32
No. 5 Mission Hills 61, No. 4 Bonita Vista 58
No. 3 Westview 61, No. 6 Poway 36
No. 7 Del Norte 57, No. 2 Mount Miguel 56
Division I
No. 1 Mater Dei Catholic 56, No. 8 San Marcos 37
No. 5 Cathedral Catholic at No. 4 Carlsbad
No. 3 Rancho Bernardo 61, No. 11 Fallbrook 40
No. 2 Imperial 55, No. 10 Eastlake 36
Division II
No. 9 Oceanside 51, at No. 1 Olympian 48
No. 4 Francis W. Parker 54, No. 5 St. Joseph 45
– No. 3 Mt. Carmel  80, Morse 66 (one report said Final, another said 4th Qtr.)
No. 2 Torrey Pines 67, No. 7 Our Lady of Peace 58
Division III
No. 1 San Diego HS 38, No. 8 CV-Victory Christian 26
No. 4 Montgomery 60, No. 5 Sage Creek 52
No. 3 Steele Canyon 34, No. 6 Calexico 28
No. 2 Granite Hills 40, No. 10 Point Loma 23
Division IV
No. 1 Palo Verde Valley 64, No. 8 Escondido Charter 58
No. 4 University City 63, No. 5 Will C. Crawford 52 38
No. 6 Patrick Henry 62, at No. 3 Vincent Memorial 44 (Played on Friday)
No. 2 El Centro-Central 49, No. 7 Calipatria 38
Division V
No. 1 Valhalla 72, No. 8 High Tech-Mesa 31
No. 4 EC-Southwest 68, No. 13 Gen. S.W. Kearny 54
No. 6 Mission Bay 40, No. 3 The Rock 16
No. 10 Mar Vista 37, No. 2 SD-High Tech 36
229 total views, 1 views today