CIF: Four finalists, yet no championships
Updated: February 24, 2023
UPDATED
2022-23 EAST COUNTY PREP BASKETBALL / BOYS & GIRLS
CIF-San Diego Section Championships
ECS staff report
EL CAJON – A quarter of Grossmont Conference basketball tems– two on th boys side; a pair from the girls side — played in CIF-San Diego Section championship contests in various divisions on Thursday (Fev. 23). However, none came home with a championship banner to mae the conclusion of a less-than-satisfactory end of the season for both genders.
The local ballclub which came the closest was the Santana boys, which finally fell in one of the longest contests in CIFSDS history, falling i triple-overtime to Classial Academy in Division V, 83-78.
Boys Division V
Classical 83, Santana 78 (3-OT)
OTAY RANCH – The Santana Sultans, which entered the CIFSDS Division V title game on a 4-game winning streak to guarantee the program a winning, above .500 season, fell just short.
In the team's first title-game appearance since the historic 1988 triumph over Morse, both sides posted impressive rallies — Classical in regulation; Santana in overtime — but the Sultans ultimately fell to the top-seeded Caimans, 83-78, at Otay Ranch High.
The Caimans (a type of alligators, yet much smaller) took a bite out of the Sultans with a big second-half effort, overcoming a 41-34 deficit through three periods with a 24-point ffort in the fourth uarter.
However, Santana registered the final points in the first two extra sessions to extend the conest deep into the night, but were clearly tiring in the third overtime to eventuualy fall.
Classical point guard Presley Bruskotter led his troops with 21 points before fouling out. However, Bruskotter ;s replacement, hunior Issac Davis, re-entered to drain a pair of 3-points shot, tallying more than half of the Caimans' 10 points in the final stanza. Davis also finished with 21 points.
Meanwhile senior Luke Saga collected 9 of his 11 points in the final period and overtime, surviving four perosnal fouls midway through the second half.
Santana commanded the early action, taking leads f 16-6 and 27-15 through the first two periods. However, the second-half became a foul-fest — on both sides — with free throws proving to be a difference.
For Santana, Lucas Tavares registered a season-best 23 points, including 8 in the fourth and a basket in each of the first two OT periods. Tavares hit 7 of his last 8 foul shots to keep Santana in the chase.
In  similar fashion, senior Dainian Keokham scored ha majority of his points late. Among his 19 points, 11 also came in the fourth quarter and overtime.
Other top scorers for the Sultans were Michael Mendez (11 points) and Jeffrey Van Oostende (7). Both are juniors.
Santana finished with a 16-15 overall record after coming off a miserable 4-24 campaign a year ago.  It was a exceptional turnaround for firstytear coach Mark Burton in the school's first winning season since 2017-18
Classical concludes the sectionals with a 17-9 ledger.
Boys Division III
Victory Christian 72, Ramona 67
OTAY RANCH -Top-seeded Victory Christian continues to add to an impressive resume for a program less than two decades old, taking advantage of severe administrative problems in the Sweetwater Union High School District to build a solid program, capped — for the moment — by Thursday's (Feb. 23)  CIFSDS Division III crown after out-lasting North County Coastal League champion Ramona, 72-67, at Otay Ranch High.
Victory Christian raced to a 20-9 first-quarter advantage, leavng the Bulldogs to play catch-up the rest of the contest. Although the Dawgs did move to within a basket of pulling event, th after down by a dozen (55-43) through three period, e Knights held off the late challenge to earn the section crown.
Ramona finished with a 21-10 record, the school's best mark since 2015-16 (25-6). Victory Christian (24-8) closes on a 9-game winning streak; but 15 straight against CIFSDS competition.
Girls Division III
Montgomery 57, Granite Hills 40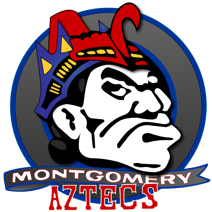 OMIRA MESA — For the Montgomery Aztecs girls basketball team, it wsn't just th school's first-ever CIF-San Diego Section championship in the sport, no opponent came close in defneating them.
In what was the second-closest challenge to the Aztecs in more than a month, Montgomery easily swept four postseason contests, capped by a 57-40 decision over Granite Hills in Thursday's (Feb. 24) finale at Mira Mesa High.
Montgomery (24-6 overall) won by margins of 35, 8, 19 and 17 points. Beofre thay, one needs to go back toJan. 20 for a 13-point game; Jan. 28 for a 37-36 win over Christian which ginited an 18-game winning streak.
And the Aztecs were "only" seeded fourth; Granite Hills (26-6) earned the second seedafter taking the Grossmont Valley League crown with a perfect 10-0 slate.
Despite falling one game short of the title, it's been a sweet turnaround for third-year jhead coach Jermani Stewart. He took over a club which wona mere six games before he arrived and turned them into a league champion for the firswt time since 2013-14 under Jerry Parker (ow the coach at Oxnard-Pacifica).
Granite Hills' Delaney Fry, a junior, paced the Eagles with a team-leading 12 points.
Montgomery senior Rayleen Moreno, a transfer guard from Castle Park, scored eight of her me-high 17 points in the third quarter to expand a 30-18 halftime cushion.
Also for the Aztecs, junior Jordan Whitehead and sophomore Cary Brown added 10 points each.
Girls Division V
Mar Vista 44, Valhalla 33
OTAY RANCH – Top=seeded Valhalla fell in the title game to Mar Vista, as the No. 10-seeded Mariners from Imperial Beach posted three consecutive upsets to claim the crown. No report from Orange Nation (15-16 overall).
Mar Vista went 12-12) closed with 8 wins in its final 10 contests, claiming the first girls basketball championship in school history. The school opened in 1951 (girls sports officially started in the mid 1970s).