PROS: Sockers alumni pleased, Seals love it outdoors, Legion slip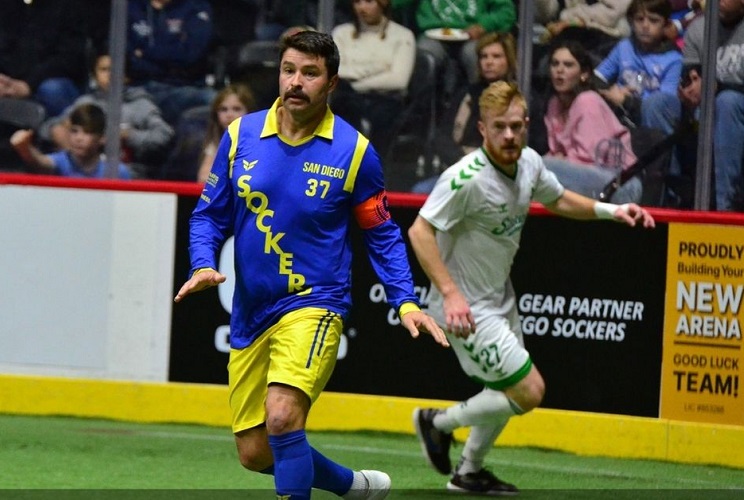 Sockers captain Kraig Chiles (37), wearing a retro uniform, namedMASL Offense Player ofthe Year
2023 LOCAL PRO / SOCKERS Indoor Soccer, SEALS Indoor lacrozse (Outside special),  LEGION Rugby,  GULLS hockey
From staff and wire reports
SAN DIEGO – Plenty of news from the West Division leading San Diego Sockers:
Kraig Chiles, the three-time MVP, has been named the MASL Offensive Player of the Week MORE
The Sockers meet their are rivals from Ontario this week, with special round-trip bus service and a ticket available to be there is person for Thursday's (Mar. 9) showdown for the division lead. MORE.
Oh, by the way, the Sockers (15-2 overall) won yet another game on Sunday before a season-high crowd at Pechange Arena, whipping the Dallas Sidekicks, 10-5 , on Sockers Alumni Night. The locals led 8-1 on four Chiles goals, playing in front of such legends like Julie Veee, Kevin Cow, Brian Quinn and guest of honor, 1982-83 MVP Alan Mayer, the Sockers ,goalkeeper in that era. MORE.


---
San Diego Seals, NLL Indoor Lacrosse

MISSION VALLEY – The San Diego Seals (7-2 overall) are backin first place in the West Division of National League Lacrosse following an outdoor victory  over the Las Vegas Desert Dogs, 15-12,
From Seals media relations:
The San Diego Seals came out victorious on Saturday (Mar. 4) against the Las Vegas Desert Dogs with a 15-12 win at Snapdragon Stadium in the National Lacrosse League Stadium Showdown. The day was filled with firsts, as it was the first-ever outdoor game in NLL history, and the first time the San Diego Seals played the newest team in the league, the Las Vegas Desert Dogs. The Stadium Showdown was an epic day filled with incredible lacrosse, fanfare, excitement, and perhaps the dawn of a new era in the NLL. MORE
---
San Diego Legion / Major League Rugby
HOUSTON — The Houston Sabercats recorded a go-ahead try with 90 seconds remaining, then the San Diego Legion barely failed to rally back on the game's final play, allowing the hosts to hang on to a dramatic 31-26 decdsion in a battle of unbeaten clubs to highlight Major League Rugby action on SUnday (Mar. 5).
Houston (3-0) received a late score by NAME in the 79th minute. San Diego (2-1) responded with a drive deep into the "red zone" (for you American football fans), but a poor pass behind a wide open winger in Dan Pryor fell to the ground as time expired.
WATCH THE WILD FINISH HERE.
San Diego opened with a 14-0 lead, but the Sabercats answered with 17 straight before the contestr became a see-saw affair that wasn't decided until the final seconds.
Still, San Diego picked up a bonus point to remain near the top of the MLR West Division standings. Houston (3-0 overall) leads with 15 points, followed by Seattle (13) and San Diego (12).
The Legion return home this Saturday (Mar. 11) at 5 p.m., host the Dallas Jackals at Snapdragon Stadium. FURTHER INFO.
---
San Diego Gulls, American Hockey League
Gulls trip Roadrunners in Overtime MORE
117 total views, 1 views today