Prep Baseball: Tons of local winners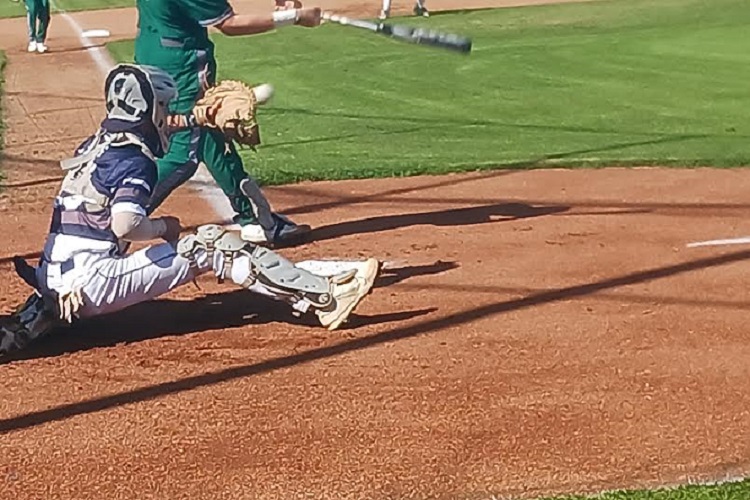 2023 EAST COUNTY PREP BASEBALL
ECS staff report
EL CAJON –  East County high schools posted plenty of winners on Monday. However, undefeated Granite Hills was one of the sides that missed the mark.
Still, look at all of the winners:
Christian 4, Bonita Vista 2
BONITA -Vaughn Major drove in the tie-breaking run in the seventh inning, then Hunter Kaul followed with an RBI double, helping the Christian Patriots tally twice to post a gripping 4-2 come-from-behind triumph at Bonita Vista on Monday (Mar. 13).
The contest was the first of four straight by the Patriots against South Bay opposition.
Trailing 2-1, Christian (4-1 overall; the lone loss came against undefeated St. Augustine) moved to tie in the fifth before winning on a hit by Major, an All-CIF pitcher in 2022, but has yet to take the mound this season for undisclosed reasons.
Bonita Vista held the lead on RBI hits by Victor Castaneda (double) and Noah Vargas (singkle). Both are seniors. However, a Barons error to open the seventh doomed the hosts.
Sophomore Luke Bailey, facing the Bonita Vista closer who just entered the game, reached when a routine ground ball was booted. Temiscue allowed the floodgates to open even though the next two batters were retired.
However, with two down, catcher Xavier Farnum walked, then Major sent a line drive up the middle for a 3-2 lead. Moments later, doubled to right field to plate Farnum.
Christian (4-1 overall), in holding the Barons to just two runs, saw Bonita Vista (1-3) equal its lowest run output of the season.
Steele Canyon 2, St. Augustine 1
KEARNY MESA – Speaking of "undefeated St. Augustine" (see above) ,not anymore. The Steele Canyon Cougars broke a long-standing tied ballgame with a run in sixth inning to nip the host Saints, 2-1, Monday (Mar. 13) at Hickman Field.
Cougars senior Caleb Entrekin and junior J,T. Hendrie drove in both runs Scoring the runs were Will James (2-for-4) and Greyson Tamborski.
According to a statistics report, Steele Canyon starting pitcher Branden Jackel,  a senior, pitched five innings of no-hit ball but the contest was tied. However, with a run in the sixth, Jackel became the winning pitcher.
Steele Canyon (4-2 overall) snapped St. Augustine's season-long 4-game winning streak.
Grossmont 2, Patrick Henry 1
DEL CERRO – Just like Steele Canyon (see above), the Grossmont Foothillers scored the game-winning run in the sixth inning to nip their Cowles Mountain neighbors, 2-1, on Monday (Mar. 13).
For those of you with a tender heart, at least the outcome wasn't decided in the seventh inning like the first five Hillers ballgames.
The Cougars (REC) also matches Grossmont in how they score: an RBI double by senior River Diaz De Leon and a single from junior Justin Tucker, also coming in the first and sixth frames.
Hillers pitcher Cody White lasted 5.1 innings, allowing just one run on five hits to gather the victory. Th save went to junior Aidan Dilgard, who retired four of the five Patriots batters he faced.
Patrick Henry  (1-3) received anRBI single from Jared Wangler in the sixth, scoring Talin Gardini (double). Both are juniors.
Grossmont (3-3) has now captured three straight following a slow start out of the gate.
Wl Capitan 9, Pacific Ridge 4
LAKESIDE – El Capitan senior Jett Hayws and sophomore Emilio Fearn Flores knocked in thre runs each,allowing the Vaqueros to stop the Paficic Ridge Firebirds, 9-4, Konday (Mar. 13) at Hostetler Field.
For Fearn Flores,it was his second multiple-RBI performance of the young season. He pleated Firebiirds pitching with a 2.50 slkugging percentage, smacking a triple and double, then was walked and hit by a pitch in four plate appearances.His batting average is now .385 in five starts.
Meanwhile, the balances batting order saw three players — Landon Harbach, Andrew Conyers and Fearn-Flores — all scored twice. Conyers also stole three bases, while Brody McAuliffe had two thefts, part of seven registered by the Vaqueros.
In addition, McAuliffe was credited with the picthing win withthree solid innings for El Capitan (4-1). which equalled its best start in nine season.  Pacific Ridge, based in Carlsbad, fallls to 2-3 overall.
Valhalla 4, University City 4
UNIVERSITY CITY – Unlike recent season,the pitching stff for the Valhalla Norsemen are coming through with late-inning performances.
Even though host University City scored twice in the bottom of tghe seventh inning, the Norsemen were able to close the door the tip the Centurions, 5-4, Monday (Mar. 13).
Valhalla starting pitcher Mathew Ibrahim, a sophomore, yielded just two runs over 5.1 innings. Releiver  Riley Hughes, a senior,m was told the game was his to close or go bust, finally slamming the door closed to garner the save.
Valhalla has now won 4-of-5 this season;University City fell to 4-2. Should Orange Nation capture their next game, they will equal the school's best start since 2019.
West Hills 8, at Clairemont 6
CLAIREMONT- Tied at 5-all, the West Hills Wolf Pack recorded three runs in the sixth inning, then staved a late Clairemont rally in the seventh to stop th Chieftains, 8-6, on Monday (Mar. 14) at "Ridgemont High."
Followingt a slow start, the Wolf Pack (3-3 overall) hasnow won three of their last four contests. The game was the school's first of five straight against Cty Conference opposition.
Sophomore Christian Garcia belted a 2-run homer for Clairemont (1-5).
Madison 8, Helix 0
CLAIREMONT MESA – According to the old adage, you may not win a game in the first inning, but you sure can lose one in the first inning. That's what happened in Monday's (Mar. 13) tournament contest at Madison's n Bob Roeder Memorial Field.
Failures by the defense of Helix — the opening ground ball was ruled a single, the other an infield single — led to four Warhawks runs in the first inning, as the hosts raced to an early 7-0 lead to eventually hand Helix its third shutout loss of the young season.
Even when the Highlanders (0-5) did something right, it ll went wrong anyway.
In an attempt to rally from their 7-run deficit, a pair of singles and a walk loaded the bases in the fourth. However, a Scotties line drive  handed directly into the glove of Madison third baseman Alex Jennings, who then stepped on the bad for an inning-ending double play.
Jennings later pitched the final 1.2 innings to complete Madison (3-3 overall), making a winner of Warhawks starting pitcher Lawson Minshew (5.1 IP, 6 Ks).
Helix drops to 0-5, with the next two games against, arguably, two of the three best ballclubs in the CIF San Diego Section:L Eastlake (Wednesday at home) and St. Augustine (Friday at Hickman Field in Kearny Mesa).
Elsewhere
In ballgames involving top-ranked ballclubs in the CIF-San Diego Section, Grossmont Conference programs fell on the short side in shutout losses: Eastlake (6-0) 7, Santana (3-2) 0;and Point Loma(2-3)  6, Granite Hills (4-1) 0.
Scoreboard
Grossmont 2, at Patrick Henry 1
Christian 4, Bonita Vista 2
Steele Canyon 2, at St. Augustine 1
El Capitan 9, Pacific Ridge 4
Valhalla 5, University City 4
West Hills 8, at Clairemont 6
Eastlake 7, Santana 0
Point Loma 6, Granite Hills 0
Madison 8, Helix 0
Calipatria 14, Borrego Springs 2 (5 inn., walk-off – At Calipatria: The Hornets' Octavio Alvarez slugged a 3-run homer, as Calipatria (3-3) scored five times in the fifth inning to invoke the run rule to stop the winless Rams (0-2).
233 total views, 1 views today