Hikes shutout lifts Wolf Pack above .500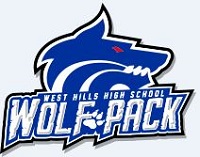 2023 EAST COUNTY PREP BASEBALL
ECS staff report
SANTEE – The most inconsistent ballclub in East County is also the most consistent.
Whenever West Hills High baseball loses a ballgame, they follow up with a win… then a loss, then a win – teh Wolf Pack had gone six games with an alternating 3-3 record. Until Tuesday (Mar. 14).
Seeking their first 2-game streak of the season — win or lose — the Pack received  shutout pitching from Nate Hikes, blanking visiting Mira Mesa on three hits in a 4-0 verdict at Wolf Pack Field.
Hikes struck out six Marauders batters ad walked just one,lifting West Hills (4-3 overall) over the ,500 plateau  for the first time this season.
The Marauders started a two-out rally in the fifth with their lone walk and a single, but Hikes escaped with a shallow fly ball to Shane Stevens in center field.
An inning later,  West Hills caught a break following a basehit. The ensuing fly ball was dropped, but the runner neded to waiy halfway between the bases. By the time the runner sprinted to second base, the ball was recovered and thrown to second for a force out.
After that, Hikes was solid, retiring the final four Mir Mesa batters for the complete game, capping the triumph with a pair of punch outs, then a ground ball to third baseman Jordan Dunlop.
The offense scored early when T.K. Madera slugged a one-out double, scoring two pitches later on a basehit by sophomore Joey Monetti, who started a 2-run rally in the third with a sacrifice fly.
A batter later, West Hills caught another break on the basepaths.
A grounder by Braden Stevenson went to third base, who threw home. However, Madera broke on contact and beat the throw to score for a 3-0 lead.
The other run saw Braden Wilson belt a lead double in the fifth, later scoring on a Mira Mesa error. West Hills scored it four run on just four hits, including a pair by Madera.
West Hills will attempt to keep the win streak going on Friday at University City, starting at 3:30 p.m.
Patrick Henry 12, Steele Canyon 2
JAMUL – Speaking about inconsistent ballclubs like West Hills, the same can be said about Steele Canyon.
The winners in three straight to open the season, the Cougars have now dropped 3-o-f-4, although the viuctory was against a Top 10 opponent in St. Augustine.
However, Patrick Henry also believes they belong in the CIFSDS ratings, rolling to an easy 12-2 road triumph on Tuesday (Mar. 14). However, the contest was a lot closer.
With the Patriots clinging to a 3-2 lead, they poured home nine runs in the sixth inning to make the score look like a romp.
Ryan Ruch posted a pairt of RBI doubles to lead the offense,while Ryan Ruch and Eddy Gomez collected three hits each. Meanwhile, ack Giordanowas the RBI leader with three.
Ruch was alsoo the winning pitcherwith four steady innings. An impressive save went to Hamilton Collins, who fired trhree frames of no-hit ball, incuding the final six straight after the 9-run outburst by the Patriots.
Patrick Henry (2-3 overall) hosts Santana on Friday at 3:30 p.m. n a battle of club off to less-than-satisfactory starts. Steele Canyon (4-3) faced a difficult road assignemtn on Friday at Point Loma, a club which just upended undefeated Granite Hills.
Grossmont 12, Madison 8
FLETCHER HILLS – Less than 24 hours after blanking Helix, the pitching of the Madison Warhawks were suddenly missing after the host Grossmont Foothillers collected 12 hits to gain a 12-8 slug-fest victory Tuesday (Mar. 14) at Gizoni Field.
River Diaz De Leon continue to make half of hits good for extra bases. However, this time, it was his first homke run of the season to propel the Hillers.
Meanwhile, Anthony Box-Augustine and Sammy Santo each drove in threee runs, while Justin Tucker and Brayden Bennett  added two RBI each.Bennett set the table with four basehits. All four are seniors.
Grossmont (4-3) has now won four straight to climb over the .500 mark for the first time this season. The Hillers cap their homestand on Wednesday,entertaining Point Loma at 3:30 p.m.
Mount Miguel 16, Will C. Crawford 1 (4 inn.)
EL CERRITO –  -When the San Diego Section of the CIF was created in 1960, Will C. Crawford was one of the region's superior baseball programs in the first decade, claiming three championships (1962, '64-'65) and three runner-up finishes (1966-'67, '69) under legendary head coach Bill Sandback.
The Colts saw eight former players reachMajor League Baseball.
That was more than 50 years ago.
When it comes to Colts baseball in the 21st Century, the school is more proud in noting that the most important event annually held on its baseball field has nothing to do with athletics– it's the home of an International Affair event to promote the school's vast diversity in order to "remind students about their ethnic background and cultural spirit."
The multi-cultural event, which features live music and food booths, is held in May.
In the meantime, the Colts hurried to get off the field, playing ust four innings aafter Mount Miguel scored seven runs in the its final trip to the plate to run-rule the Colts, 16-1.
Based on history, one wonders why this contest was scheduled. But then again, the Colts — technically — did make an improvement.
The last meeting saw Mount Miguel stop Crawford, 25-1. Thus, Tuesday's (Mar. 14) win waqsn;t as decisive, but then again, the teams only played four innings before the Colts waved the white flag.
We would love to list the individual statistics for the Matadors (1-2 overall), but they did not post a roster and Crawford only knew players' first names.
Mount Miguelpitchers allowed just two hits, collected by the Colts' Ramon Perez-Martinez and clean-up hitter Christopher Placencia.
SD-High Tech 13, El Cajon Valley 0
LIBERTY STATION – El Cajon Valley senior Rikki Ortiz slugged a two-out doublein the fourth inning, the lone knock for the Braves in Tuesday's (Mar. 14) non-league loss to host San Diego-High Tech High. The hit was a line shot to right field.
The Storm (2-2 overall) scored six times in the second, mounting a 10-0 cushion through three frames. Two of their players drove in three runs, twoothers has two RBI, but HTH must not know anything about computers– they failed to post their roster online.
ECVHS fell to 0-2; overall.
Hilltop 4, Monte Vista 3
CHULA VISTA -Only one thing has eluded Hilltop High baseball coach Kurt Gritts: a CIF championship.
The closest Gritts came was in 2007, when his Lancers fell in the title game to Grossmont, which was winning its third of four straight San Diego Section crowns under Rob Phillips.
However, Gritts knows one thing: how to win ballgames.
On Tuesday (Mar. 14), with the Lancers three outs away from suffering a shutout loss, one Monte Vista error turned the tide, allowing Hilltop to score four times in the bottom of the seventh to secure a 4-3 walk-off victory over Monte Vista at historic John Baumgarten Field..
Te late Baumgarten retired with 409 wins in 29 season at Hilltop. However, Gritts is fast approaching, claiming win No. 330 in the dramatic, late-rally decision.
The pitchers' duel was snapped when Monte Vista scored once inthe fifth inning,m then added a pair of insurance runs in the sixth. But theycouldn't reguster the final three outs.
For Monte Vista, a trio of players — senor Oscar OIrtega, junior Davis Anceron (double) and sophomore FReuben Cabugwa — all drive in runs.
Instead of reaching the ,500 plateau, Monte Vista (2-4) dropped its fourth straight. Hilltop is now a half-game better, moving to 2-3.
Scoreboard
Grossmont 12, Madison 8
Mount Miguel 16, Crawford 1(4 inn.)
Patrick Henry 12, Steele Canyon 2
West Hills 4, Mira Mesa 0
The Bishop's 16, Foothills Christian 2
SD-High Tech 13, ECVHS 0
Hilltop 4, Monte Vista 3 (walk-off)
Poway 10, Ramona 0
Ocean View Christian 17, Julian 3