Sharks inflect bite, devour Steele, 8-0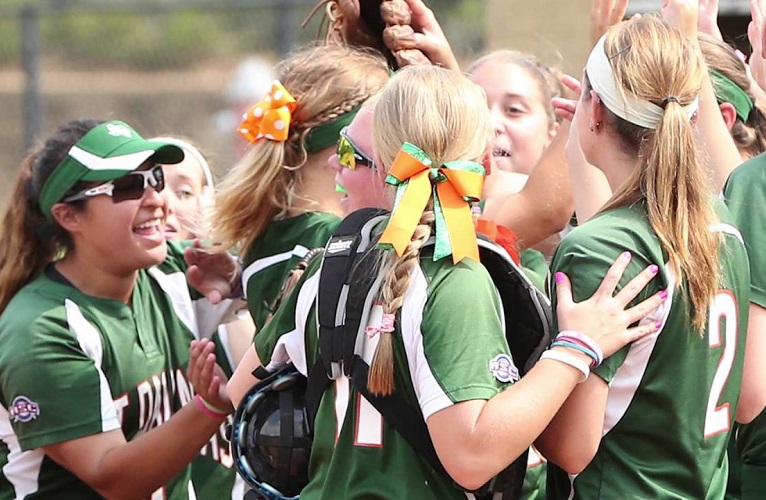 2023 EAST COUNTY PREP SOFTBALL
ECS staff report
CHULA VISTA – Once a small Division V program, Bayfront Charter High is quickly moving up he ranks in the San Diego Section of the CIF in softball.
The Sharks have only one main problem this season: they have one strong pitcher, but because of an injury, can only pitch half of the time. Meanwhile, the other Sharks pitcher should, frankly, be on the junior varsity, but the school does not field a JV program.
Thus, the CIF Power Index might be somewhat skewed and unfair when opponents play Bayfront Charter, which will be a tough team to play or an average one.
The unfortunate coin flip went against Steele Canyon when they faced the stronger pitcher on Wednesday (Mar. 15).
Bayfront Charter junior pitcher Karizma Garcia still has not allowed an earned run yet this season, tossing a 5-hit shutout to defeat Steele Canyon in a non-league contest held at Mueller Charter School.
Although she allowed hits hits and walked a pair, every time she needed an out, she was able to coax an inning-ending ground ball to maintain her 0.00 earned-run average.
The only member of the Cougars to find success against Garcia was senior Jazmin Williams, who batted 2-for-3 with a double. However, she was left stranded each time.
Meanwhile, the Sharks gained a career day from junior Zoe Andrade, who batted 3-for-3 with a pair of doubles, two RBI and scored twice.
Bayfront Charter tallied three times in the third for a 4-0 lead, then doubled their output with four tuns in the sixth. The Sharks are now 4-2 overall this season.
Steele Canyon (6-3) saw its 2-game winning streak snapped. It's the biggest shutout loss by the Cougars since falling to Cathedral Catholic, 11-0, in 2018, and the largest loss by margin since Granite Hills beat them 17-2, later that same season.
Compiled by ECS Senior writer Nick Pellegrino. Softball writer Adam Paul is on assignment.
Scoreboard
All other games were postponed by rain or wet grounds.