Gundert, Patriots spike Scripps Ranch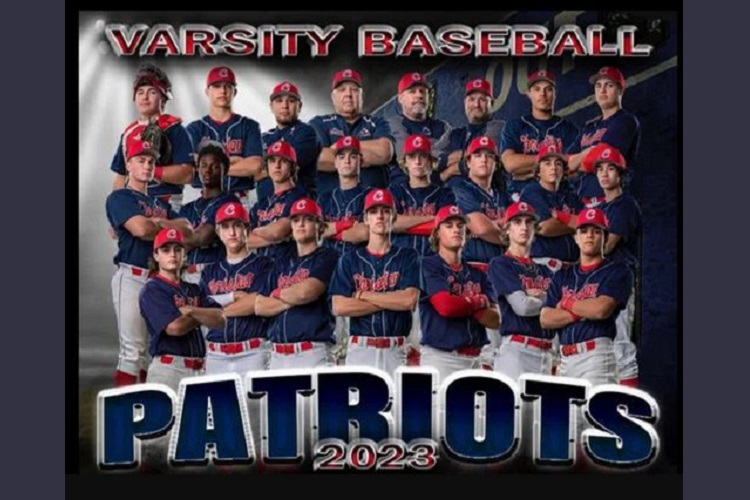 2023 EAST COUNTY PREP BASEBALL
By Nick Pellegriino
ECS Senior writer
EL CAJON – According to his Coast Volleyball Club biography, Levi Gundert "owes his volleyball love to his parents, who met playing open coed tournaments in Ocean Beach. Unsurprisingly, Levi was raised to play volleyball as soon as he could walk."
And Gundert could play.
Memories on his career state, Levi "was a Volleyball Magazine high school Fab 50 selection, won an indoor Nationals silver medal with San Diego Volleyball Club, a beach Nationals silver medal with his brother Caleb, and later set records at NYU."
So what's his son, Brody Gundert, doing as a pitcher for Christian High School.
"Simple," said Patriots head coach Mike Mitche;;. "Brody can't jump."
:However, the younger Gundert does possess an arm. And he put it on display in Monday's (Apr. 100) Eastern League opener.
With all hand on call to pitch following the loss of All-CIFSDS performer Vaughn Major, Gundert fanned 8 Scripps Ranch batter over 4.2 innings to collect the victory in leding Christian to an 80-2 triumph over the Falcons.
"Brody just kept throwing strikes," added Mitchell. "And he didn't walk anyone, although he did hit a batter, That was hhude.:
The deicision was doubly important. Not onlt did the ballcub snap a 5-game losing streak 00 four came by playing in an upper flight of the Lions Tournament last week — it was also a game which many consider to be the top two teams in the league this season.
"That means tomorrow's (Tuesday's) game is huge for them," added the veteran skipper.  "Otherwise, the rest of the teams in our league would need to beat us at least twice if Scripps Ranch wanted to win league over us."
In City Conference play, you meet an opponent three times in a single week, then that's it for the season, meaning all school need three pitchers to rank among first-division ballclubs.
With Major gone from pitching duties (he can still hit and play defense), Gundert has been a successful replacement.
Meanwhile, junior Xavier Farnum, who played first base in the series opener, paced the offense.
Farnum, a college commit to San Diego State as a catcher for 2025, slugged a home run in a 2-for-2 outing, driving in three runs. Included was his 2-run shot to right field following a leadoff walk to Major.
Farnum, Major and shortstop Ashton McCurty all scored twice.
Following Gundert, Peter Zacharzuk entered from the bullpen to throw 2,2 shutouyt innings to collect the save.
The victory snapped a 5-game losing skid for Christian (8-6 overall,1-0 league).
"facing tough teams like we did in the Lions Tournament will make us a better team in the long run," added Mitchell. "I think we face the other guys' No. 1 pitcher in each game, yet still hung in every game."
The series continues Tuesday at Scripps Ranch, then ack to Christian on Thursday.
Patrick Henry 7, Cathedral Catholic 3
CARMEL HIGHLANDS – Following a pair of sub-par seasons due to a rash of underclassman, all of the sophomores on Cathedral Catholic are now seniors, yet that didn't impress Patrick Henry in the ballclubs' Western League  opener.
The Patriots crawled back from deficit os 2-0 and 3-1 by answering back with fours times in the fifth inning to down the Dons, 7-3, at Manchester Field on Monday (apr. 10) in the first of a three-game set.
Patrick Henry junior pitcher Talin Gardini recorded two=thirds of his outs on strikes, striking out 10 Dons batters over his fine innings.
Releif pitcher Hamilton Collinscontinued the two-per-inning strikoeut rate, firing 1-hit shutout ball over his two innins, giving the Patriots staff 14 total strikeouts.
Gardini also slugged a triple while the Pats also received doubles from juniors Zach Morales and Jack Giordano. Morales  finished with a 4-for-4 outing, good for a pair of RBI.
For Cathedral Catholic (9-5 overall, 0-1 WL), Anthony Perritano belted a 2-run homer in the first for the initial lead.
Patrick Henry (6-6, 1-0 WL) hosted the second game on Tuesday, then return to the northwest corner of San Diego on Thursday.
Scoreboard
Christian 8, Scripps Ranch 2
Patrick Henry 7, at Cathedral Catholic 3