Sultans secure command of GHL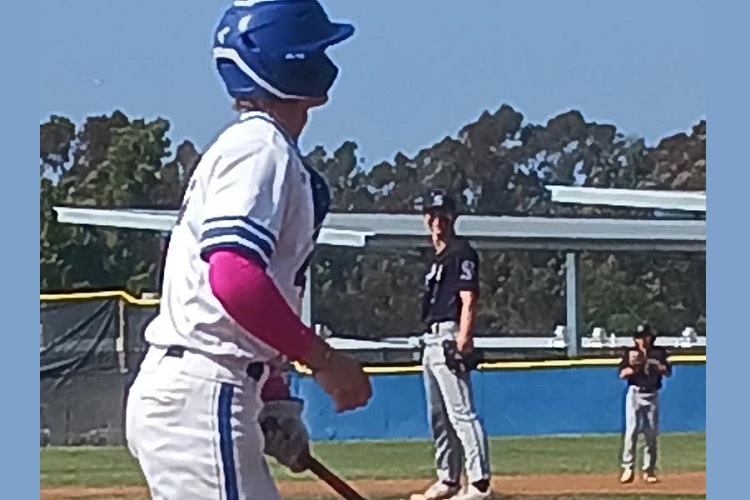 2023 EAST COUNTY PREP BASEBALL / GHL
By Nick Pellegrino
ECS Senior writer
FLETCHER HILLS – On a day of solid pitching performances throughout East County, a pitchers' duel played out between Santana senior Josh Hixson and Grossmont junior Cody White.
Both right-handers plowed through batter after batter, except in one early inning, when all the runs were scored. But when one team's defense made just a touch more miscues, the ballgame was decided early and allowed Grossmont Hills League-leading Santana to claim a 5-3 decision over second-place Grossmont on Tuesday (Apr. 25) at Gizoni Field.
Hixson overcame a difficult start by allowing three runs in the first inning, but only two were officially earned. Hixson struck out six Hillers batters and was in full control over the final 6.1 innings to keep Santana (12-6 overall) undefeated in GHL play at 5-0.
On the flip side, White was only tagged in the second, when the Sultans responded from a three-run deficit by scoring five times — only two were earned. Otherwise, White only allowed two hits outside of the second in his six frames on the mound.
Grossmont's rally was started when left-handed batter Jacob Lanza doubled, followed by a Cody Bigley walk and a base hit by Anthony Box-Augustine to load the bases.
"When I was on the moud and we booted a couple of balls, I knew the defense would pick me up and the bats would drive in some runs," said Hixson. "I just kept pitching to contact — I was never worried, I was never stressed. I trusted in the process and knew our team would work harder."
River Diaz de Leon followed with a sacrifice fly for the RBI. Considering how White retired the Sultans in 1-2-3 order in the first to open the contest, there was talk the run might be the only one needed. So when an error and a double-steal allowed the runner at third to score before the third out made it 3-0, locals were hopeful the three-run outburst would be enough to gain a share of first place.
Santana thought otherwise, answering with all five of its runs in the second.
Just like the Hillers, Santana saw its first three batters — cleanup batter Zander Allen-Fox (single), Landen Bailey (single) and Jayden Agramont (RBI double) — cut into the deficit.
An out later, Jayden Agramontsingled, then on the next three plays flipped the score.
Agramontsingled was also credited with the defensive stop of the game. On a grounder ticketed for center field, the senior was able to cross in front of second base, fired the ball, and throw out the runner at first base.
"It's plays like that which makes me always trust our defense," said Hixson. "Yes, we had a tough time to start, but after that, we kept our focus and made all of the plays."
"I can always trust our team to do that."
Although there are others under consideration, many believe Agramontsingled could become East County's defensive payer of the year.
"I'm just doing what my coaches taught me," he said.
There was no panic in Santana after falling behind, 3-0.
"When a team punches you in the face, you have to punch back," he said."
"We just try to battle every pitch,  battle every game."
Santana now holds a two-game lead over both Grossmont and Granite Hills (both 3-2 GHL).
Helix 2, Steele Canyon 1
LA MESA – In the Santana-Grossmont ballgame (see above), all of the runs were scored before there were nine outs recorded. But when Steele Canyon visited Helix, the bats were even quicker to produce, with all three runs coming in less than six outs.
Afterward, the story was all about the pitching as Helix completed a series sweep of the Cougars in Tuesday's (Apr. 25) triumph in Grossmont Hills League play.
Even though some ballclubs have yet to play half of their league schedule, Steele Canyon (10-11 overall, 1-6 league) has already been eliminated from GHL pennant consideration. Helix moved to 4-13 (2-4 GHL).
Steele Canyon needed just one swing of the bat to score.
With two down, Cougars senior catcher Tommy Molina smacked a solo home run on a ball which barely cleared the left-field fence.
Otherwise, Helix pitcher Jackson Berry yielded just two other hits, striking out seven Cougars in his best outing of the season.
The converse could also be said of Steele Canyon pitcher J.T. Hendrie, but a slow start in the first would saddle him with the loss, despite throwing a complete-game four-hitter.
The first three Scotties batters — Wyatt Laub (walk), Gehrig Syms (single) and Berry (RBI single) — tied the contest quickly.
However, Helix was able to add on.
Shortstop Adrian Espinoza, a recent call-up from the junior varsity, lined a base hit to right field. The knock not only gave Espinoza an RBI by scoring Syms, but it was also his first career varsity game-winning hit.
Meanwhile, Berry followed the homer by setting down seven straight batters. In the fourth, after a walk and single by the Cougars, Berry escaped a minor jam by coaxing an inning-ending double play as senior shortstop Santiago Madrigal fielded a slow roller, getting the ball to Laub at second base, then to Syms at first.
Hendrie was even more effective as the contest progressed. He retired seven straight, then issued a walk, then retired seven more, closing his day on the mound on a 14-for-15 streak.
Scoreboard
Baseball
Grossmont Hills League
Santana 5, at Grossmont 3
Helix 2, Steele Canyon 1
Grossmont Valley League
Valhalla 5, at Mount Miguel 4
West Hills 5, at Monte Vista 3
El Capitan 14, at ECVHS 0
Avocado League
Oceanside 12, at Ramona 6
Rancho Buena Vista 5, at Mt. Carmel 0
San Dieguito 3, San Pasqual 1
Summit League
Liberty Charter 4, Mountain Empire 2
Western League
Patrick Henry 2, St. Augustine 0
Cathedral Catholic 2, Point Loma 1
Eastern League
Scripps Ranch 10, Clairemont 0
Coronado 6, at La Jolla 4
277 total views, 1 views today