Spargo sparks Pack's record-setting day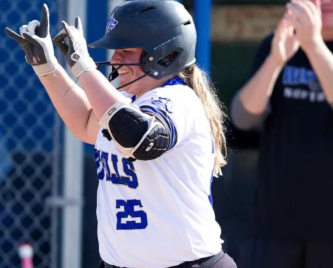 West Hills freshman Katy Spargo. / Vic Marano
2023 EAST COUNTY PREP SOFTBALL
By Adam Paul
EL CAJON – West Hills slugger Katy Spargo not only had a spectacular day at the plate with a pair of doubles and five hits on the day, but was a big piece in the Wolf Pack setting a new CIF San Diego Section record.
West Hills recorded the most hits in a single game in section history in its 26-2 victory in five innings over El Cajon Valley in Grossmont Valley League action on Monday (May 1).
Spargo would have a 5-for-5 day at the plate for West Hills (14-6-1, 6-0 GVL) but also scored five runs and drove in three, including her fifth home run of the season in the top of the fourth inning. She wasn't alone with her five hits, as Kristina Deal would also go 5-for-6, including four doubles.
El Cajon Valley (4-10, 0-6 GVL) would score their runs in the bottom of the fifth inning, when Justine Kashindi hit a ball that was misplayed, allowing Danae Hayes to come in and score. The next batter, Chelsea Mcdaniel, would ground out, allowing Saleen Quirino to plate.
Ava Goodman picked up the victory for the Pack as she allowed one hit and struck out six over two innings of work.
Offensively for the Wolf Pack, every player had multiple hits, and six of them would drive in multiple runs.
Faith Balistreri drove in four runs and had three hits. Goodman helped her own cause as she drove in four runs and went 4-for-5 at the plate.
Collectively, the Wolf Pack would rack up thirty-four hits in the contest, which sets a new CIF San Diego Section single-game record, breaking the previous record of thirty-three by High Tech High San Diego set back in 2017. West Hills also broke both the East County and Grossmont Conference record of twenty-six set by Steele Canyon in a five-inning victory over Monte Vista back in 2007.
Clairemont 4, Valhalla 2
CLAIREMONT – Despite giving up an early run, the Clairemont Chieftains would score two runs in the bottom of the third inning and never look back in their non-league victory over Valhalla on Monday (May 1).
Devyn Mack would give Valhalla (12-10-1) an early 1-0 lead when she singled to left field to bring home Cadyn Ruffer.
Clairemont, though, would take a 2-1 lead in the bottom of the third inning, courtesy of an error committed by the Norsemen and an RBI single by Reese. They would extend their lead to 3-1 in the bottom of the fourth inning.
The Norsemen would answer with a run in the top of the fifth inning, when Naomi Villalva hit a sacrifice fly to center field that allowed Ruffer to tag up and race home.
However, the Chieftains would push across an insurance run in the bottom of the fifth inning that would prove to be the difference.
Correia, who drew the start for the Chieftains, would shut down the Norsemen the rest of the way for the victory. She would strike out nine over seven innings in which she allowed two runs on six hits.
Mack would take the loss for Valhalla as she allowed four runs on six hits over six innings in which she fanned four.
Besides going 3-for-3 at the plate, Ruffer would also swipe three bags and score both runs.
Clairemont, with the victory, snaps Valhalla's three-game winning streak and moves their own winning streak to three-straight.