SOFTBALL: Vikings Limit Sultans To Claim Division II Title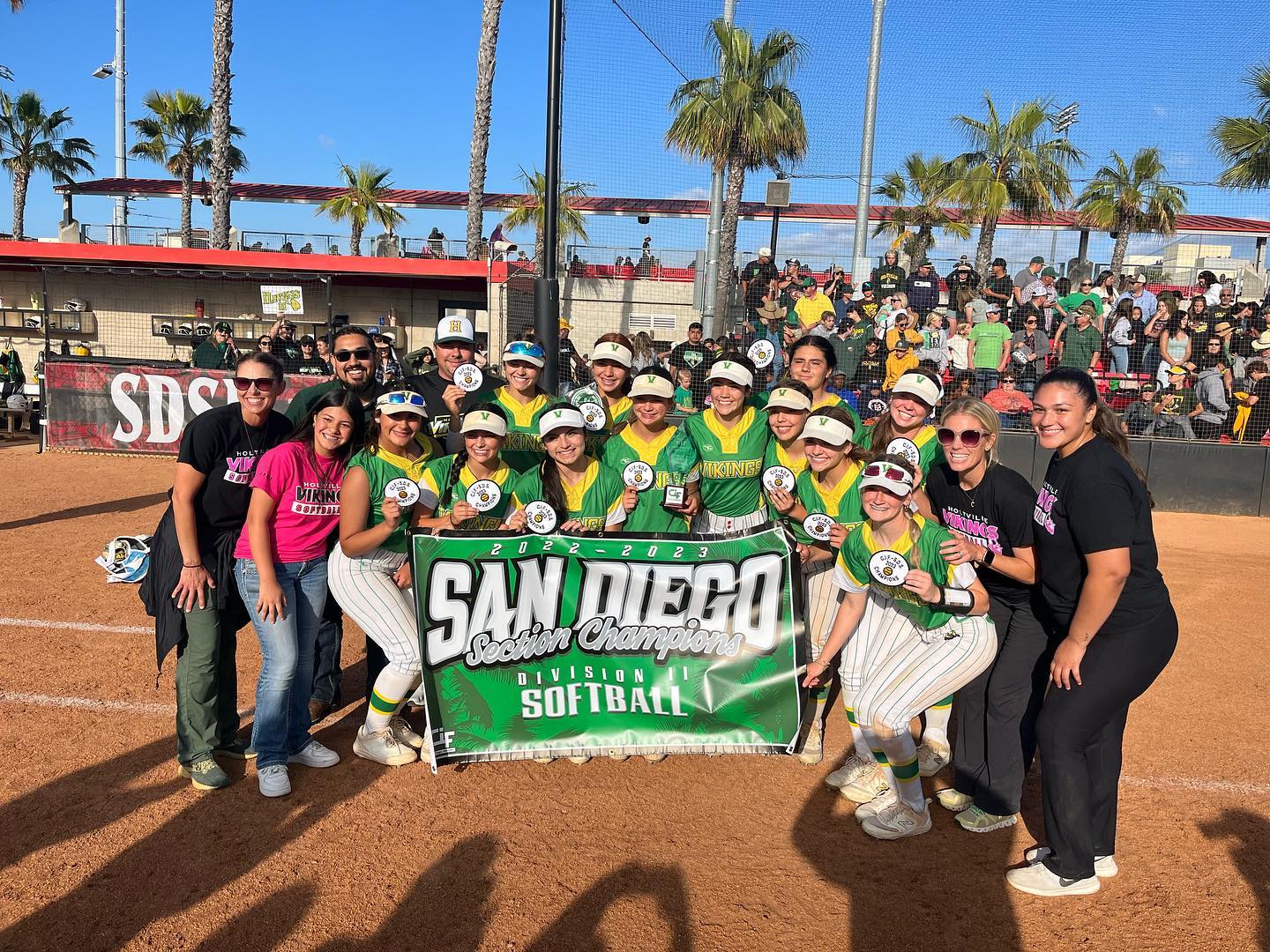 CIF San Diego Division II Championship
#3 Holtville 7, #1 Santana 1
SAN DIEGO STATE – Senior Kalli Strahm struck out four on the day as she limited the high-powered offense of the Santana Sultans to a single run to help propel the Holtville Vikings to the championship game victory on Friday (May 26).
In front of a packed house out at the softball diamond on the campus of SDSU, the Lady Vikings, with two outs in the fourth inning would push across four runs to really capture the game's momentum as they jumped out to a 5-0 lead.
An RBI single by Kamryn Walker, followed by a fly ball to center by Demi Johnston that was misplayed, would lead to two more runs scoring, which would be finished off with an RBI single by Strahm.
Two more runs by the Vikings in the top of the sixth really put the pressure on, as it was now 7-0.
Santana would score their lone run in the bottom half of the inning, as McKenna Miller, with two outs, roped a double to left field to bring in Delaney Smith.
Strahm, who would get the win, would finish things out, retiring the Sultans in order in the bottom of the seventh inning to send the dugout pouring onto the field, joined by the entourage that traveled from the Valley.
Gracie Johnston, who started for the Sultans, would take the loss as she allowed three runs on one hit over three and a third innings while striking out one. Aurelia Dawson came in and tossed three and two-thirds innings in relief, in which she allowed four runs on six hits.
Sara Spry and Taylinn Warren, who led the Sultans with two hits, rounded out the five hits on the day.
Santana with the loss sees their four-game winning streak snapped and finishes their season 21-9-1 overall.
Holtville with the victory moves their winning streak to seven games and improves their record to 23-5 overall.  They also claimed their second CIF championship in three years, having lost in 2022 to Calexico. Their other championship came in 2021 when they won the Division IV title over Bayfront Charter by a score of 13-7.
82 total views, 17 views today