Tigers defeat Christian for Division 3 crown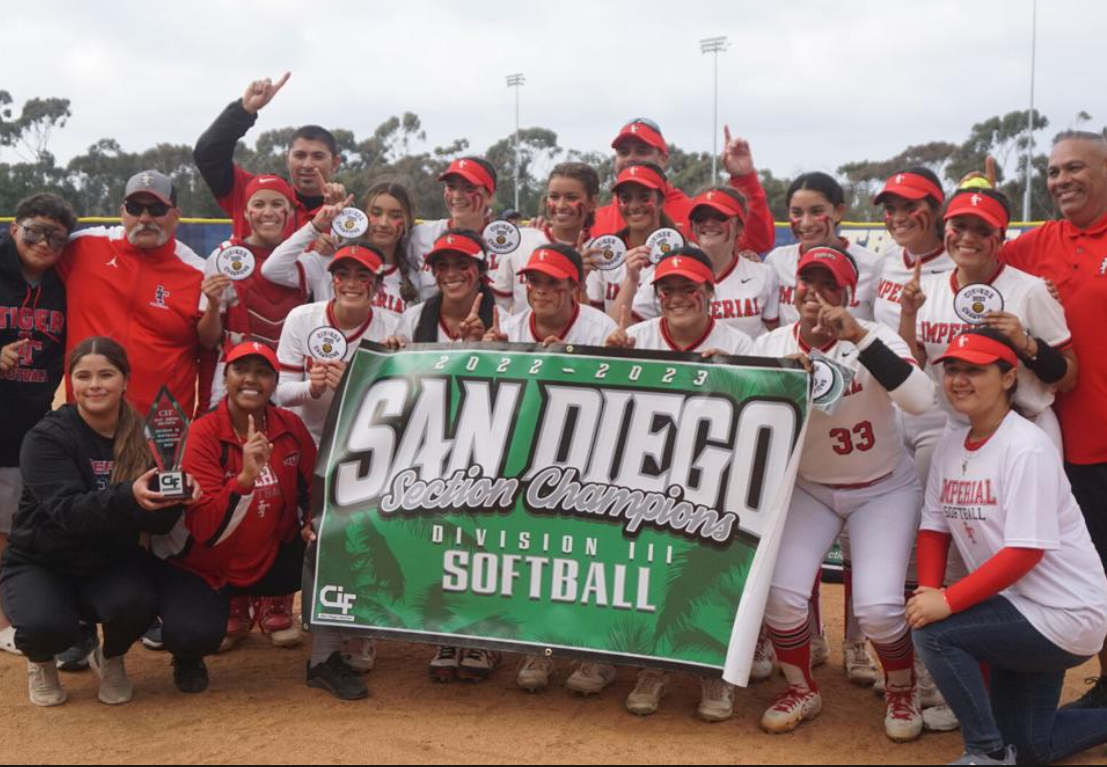 2023 EAST COUNTY PREP SOFTBALL
By Adam Paul
SAN DIEGO CIF DIVISION III CHAMPIONSHIP
#1 Imperial 3, #6 Christian 2
LA JOLLA – Leading 2-1 in the bottom of the sixth inning, everything looked like it was going to go the way of No.6 seed Christian winning their first CIF championship since 2017. Unfortunately, a ball was hit to second base by Andrea de la Trinidad which should have ended the rally, but instead took a really bad hop, allowing No.1-seeded Imperial to score a pair of runs to wipe out a one-run deficit and claim the victory 3-2 on Saturday (May 27) out at UC San Diego.
Pitcher Jayden Rutledge was able to finish off the victory in the seventh inning with a ground out, a strikeout, and a fly out to put away the Patriots in order.
Christian (15-10-1), early on in the second inning, would build a 2-0 lead.
Leadoff hitter Lucy Sherburne would single to center field, which was followed by Samantha Baca singling to left field. A sacrifice bunt by Payton Grosset would advance both runners.
Now, with Sherburne and Baca at second and third, and only one out, the scoring started when a wild pitch allowed Sherburne to race home for a 1-0 lead, with Baca advancing to third. The batter Hannah Mroz would ground out, which allowed Baca to come in and make it 2-0.
Things were looking pretty good as Allyson Moody was able to get out of a couple of jams until the sixth inning when the bad hop took place.
Imperial (22-5-1) would score their early run when Mariana Pesqueria, the ninth batter, would slice a shot to right field; she was able to race all the way around for a run to pull within 2-1.
Moody, who worked through three scoreless innings to bring the Patriots to the doorstep of a third crown within the last decade, would take the loss, as she allowed three runs on eleven hits over six innings in which she struck out two.
Rutledge for the Tigers garnered the win, going seven innings, allowing two runs on five hits and striking out three.
Imperial with the win will now advance to the Southern California Regionals next week.