Sharks claim State Regional over El Cap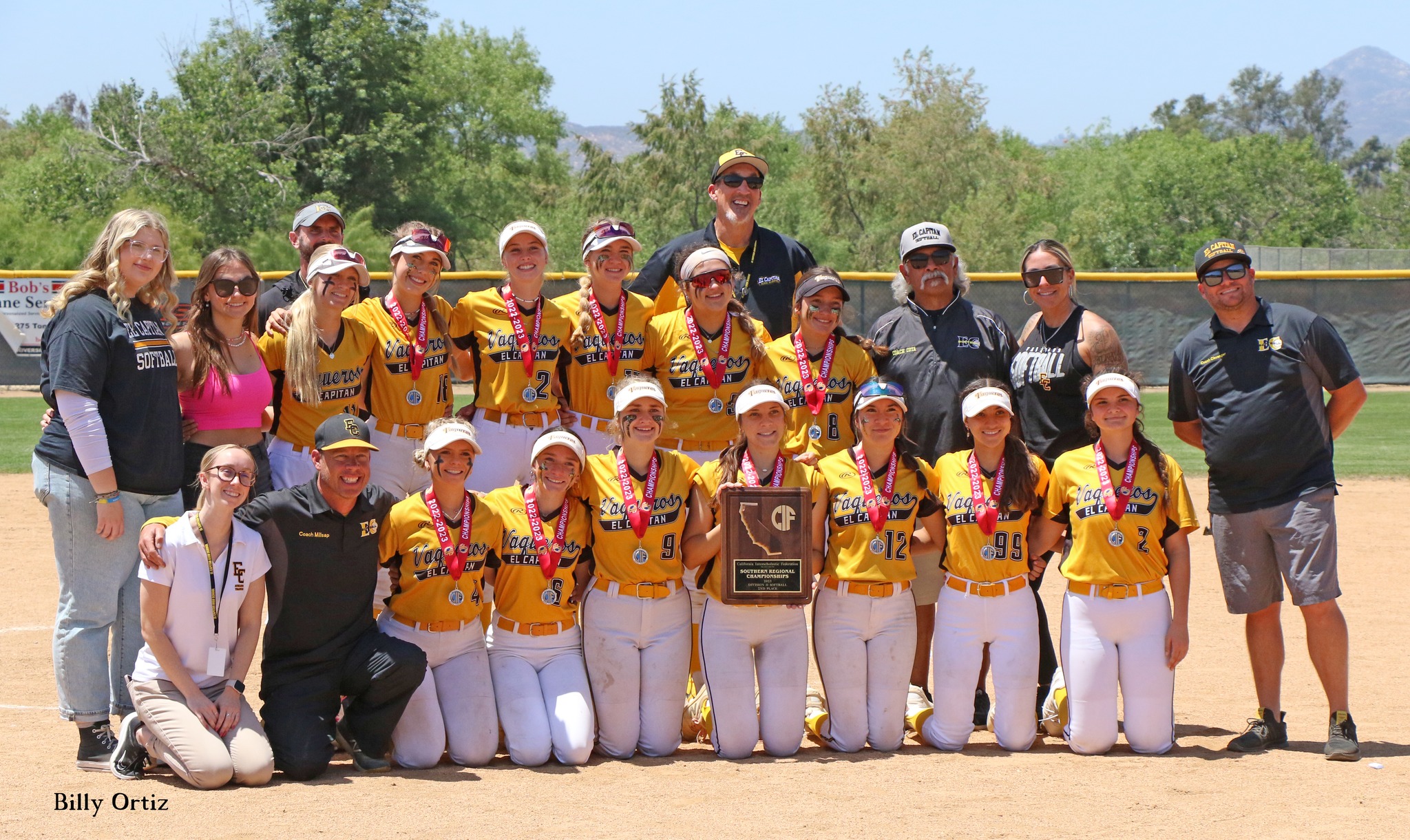 EL CAPITAN VAQUEROS STATE REGIONAL RUNNERS-UP/PHOTO COURTSY OF BILLY ORTIZ
2023 EAST COUNTY PREP SOFTBALL
By Adam Paul
CIF SoCal Softball Championships – Division II
#5 Santiago 5, #3 El Capitan 0
LAKESIDE – Senior Emily Delgado struck out four as she limited a very potent El Capitan offense to one hit on the day. Her prowess helped power the Santiago Sharks to a victory over the El Capitan Vaqueros to win the Division II State Regional championship on Saturday (June 3).
Delgado, who overpowered the Vaqueros offense, was just as dangerous at the plate as she helped her cause with an RBI double in the top of the third. She later belted a solo shot in the seventh inning as she went a perfect 4-for-4 at the plate.
Ashleigh Mejia would also blast a solo shot for the Sharks in the sixth inning.
El Capitan unfortunately couldn't get the bats going, and their lone hit on the day came in the bottom of the third with two outs when Shelby Vars singled to center field.
Makenna Burton, who drew the start for the Vaqueros and took the loss, surrendered two runs on three hits over three and a third innings while striking out two. Vars threw three and two-thirds innings, in which she gave up three runs on five hits while striking out four.
El Capitan finishes their season with a school record of wins as they finish 26-6 overall.
For more photos from the game please check out these game photos from Rob Ringen:
https://www.robrphoto.com/PROOFS/School-Teams/El-Capitan-High-School-Sports/SOFTBALL/2023-SOFTBALL/
CAREER NOTES/EL CAPITAN SOFTBALL HISTORY – Senior Ava Gall, who will move on to Stanford in the fall where she will play softball for the Cardinals, finishes up her stellar prep career as one of the best players to ever come out of El Capitan. She ends her career at the top or near the top of numerous categories of the El Capitan record book.
Gall becomes the all-time hits leader with 127, having surpassed Alexa Williams' 117-hit record. She also finishes as the season hits leader with 55.
In addition, she is now the all-time career leader in doubles with 23, surpassing the 21 by Alexa Williams.
Gall finishes second all-time in both career home runs with 14 and RBI with 82, behind Alexa Williams who hit 19 home runs and had 90 RBIs for her career.
She also captures the career batting average with a .488 that eclipses the old mark of .470 set by Alexa Williams from 2017-20. When it comes to the highest batting average for a season, she finishes second with a .529 average, behind the .568 that Alexa Williams batted in 2019.
Gall's records:
Career Hits – 1st
Hits in a season – 1st
Career Home Runs – 2nd
Career RBI – 2nd
Career Batting Average – 1st
Season Batting Average – 2nd