---
WEEK FOURTEEN – CIFSDS PLAYOFFS, Third Round


Christian 28
Hilltop 13
Zane Coffman finds
a yawning hole
for big yardage
against Hilltop.
(Tori Mills photo)
Kai's caravan headed
for D-3 championship
By Bill Dickens
© Eastcountysports.com
EL CAJON (11-30-13) — It was the KAI ARVAN show for Christian High against Hilltop in Friday's (Nov. 29) CIF San Diego Section Division 3 semifinals at Granite Hills.
The battle between the two 10-1 teams lived up to its billing as the Patriots won 28-13.
Christian put the game away by halftime, stretching its advantage to 21-13 on a 53-yard bomb from quarterback MICHAEL CARRILLO to Arvan in the final 38 seconds of the first half.
The same combination connected for a 3-yard touchdown scoring pass with 3:52 to go in the game, leaving no doubt that Christian will advance to Saturday's (Dec. 7) Division III finals against San Marcos (9-4) at 7 p.m. at San Diego Mesa College.
Christian won the Division V SDCIF championship in 2011, but the Patriots will be provided a stiffer challenge in the Knights of San Marcos, which started slowly but has come on strong.
PARIS MILLER, East County 's leading rusher, was the focal point of the Hilltop defense. The Lancers were determined not to let Miller be the deciding factor in the contest. Although Miller scored the first touchdown for Christian on a 1-yard leap over a large Hilltop line, he was limited to 61 yards on 9 carries. He came into the game averaging 131 yards per game.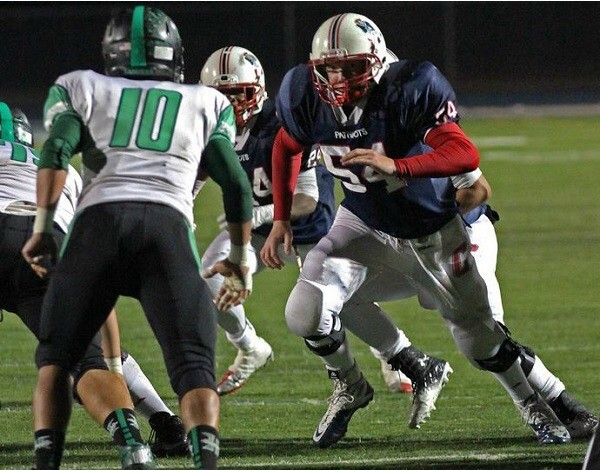 Patriots defensive end David Suda
(Photo by Don DeMars Photography)

However, Hilltop was unable to neutralize the passing combination of Carrillo and Arvan. Carrillo concluded the game with 260 yards while completing 18 of 23 passes. Arvan yanked down 8 passes for 177 yards and 3 touchdowns.

"Their corners played up so we tried to beat them deep," Arvan said. "Then later they brought a safety over and we had to make some adjustments."

And so they did.

Probably the most electrifying stat for Carrillo is he has thrown only one interception in 331 passing attempts. For the season he has completed 216 passes for 2439 yards and 31 touchdowns.

"This is like a prize fight," said Christian coach MATT OLIVER. "They punched us around a bit, and we counterpunched."

While Miller proved to be more of a decoy than a mainstay, Carrillo was jubilant about the work of Arvan.

"That's one of the best jobs of receiving I've ever seen," Carrillo said of Arvan. "We knew they were going to try to take away the run and they did a decent job of that. But that opened up our passing game."

Defensively Christian used its usual hard hitters in linebackers SEBASTIAN SWIFT and TRENT SAULS, who had 8 tackles apiece.

Freshman lineman JON STINE put his mark on the game by concluding the contest with back-to-back sacks.

The Lancers' ace running back Drake Madarang finished with 16 carries for 144 yards and one touchdown.
Humphries by the... Sì, Sì!

Christian High junior linebacker Chad Humphries (50) registers a pair of sacks,
helping the Patriots post a second-half shutout of Hilltop in the CIF semifinals.
(Photos by Tori Mills)
Faces in the Crowd

Among those attending Friday's CIF Division 4 semifinal-round game
at Valley Stadium were Dr. David Jeremiah, senior pastor at Shadow Mountain Community Church and Turning Point ministries; John Shacklett, the former Morse High coach who now does television work; and Snoopy, on the blimp.
(Photos by Tori Mills)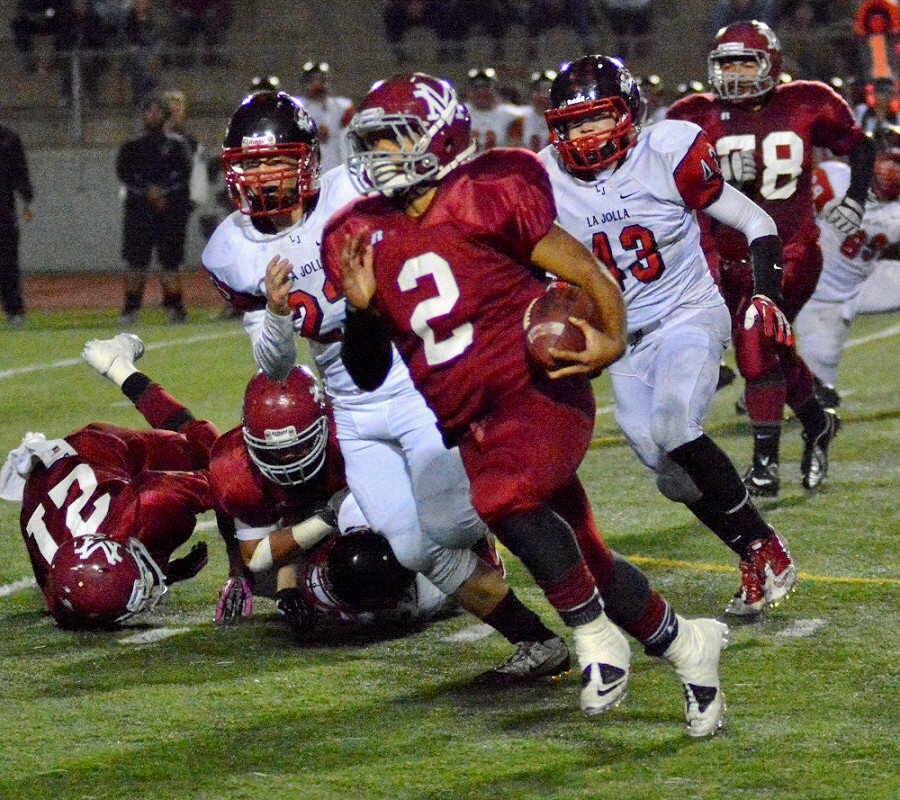 Monarchs running back Jaqui Morris.
(Photo by Ramon Scott)

Game Video (Courtesy, Monte Vista High ASB)

Second-effort Monarchs bounce La Jolla
Hamamoto's 200th career victory earns berth
in CIFSDS D-4 championship vs. Sweetwater

By Andrew Smith
© East County Sports.com
SPRING VALLEY (11-30-13) — Two years ago, when RON HAMAMOTO took the head coaching job at Monte Vista High School, he inherited a program that had a.225 winning percentage compiled over their last eight years. He had already built a reputation as a winning coach and proved it in almost every single way in every other challenge he selected throughout his career.

Big or small, rebuilding or brand new school, all he's done is win games and when you hear his message to the kids is easy to understand why.

"I believe in you guys no matter what's happened in your past," senior captain JEMEIL JACKSON recalled of his first practice under Coach Ham. "As long as you listen to me and do what I tell you to do, I promise you....we're gonna go far."

It might not sound much to the average ear, but to a program striving for a pulse and looking anywhere for some kind of leadership it meant the world.

"It was hope and that's all we really needed at Monte Vista," Jackson added. "That's what he gave us from day one."

March of the Patriots
Christian High in CIFSDS championship games
Year

Div.

Opponent

Results

1975
1976
1978
1993
1994
1995
2001
2002
2005
2006
2007
2011
2013

1A
1A
1A
IV
IV
IV
IV
IV
V
V
V
V
3

Julian
Mountain Empire
Army-Navy
Mountain Empire
La Jolla Country Day
The Bishop's
Santa Fe Christian
Horizon
Francis Parker
Francis Parker
The Bishop's
Santa Fe Christian
San Marcos

W 32-8
L 0-28
W 33-0
W 55-28
W 28-7
W 14-0
L 36-42
W 23-20
L 7-16
W 14-10
L 7-17
W 32-29
Dec. 7th
March of the Monarchs
Monte Vista in CIFSDS championship games
Year

Div.

Opponent

Results

1995
1999
2003
2013

II
II
II
4

Escondido
Oceanside
Helix
Sweetwater

W 13-12
L 0-20
W 20-3
Dec. 7th
The Monarchs played a near perfect first half against No. 4 seed La Jolla – with a trip to the Division IV championship game on the line – building a 21-0 halftime lead.

They were sucker-punched in the third quarter, but fought through the pain to advance to their first section title game in 10 years (a 20-3 win over Helix in 2003 to earn the CIF Division II championship) with a 41-24 victory earning Hamamoto a Gatorade bath and his 200th career victory in the process.

"To be the ones that got coach his milestone and finally got our school back to CIF is the best feeling in the world," said JAQUI MORRIS.

It was Morris' fourth quarter 29-yard scamper that resulted in the game-winning touchdown, but the contest was a true see-saw battle to that point.

Monte Vista dominated the first half of the game. ERIC COLLINS capped off their first drive with a 1-yard plunge. LEE WADE took their second one in from 24 yards out and quarterback THOMAS WALKER completed his first pass attempt of the night – 57 yards to JESSE RIVAS for the trifecta.

The Monarchs' defense – led by CHRISTIAN TOVES – was unstoppable for three quarters. Hayes ended with four sacks, three tackles for a loss and a pair of big hits causing incompletions. Their unit had kept the high-flying aerial attack of Vikings' QB Collin Rugg to 3-of-17 for 17 yards at intermission and had him picking himself up off the ground all night long.
Monte Vista running back Lee Wade eludes
a tackler from La Holla in a 41-24 CIF triumph,
advancing to the D4 finale vs. Sweetwater.
(Photo by Ramon Scott)

"Our defensive game plan was to get pressure on the quarterback at all costs so our secondary could make big plays," he said. "I've looked up to the seniors on this team and I really wanted to win this game for them."

After deferring the opening kickoff, La Jolla looked cooler than a polar bear's toe nails out of the locker room at half, dominating the third quarter with a fumble recovery, blocked punt and two more three-and-outs, turning the game into a stunning 24-21 Vikings' lead.

"When you play against an up-tempo offense and you're not used to that it can take a lot out of you," Hamamoto admitted afterwards. "I saw our kids were really winded in the locker room at half and they took advantage of that in the third quarter, but I was really proud of the way our guys showed some gut and came back."

Rugg completed a touchdown pass to WR Nic Skala and the two ended the night hooking up 10 times for 153 yards, but the main culprit was Eric Tims as the slippery running back scored on runs of 26 and 13 yards while racking up 90 yards in the quarter.

"I looked around and saw a lot our guys hanging their heads at that point," added Morris. "All I thought to myself was 'we are not going home right now.'"

The Vikings never made it past midfield again and Jackson would finally set the Vikings' ship asail with a pair of touchdown runs (57, 21) on back-to-back carries.

"Jaqui gave us that big spark to give us the lead back and that's all we needed to get going again," Jackson said after finishing with 17 carries for 134 yards. "I've been hampered with two bad ankles, but I just blocked out the pain and ran as hard as I could because I knew we all wanted it too much to let this one slip away."

Hamamoto is one the most soft-spoken and humble football coaches you'll ever come around, but his records and legacy speaks volumes for themselves.

"It's really not about me," he said about notching victory No. 200. "I've been fortunate enough to be around a bunch of great assistant coaches and players that it really just means I'm getting old. But to take this Monte Vista program to the Finals for the first time in a while is definitely something special."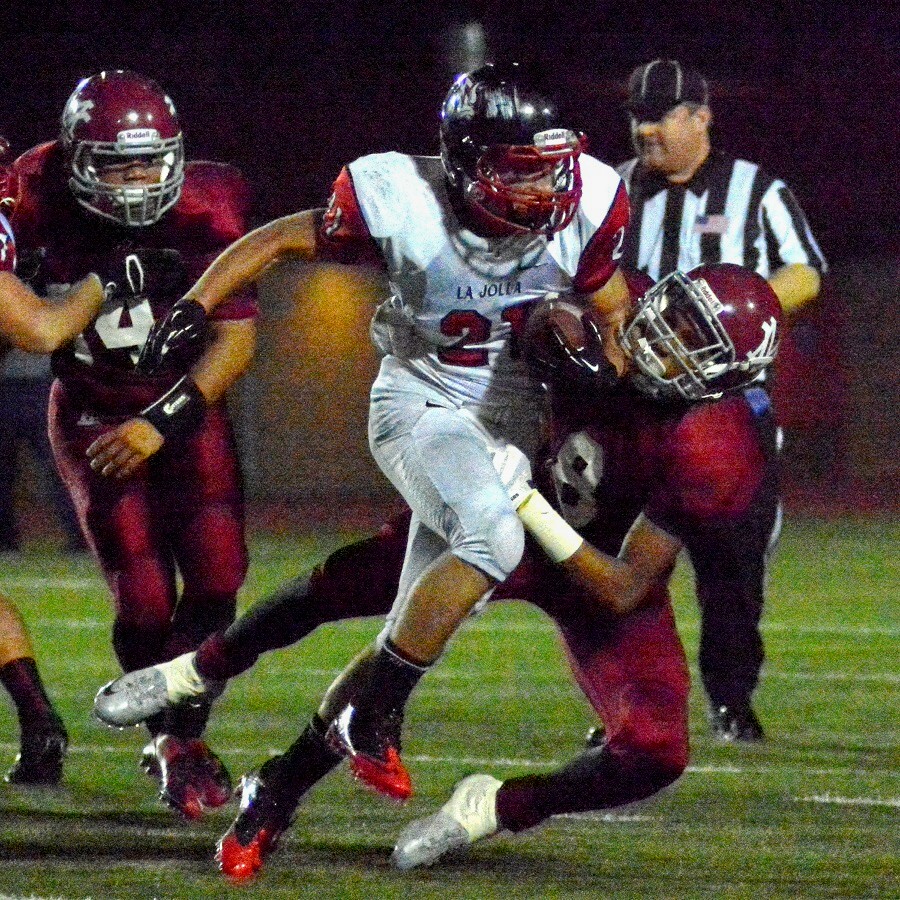 Monte Vista junior linebacker Ryan Shields wraps up a La Jolla ball carrier during Friday night's CIF playoff game. The Monarchs allowed a 21-0 lead slip away, yet
closed with 20 unanswered points in a 41-24 victory to gain a berth in the D-4 final.
(Photo by Ramon Scott)


Eagles' magical playoff run halted

By Jim Lindgren
© East County Sports.com
SAN MARCOS (11-30-13) — In the wake of two long interception returns for touchdowns, Granite Hills' wild and magical playoff ride splashed down Friday night (Nov. 29) in the Division III semifinals at San Marcos' Excalibur Field.

Trying to become the first Granite Hills team to reach a section football championship since 1979, the No. 8-seeded Eagles (7-6) were clipped by No. 5 San Marcos (9-4) in a 28-17 loss that put the hosts in the finals for the first time since 1987.

For Granite Hills, the seven wins are the most the Eagles have won in a season since 1997. The last time Granite Hills reached a CIF championship game was 1986.

"The kids battled hard," said KELLAN COBBS, Granite Hills' 27-year-old, second-year coach. "They played hard, and it's a great group of kids. They came a long way since last year."

Indeed. Last year's tally was 1-9. Since its last winning season in 2006, Granite Hills had gone 18-43.

After finishing fourth in the Grossmont Hills League, the Eagles began the playoffs with a 28-14 win over Bonita Vista in the first round. They followed that with a huge 28-16 upset of top-seeded Francis Parker in the quarterfinals.

Those two wins were the first postseason victories for Granite Hills since a 46-0 rout of Mira Mesa in the 1986 quarterfinals (not counting a 2-0 forfeit win over Mt. Carmel in 1997).

The Eagles were tied at the half 14-14 against San Marcos on Friday and had two golden opportunities to tie or take the lead in the second half but were essentially thwarted both times.

The biggest plays were turned in by San Marcos half-brothers Isiah Hennie and Terrell Burgess.

Hennie, a 5-foot-7, 147-pound senior, came into the game as the San Diego Section's leading receiver with 91 catches for 1,450 and nine TDs. Though he finished with only two grabs for 12 yards, he helped seal the win with huge defensive plays in the second half.

First, with Granite looking to close a 21-14 gap late in the third quarter, Hennie sacked Eagles quarterback CHRIS MEREDITH on a fourth-and-goal play from the 1-yard line. The Eagles had had first-and-goal from the 2-yard line, thanks to a 40-yard kickoff return by BLAKE DeHAVEN and a 23-yard reception by SETH COLLINS from Meredith.

After a three-and-out and a 2-yard punt by San Marcos, the Eagles took possession at the Knights' 19-yard line. In now at quarterback, Collins rushed for 2, 3 and 11 yards to give Granite Hills a first-and-goal from the 5-yard line.

Collins then ran again for three yards, but a procedure penalty knocked them back five yards. Collins then rushed for six yards to make it third-and-goal from the 1-yard line.

Hennie and Co. trapped Collins for a 2-yard loss on the next play, and Cobbs opted for the field-goal try, which BRYCE STRICKLAND easily converted from 20 yards to make it 21-17.

Forcing another three-and-out, Granite looked to be in business again at its own 40 with 6:10 to play, but Hennie stepped in front of the next pass from Meredith and zigzagged his way into the end zone for a 48-yard interception return touchdown that finished the scoring at 28-17.

"We knew we had to take away No. 1 (Hennie)," Cobbs said. "Defensively we did that. But the kid's a good player. He made some great plays on defense that hurt us."

His brother did, too.

With the Eagles threatening in the second quarter, on third-and-4 from the 15-yard line, Burgess picked off a Meredith pass in the end zone and raced 103 yards for a touchdown and a 14-0 lead.

Granite Hills bounced back two plays later, though, as JOSH LONGBRAKE hauled in a 64-yard TD pass from Collins to make it 14-6.

Moments later, MICHAEL LEDESMA intercepted a pass from Will Freed and returned it 46 yards to set up an easy 1-yard TD run by JESSE BISBAL to tie it 14-14 with 4:09 to play in the first half.

Averaging 241 passing yards per game, the Knights had only 13 passing yards at halftime along with two interceptions by Ledesma (his fourth of the season) and KELLEN GAIER, whose pick at the 15-yard line halted a potential Knights' scoring drive.

KEVIN MADY also had a fumble recovery on the Knights' first drive, but Cameron Cruz intercepted Granite's first pass to set up a short TD drive that made it 7-0.

San Marcos went up for good on its first possession of the second half, driving 78 yards in nine plays after Tyler Nix hauled in a 27-yard TD pass from Freed.

Granite Hills QB tandem combined for 178 yards passing with Meredith finishing 8-of-21 for 103 yards, and Collins going 2-of-3 for 75 and a TD. Longbrake hauled in four passes for 119 yards and a TD.

Bisbal, who entered with 1,045 rushing yards, was the Eagles' leading rusher with 50 yards and a TD on 12 carries, while Collins chipped in 42 yards on nine carries.

"They did a good job up front, taking our run away," Cobbs said. "Any time you go one-dimensional, it's hard to beat a good team like that."

Overall, the Eagles totaled 258 yards, while San Marcos gained 361, including 232 on the ground.

Freed had been the leading passer in the section until breaking his jaw in the fourth week of the season. His replacement, James Harwell, did well to guide the Knights through their next nine games, throwing for 1,612 yards, but Harwell was only 1-of-5 for 1 yard against the Eagles, and Freed replaced him in the second quarter in his first appearance since having his jaw wired shut shortly after that Sept. 20 game.

Former El Cajon Valley head coach and Helix offensive coordinator JASON TEXLER now faces a tough decision in which QB to start in the Knights' championship game against Christian next Saturday (Dec. 7) at 7 p.m. at Mesa College.

"We felt like (Freed) had earned a shot at playing tonight," Texler said.

Said Hennie, "My hats off to James. He made a great impact for us. A lot of people say I'm the one who got us here. No, he's the one who got us here."

Having resurrected El Cajon Valley when the Braves lost to Oceanside in the Division II title game in 2005 and now San Marcos, Texler said, "Each time I had great players and great coaches. I just try to stay out of the way. Hopefully we can win it all this time."

About going to the title game, Hennie added, "It's been a while for San Marcos. We're making a tradition here, instead of continuing one."

Granite Hills hopes to be starting a winning tradition as well.
---
FEARLESS FORECASTER – Predictions
Eagles senior quarterback Chris Meredith (4).
(File photo by Frank Price, www.youatplay.com)
CIF Scoreboard/Schedule
Wed., Nov. 27
Division 1 Semifinals
San Pasqual 28, Carlsbad 13
Cathedral Catholic 28, Ramona 0
Division 2 Semifinals
St. Augustine 56, Imperial 12
Mission Bay 56, Rancho Buena Vista 49
Fri., Nov. 29 (All at 7 p.m.)
Division 3 Semifinals
Hilltop vs. Christian, at Granite Hills
Granite Hills at San Marcos
Division 4 Semifinals
La Jolla at Monte Visra
El Centro-Central at Sweetwater
Sat., Nov. 30
Division 5 Championship
Holtville vs. Crwford, at Douglas Stadium, Mesa College
Mon., Dec. 2 (All at Qualcomm Stadium)
Division 2 Campionship
Misison Bay vs. St. Augustine, 10 a.m.
Division 1 Championship
Cathedral Catholic vs. San Pasqual, 1:30 p.m.
Open Division Championship
oceanside vs. Mission Hills, 5 p.m.
Sat., Dec. 7
Division 4 championship, at Mesa College, 3:30 p.m.
Division 3 championship, at Mesa College, 7 p.m.
San Marcos may own coaching edge
on Granite Hills with former ECV mentor

Texler led Braves to '05 title game at The 'Q'
By Bill Dickens
© East County Sports.com
EL CAJON (11-28-13) — One thing San Marcos High has in its favor is head coach JASON TEXLER has some familiarity with the Grossmont Conference. He coached two seasons at El Cajon Valley and led the Braves to Qualcomm Stadium in the San Diego CIF Division II final, where they lost to Oceanside 31-21.
Texler has also been an assistant coach at Helix and now has planted his roots as head coach at San Marcos High in North County.
Fearless Forecaster

Last Week: 5–3 (.625)
Season: 81-26 (.757)
Upstart Granite Hills (7-5) will travel to San Marcos on Friday (Nov. 29) for a SDCIF Division III semifinal game against Texler's Knights (8-4). This should be a good one as both teams have supplied their share of surprises against favored opponents.

The Eagles, who have their best record in 16 years, are hoping to qualify for their second-ever appearance in the finals if they win this game.

This has been quite a season for second year head coach and Granite Hills alum KELLAN COBBS. The Eagles shocked previously undefeated Francis Parker 28-16 in earlier CIF action. That followed a 28-14 win over Bonita Vista, which marked the first time in more than two decades that Granite Hills has won as many as two playoff games in a single season.

San Marcos has a big-time passing connection between quarterback James Harwell (1612 yds, 12 TDs) and receiver Isiah Hennie (91 catches for 1450 yds, 9 TDs).

You can forget about last week's 3-0 win over Santa Fe Christian registered by the Knights in less than ideal weather conditions. Overall San Marcos averages 30.4 ppg, compared to Granite Hills' 31.2 ppg.

Granite Hills has a host of offensive threats led by running backs JESSE BISBAL (137, 1,047 yds, 10 TDs) – the Eagles' first 1,000-yard rusher since 2008 – and versatile SETH COLLINS (97, 611, 9 TDs).

Granite Hills rotates three quarterbacks, led by CHRIS MEREDITH (101 of 185, 1,445 yds, 10 TDs). Collins and MICHAEL LEDESMA also take a few snaps every game.

The Eagles have a bevy of receivers, with the main target being JOSH LONGBRAKE (36, 700, 6 TDs).

On the defensive side Granite Hills is anchored by linebackers JAKE ENGLISH and KELLEN GAIER along with lineman KEVIN MADY and safety RILEY REYES.

These teams have never met before. The nod in this encounter goes to... San Marcos 28-24.

HILLTOP vs. CHRISTIAN at Granite Hills – An interesting contrast exists in this contest as Christian – the highest scoring team in the San Diego Section – takes on a pretty decent Hilltop defensive lineup Friday (Nov. 29) in the SDCIF Division III semifinals at Granite Hills.

The Patriots (10-1), who have scored 516 points are averaging 46.9 ppg, won the SDCIF Division V championship in 2011. Coach MATT OLIVER's team is hungry for more this year.

But the Lancers are as good as their record (10-1). The key for Hilltop would appear to be offense, but these Lancers can tackle. And right now in the rarified air of the semifinals is a position they have not held in at least a decade.

Hilltop's No. 1 weapon is running back Drake Madarang (1,217 yds, 11 TDs), but the Lancers are not a passing team as a rule.

The only black mark against Hilltop this season is its stunning 17-9 loss to Sweetwater.

Christian's PARIS MILLER is the leading rusher in East County with an average of 131 yards per game.

Not to be overlooked is Patriots' quarterback MICHAEL CARRILLO (198 of 308 for 2,179 yds and 28 TDs).

The Patriots don't come up short on the receiving end either. TREVOR HOWELL, who is also an outstanding safety, has caught 31 passes for 600 yards and 7 TDs. KAI ARVAN also figures in the mix with 30 receptions for 697 yards and 8 TDs.

Defensively Christian is loaded. Linebackers SEBASTIAN SWIFT is the leading tackler in East County with 142 stops, and versatile lineman TRENT SAULS has pitched in with 69 tackles.

These two teams have never met, so the offense may hold an advantage in a high-scoring battle... Christian 35-18.

LA JOLLA at MONTE VISTA – The host Monarchs (6-5) will have their pass defense tested to the max by Vikings junior quarterback Collin Rugg (2147 yds, 23 TDs) in Friday's (Nov. 29) Division IV SDCIF semifinals in Spring Valley.

La Jolla (5-6) has blue chip receivers in Nic Skala (608, 12 TDs and Brandon Bonham (675, 8 TDs).

Monte Vista has a hard-nosed defensive back in senior D.J. DOSIER. To be successful he needs help from the defensive line's ability to apply pressure on Rugg from linemen ISAIAH FARR and McKINDLEY WILLIAMS.

The unsung heroes in this game might be Monarch linebackers RYAN SHIELD and CHRISTIAN TOVES.

Running backs Reid Martin (982 yds, 10 TDs) and Eric Tims (615, 8 TDs) will spearhead the Vikings' running game.

The hub of the Monte Vista offense centers around versatile running backs JEMEIL JACKSON (165 carries, 1,103 yds, 12 TDs) and LEE WADE (82, 579, 5 TDs).

But the key for the Monarchs is how quarterback THOMAS WALKER performs, which of late has been impressive as Monte Vista has won six of its last eight games.

A victory would give Monte Vista second year head coach RON HAMAMOTO a coaching milestone of his 200th win.

These teams have not met for 25 years, with the Vikings holding a 2-1 edge. This is a pick'em... Monte Vista 21-20.
---