WEEK THREE

West Hills' Garrett Mead (76) in heavy pursuit of
running back Austin Petter of El Centro-Central.
(Imperial Valley Press courtesy photo)
Escape from The Valley
West Hills: final remaining unbeaten GHL ballclub

By Mark Meadows
© East County Sports.com
EL CENTRO (9-14-13) — With Helix and Grossmont high schools garnering most of the early season hype, the West Hills Wolf Pack was quietly looking to open its 2013 campaign with a third consecutive win.

The visiting Wolf Pack knocked out the Spartans with a one-two punch of safety PEANUT HERRADA and kicker DANIEL McMANUS in claiming a 27-13 non-league victory over El Centro-Central Friday night (Sept. 13) in the desert heat.

West Hills' defense and special teams would have all the say in this one as the Wolf Pack downed the previously undefeated Spartans with relative ease.

Herrada single-handedly accounted for more points than the Spartans. Herrada scored on interception returns of 71 and 60 yards – both times weaving his way down the Spartans sideline on his journey to the goal line.

West Hills would open the scoring on its second possession. Following a D.J. LEWIS interception – his 3rd of the season, the Wolf Pack managed to drive to the Spartans 8-yard line. On 4th-and-5, West Hills lined up for a McManus field goal. But the Spartans jumped off-sides to continue the drive.

One play later quarterback STEPHEN SCHINDLER (7 of 13, 49 yards) would find NOAH ORTIZ for a 3-yard score. With 5:20 left in the 1st quarter, West Hills led 7-0.

Central would tie the game 7-7 with 9:07 left in the half, in what was developing into a very competitive game. Enter Herrada. With Central driving to take the lead late in the second quarter, Herrada stepped in front of an errant Spartans pass and raced down the near sideline 71 yards to put the Pack up 14-7 with under 2 minutes to play in the half.

It would be a night of firsts for another Wolf Pack player as well. When kicker McManus lined up for an apparent 52-yard field goal attempt, few in the press box believed he actually would kick it. Not only did McManus kick it, he kicked it into the buildings at the East end of Cal Jones Field. He would have been true from 62 yards.

While West Hills led 17-7, Central was again driving in Wolf Pack territory. On 2nd-and-10 from the Pack 40-yard line, the Spartans decided to look to their right again. Bad idea... again. Herrada jumped the route and cruised 60 yards to paydirt. With 9:02 left in the game Herrada had put West Hills ahead 24-7.

"Yeah, their QB had a tendency to stare down his receiver a little", Herrada stated. "I just followed his eyes and he led me to the ball. It's why I love playing safety because I can see the whole field and make some plays."

With the game in hand, there remained one bit of drama. With under 5 minutes left, West Hills trotted McManus out for another field goal try. The distance? 52 yards. Could he duplicate his earlier feat? You bet he could. The kick was good and the Wolf Pack scoring was done.

"I've kicked one 54 yards before, but never two 50 yarders in one game," said McManus. "I'm glad my coaches have that confidence in me, and I have the chance to help our team."

Wolf Pack offensive coordinator SERGIO DIAZ compared this year's quick start with last year's 5-0 start. "Last year we knew what we had going in," Diaz said. "This year we are still finding our way, especially on offense."

While West Hills only managed 178 yards on offense, the defense and kicking game sealed this one for the Pack (3-0).
Davis' damage destroys the Dons
TDs on punt runback, fumble return,
propel Scotties in Top 10 showcase
By Andrew Smith
© East County Sports.com
LA MESA (9-14-13­) — The rumblings of naysayers spread throughout the San Diego Section this week about the fifth-ranked Helix Highlanders' chances of beating No. 4 Cathedral Catholic, a team one spot ahead of them in the polls. Still, the Scotties believed no one gave them a chance of taking down the Dons in Friday (Sept. 13) night's Top 10 showdown at Jim Arnaiz Field.
Both teams entered the game with top-notch defenses and suspect offenses, but it was the play of Helix do-it-all standout JALEN DAVIS that turned a "Freaky Friday" family film into a Friday the 13th horror for Cathedral. He cashed in big plays every way possible and the Highlanders jumped on his back for a ride that led them to a 21-16 victory.
"Not a whole of lot people gave us any kind of chance to win tonight," said Helix head coach TROY STARR. "Offensively, we're just one click away from it all coming together, but in the meantime Jalen is carrying us. His short area quickness is off the charts and you couldn't even catch him in a phone booth, he's that quick."
Davis was anything but Clark Kent on this night as he showed off his Superman strength in every facet of the game.
Sophomore quarterback MICHAEL AUSTIN got Helix on the board with a 9-yard touchdown run. The drive was setup up by the front four quartet of the Scots defensive line. JALEN WYATT, FORREST HANLON, JAYLON KUYKENDALL and WYATT TRAVIS played lights out against a much bigger Cathedral offensive line. Kuykendall forced a fumble that Jalen Wyatt jumped on for the first of four turnovers forced by Helix.
"Our D-line is a beast," Wyatt boasted. "You never know who is going to make the play, but we all have the confidence in each other that we'll make it happen. I was actually trapped on that play, but I kept pursuing and Kuyke popped it out for me."
Every scouting report boldly stated, in all-caps – DO NOT KICK THE BALL TO DAVIS – but the Dons clearly scoffed at that notion and paid for it dearly...
On his first opportunity to field a punt the senior lined up in between the hash marks and the ball was arrogantly kicked directly to him.
He fielded the ball on his own 30. Made the first defender foolishly miss, much to the delight of the home crowd. Breezing down the left sideline, 20 yards later, the Dons made their first attempt to bring him down. He instantly channeled his big-play skills, spinning away from one tackler and followed it with a mean stiff arm to spring him to paydirt.
"As soon as I saw the ball in the air coming towards me I knew I had to make a big play," said Davis, the returning all-section San Diego CIF player and leading candidate for East County Player of the Year. "We're not completely clicking on offense the way we want to be yet, so we need points any way we can get them."
Cathedral Catholic called several timeouts just before halftime in order to get the ball back with less than a minute on the clock. After a pair of completed passes they found themselves at the Helix 40-yard line with 12:5 seconds remaining on the clock in a14-14 game.
With one timeout sitting in their back pocket they called a run play to tailback Chris Moliga. It looked like a good call after he gained 9 yards, but linebacker ISAIAH YOUNG stripped the ball out of his hands and Davis scooped it up and raced 61 yards for the would be game-winning touchdown.
"I saw all my teammates ripping at the ball trying to make it come out," Davis said afterwards. "As soon as it hit the ground all I could think is'I gotta score!'"
RUEBEN LEASAU also notched a first half interception, while linebackers ISAIAH YOUNG (8 tackles) and JABRION BURNSIDE (6 tackles) each recorded a sack to add to the Highlanders prolific defensive performance.
The Dons (2-1) were able to move the ball in the second half though, no problem. They had three trips inside the red zone, they just couldn't convert those threats into points.
No doubt the Highlanders defense was the main cause, but it didn't help that the Dons accumulated six penalties on those drives, which made it even harder for them to pull out the victory.
Helix (2-1) stopped Cathedral on 4th-and-3 from the 7-yard line, 4th-and-5 from the 8, as well as the final play of the game. What started as a first-and-goal from the 8 turned into fourth-and-goal from the 25 thanks to a penalty, with Clayton Dale tripping over the center's feet during a snap exchange and a spike to kill the clock. Before a final toss to the end zone was able to be made, the Highlanders D-line ended the game on its own terms.
Leasau, Wyatt and Hanlon smothered the quarterback before he could get off a last second Hail Mary attempt and the victorious bagpipes could be heard all throughout the county as a warning to any doubters.

El Capitan's Zach Cagle (left) with the runback of an interception
against Serra. Quarterback Brad Cagle pulls the trigger on a pass.
(Photos by Ramon Scott)
Vaqueros excuse the Q's
© East County Sports.com
LAKESIDE (9-14-13) — El Capitan High may be the surprise team of East County as the Vaqueros rolled to their third straight win by smacking Serra in Friday's (Sept. 13) non-league action.
For the past two meetings, the Serra Conquistadors and El Capitan Vaqueros have seen the game end on the one yard line, with Serra coming out victorious both times. On Friday (Sept. 13) that was not the case, as the Vaqueros took care of business early in a 49-14 blowout.
"I don't know what got into our guys," El Capitan 's head coach RON BURNER said after the game. "They came out to play. We watched Serra on film and they were pretty impressive against Monte Vista and Mar Vista."
Impressive indeed. The Conquistadors had put 42 and 35 points on the board respectively in those contests. The Vaqueros defense however shut down Serra almost completely. For the game, El Cap outgained Serra by a 447 to 209 margin, and the guys from Lakeside never punted!
After Serra kicked a lengthy on-side kick on the opening kickoff of the game, the Lakesiders went on a run. A 21-point run at that. After a Serra touchdown late in the first half, El Capitan closed out the scoring on another 28-point run.
Coach Burner, during his post-game comments could not praise his running back D.J. SMITH enough.
"He is a workhorse," Burner emphasized. "He is probably one of the best players to ever suit up for El Capitan. He's our go to guy, he really is, and we've got a lot of weapons."
Smith, a junior, carried the ball 13 times for 145 yards and four touchdowns to lead the rushing attack for the Vaqueros. As a team, El Cap carried the ball 29 times for 219 yards and five touchdowns.
Smith had plenty of room to roam behind his big line of PERRY WINKLER, JOSH BROOKS, THOMAS WHALEN, JEREMYAH QUICHOCHO and PATRICK GOLDEN, as the Vaqueros front was man-for-man much larger than the Serra defensive front.
Smith wasn't the only one that Burner had positive things to say about. "(Quarterback) BRAD (CAGLE) is another junior and maturing. He's learning how to read (coverages). He now has the power to check off on stuff. Tonight he checked off five times and four of them were right on the money."
Cagle had a nice night as well, going 10-16 for 228 yards and two touchdowns. On the ground, he carried the ball for 20 yards on seven carries.
Receiving most of those passes was senior SCOTT ROOT. Root had 185 yards of total offense – 171 of those were in the air. The big catch was an 85 yard scoring strike in the fourth quarter. It was the only play needed after Serra punted to put El Capitan deep in their own territory. It was the score that made sure the clock was running for the rest of the game.
After Serra sliced the lead in half, the Vaqueros answered late before halftime, as a pass from Brad Cagle to ISAIAH CAPOOCIA was good for a 5-yard score, but the PAT failed.
El Cap's ZACH CAGLE had an interception midway through the third quarter, and his return set up a scoring drive.
DANNY IBARRA would add a 1-yard score for the final margin.
The El Capitan defense threw a shutout in the second half thanks in part to the efforts of DANIEL GOULET, SAM MELERO, JOEY LACHAPPA, CLAY CROMWELL, CHRIS PEARSON, TREVOR ZAMORA, JARRED TURNER and WYATT ALVARAZ.
Granite Hills running back Jesse Bisbal applies the straight-arm on Patrick Henry.
(Photo by Frank Price, www.youatplay.com)

ADDITIONAL HOTOS HERE
GRANITE HILLS 49, PATRICK HENRY 21 – Granite Hills won only one of 10 games a year ago, and they've already matched that victory total this season.
The Eagles took a 21-0 lead into the lockerroom to claim Friday's (Sept. 13) non-league win on the road against the winless Patriots.
Running back MICHAEL LEDESMA scored on a 3-yard touchdown run with five minutes left in the first quarter for a 7-0 Granite Hills lead. Ledesma came in motion to receive the handoff in front of quarterback CHRIS MEREDITH, then raced to the left pylon for the score. Granite Hills senior running back JESSE BISBAL keyed the drive with 10 carries on the seven-minute march, including a 15-yard run around the left side behind junior ALEX MACK's springing block to the Patriots' 46.
Bisbal led the Eagles' ground forces with 254 yards on 28 carries as Granite Hills finished with 330 yards rushing.
"I don't know the last time we had 300 yards rushing, but I'm glad we're doing it now," said Eagles coach KELLAN COBBS.
Granite Hills finished with 417 yards total offense as Meredith completed 5 of 9 passes for 87 yards and a touchdown.
But the story of this game was the running of Bisbal.
"He hits the hole hard and with one quick move, avoids most defenders," Kobbs said of Bisbal. "He doesn't go down on first contact, that's for sure."
Early in the second quarter, Meredith completed a 25-yard scoring strike to JOSH LONGBRAKE for the Eagles' second score. Meredith made a short roll to the right and lofted a jump ball with two of his receivers in the vicinity. However, Longbrake used his 6-foot frame to outjump his teammate and two Henry defenders to come down with the score.
The defense was just as impressive in pitching the first-half shutout, as KEVIN MADY had a tackle-for-loss, and teammates KELLEN GAIER, JAKE ENGLISH, JACOB BURTON, NICK MARIN and ZACH TELLO led the charge.
A bizarre play that could make the national blooper reel came late in the first half.
Meredith lofted a deep pass, which was intercepted by a Patrick Henry defensive back at his own 30. The defender saw a penalty flag hit the turf and immediately stopped his return. Quick-thinking Eagle CHRIS KOONS knocked the ball out of his hands and recovered it for a turnover, which set up a last-second touchdown before halftime.
Meredith had the 2-yard score, as the Eagles dominated the first half on the ground behind linemen GARRET GRECO, TOREY PALKOWSKI and TRENTON HANSEN.
In the third quarter, Bisbal, who rushed for 149 yards in the first half, added touchdown runs of 10 and 69 yards in the third quarter. On his long score, he ran right behind his line of blockers, but the key block came from tight end Burton, which sent the 5-foot-6 senior bruiser through the secondary and to outrun all the remaining Patriots to the left side of the end zone. Meredith added a 4-yard rushing score with three minutes left in the third quarter to put the Eagles up 42-7.
HUNTER CREED capped the Eagles' scoring late in the game with a 6-yard TD run.
Patrick Henry sputtered in the first half as they had series of 3-and-out – three times.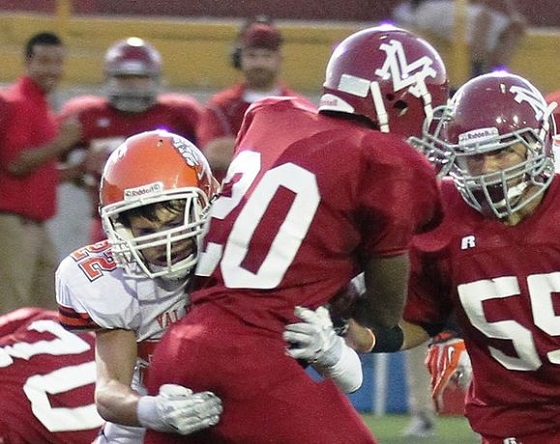 Tackles like this by J.J. Meier (22) of Valhalla allowed the Norsemen to post a second-half
shutout to rally pasr host Monte Vista, 24-14.
(Photo by Don DeMars Photography)

ADDITIONAL PHOTOS HERE
VALHALLA 24, MONTE VISTA 14 — Coming off a lopsided defeat to No. 3 ranked Madison last week, the Valhalla Norsemen were anxious to get their first win of the season Friday evening (Sept. 13) when they rode the bus to nearby Monte Vista, a team the Norsemen had defeated six straight times in recent years.
After the Monarchs returned the opening kickoff to their 18-yard line, it didn't take long for the game to get exciting. First, the amped-up Norsemen defense jumped offside on the first play. On the next play, the Monarchs ball carrier ran into a hornets' nest: LOGAN BAKER, J.J. MEIER, GIUSEPPE CASTANOS and JACOB JENSON. HARLEY HOYT knocked the ball loose and senior linebacker Jenson scooped it up and fought his way 31 yards to the end zone for the game's first touchdown. EAN HENDRICKSON's PAT was good and Valhalla quickly led 7-0, just one minute into the contest.
On its next offensive series, Valhalla moved quickly down the field, led by senior quarterback DANIEL RODRIGUEZ, who had two nifty runs that advanced the pigskin to the Monte Vista 12-yard line before the Spring Valley boys dug in, stopping the drive, but not able to stop Hendrickson from splitting the uprights with a 31-yard field goal at the 5:42 mark in the first quarter.
After Valhalla kicked off, its defense was able once again to hold the Monarchs' offense to a 3-and-out series, forcing another punt. The punt was fumbled by the returner and recovered by Monte Vista at the Valhalla 36-yard line. After BLAKE ADAMSON and JOSHUA ERECE teamed up to stuff the runner, and after Baker and NOOR SEBI stopped the ball carrier on 3rd down two yards short, Monte Vista went for it on 4th down. However, an offsides penalty against the Norsemen gifted the Monarchs with their first 1st down of the game, at the Valhalla 18. The quarter ended after the Monarchs advanced to the Norsemen 14-yard line.
A 9-yard run to the Valhalla 5-yard line gave the Monarchs a 1st–and-goal. Baker and junior defensive lineman ANTHONY HANNA flattened the runner for a loss, followed by another tackle-for-loss by Castanos, pushing the Monarchs back to the 10-yard line — and a 3rd down.
A little trickery from veteran coach RON HAMAMOTO worked. Monarchs senior fullback ERIC COLLINS took a direct snap and lumbered up the middle past a surprised Valhalla defense for a touchdown. MATT GOFIGAN's kick was perfect, and the Valhalla lead was cut to 10-7, with 10:01 remaining until intermission.
Monte Vista got another opportunity a few minutes later. Starting at their 33-yard line, senior quarterback THOMAS WALKER found a wide-open JESSE RIVAS for a 29-yard pass play to the Valhalla 38-yard line. After Baker and Jenson combined on another tackle-for-loss on second down, Monte Vista faced a 3rd –and-17 from the Norsemen 32-yard line. No problem for Monarchs senior running back CHRISTIAN GONAZALEZ, who motored around left end, put it in high gear, and sped to the end zone. Following Gofigan's PAT, the winless Monarchs took the lead 14-10 at the 5:05 mark of the second quarter — and kept that lead to halftime.
Neither offense was able to do much in the first half of the third quarter until Monte Vista's Walker broke free and sprinted 68 yards to the Valhalla 19-yard line.
Led by sophomore linebacker LOGAN BAKER (20 tackles, 10 tackles-for-loss, 1 interception for a 31-yard return), Valhalla 's defense went back to work and shut down the Monarchs. A 32-yard field goal attempt bounced off the uprights and back onto the field, keeping it a 14-10 game midway through the 3rd quarter.
The status quo didn't last. Taking over at its 20-yard line, on the next play Valhalla 's Rodriguez heaved a bomb deep to senior wide receiver JOHN TODD, who wrestled the ball away from the defender and headed toward the end zone. As he was being tackled at the Monte Vista 20-yard line, Todd lateraled to junior wide receiver JOSEPH THOMAS, who cruised the remaining 20 yards into the end zone, finishing off an 80-yard touchdown pass.
This scorebook anomaly goes like this: Rodriguez was credited with an 80-yard touchdown pass; Todd earned a 60-yard reception, and Thomas garnered both a touchdown and 20 passing yards gained—without a reception! Following Hendrickson's PAT (3-3), the visiting Norsemen recaptured the lead 17-14, with 5:20 left in the third period.
Halfway through the last quarter, Monte Vista was on the move once again when disaster struck. Baker picked off an errant pass at the Monarchs' 44-yard line and jetted 31 yards to the Monte Vista 13. Four plays later freshman running back ELIJAH BELL scored his first high school touchdown when he barreled into the end zone from the 1-yard line, enabling Valhalla to win its first game of the young season, 24-14.
For Valhalla, Rodriguez was 8-19-0 for 168 yards and 1 TD, and Todd led all receivers with 5 catches for 137 yards.
Grossmont's Christian Beooks (2, left) makes the receptions.
A Ramona running back carries a pair of defenders for a nice
gain, leading the Bulldogs ground game in a 52-22 triumph.
(Photos by Linda Byerline)
RAMONA 52, GROSSMONT 22 – Justifiably dejected after the worst loss of his Grossmont coaching stint, TOM KARLO sat alone on a stoop beyond the east end zone of the Foothillers' stadium trying to figure out all that went wrong for his previously undefeated 'Hillers on Friday night (Sept. 13).

Executing a game plan to near perfection, visiting Ramona manhandled No. 6-ranked Grossmont, 52-22, rolling up 503 total yards and taking the 'Hillers out of their customary go-go style throughout most of the non-league tilt.

"When you reflect on this as a coach, you don't pick on any one thing or any one play," Karlo said. "There were too many things that went wrong. We did a hundred things wrong.

"We need to put this one behind us."

Ramona (3-0) got its half-a-thousand yards on 81 plays, while Grossmont (2-1) ran only 51 plays and gained 319 yards. That's normally the opposite affect Grossmont applies to its opponents with its no-huddle, hurry-up offense that has decimated and dehydrated defenses in Karlo's first two seasons at the helm.

"When you run the system like we do and have an off night, it falls apart quickly," Karlo said. "I don't care about the final score; we're never going to lose 10-6 with the way we play. We just made so many mistakes. That hurts."

Ramona, which lost to Lincoln in the San Diego Section Division III championship game last year, scored on its first four possessions to take a 25-0 lead merely 15 minutes into the game.

Meanwhile, Grossmont had run just 10 plays and had only one first down. The Foothillers went 3-and-out with two false-start penalties on their first possession. They fumbled away their second possession at their 31-yard line. Then they went backwards on a fourth-and-1 call from the 29-yard line on their next series.

Moments later, Ramona running back Nathan Cherek rushed for 19 yards and then 9 yards into the end zone, and it was 25-0 with 8:53 left in the second quarter.

"We just shot ourselves in the foot," Karlo said. "Probably the worst game we've played since I've been here.

"It all starts with coaching. We didn't do much of anything well."

Cherek, who had 1,370 rushing yards last year for Ramona, ran roughshod over Grossmont all night, gaining 277 yards on 26 carries and scoring on runs of 82 and 9 yards. Backup tailback Brandon Gansch added 70 yards on 21 carries, including TD runs of 3, 14 and 10 yards.

Ramona finished with 383 rushing yards, and Marco Corbian completed 9-of-16 passing attempts for 120 yards, including a 15-yard scoring pass to Garrett Binkley.

Grossmont's ANTHONY LAWRENCE completed 20-of-37 passes for 260 yards and three touchdowns, but he also was intercepted twice. The Foothillers also lost two fumbles and were stopped twice on fourth-down conversion attempts.

Ramona established its dominance early. On its first possession, Gansch capped a 12-play, 76-yard drive with a 3-yard scoring run. Corbian then tossed 15 yards to Binkley to make it 15-0. Early in the second quarter, after a Grossmont fumble, Tyler Vargas was dead-center on a 30-yard field-goal attempt for an 18-0 lead. After a stop on fourth down, Ramona needed only two plays to make it 25-0.

"I think we came out and just didn't have that normal fire," Karlo said. "When you're not on you're A-game, it hurts."

Grossmont finally got on the board as Lawrence connected with J.T. BARNES on a 13-yard scoring pass with 7:25 left in the first half.

Threatening again, Lawrence was picked off by Ramona's Christian Dominquez in the end zone. One play later, Cherek raced around right end and scooted up the sideline for an 82-yard touchdown run to make it 32-7 with 1:18 to play before halftime.

However briefly, Grossmont made things interesting again with a late tally to make it 32-14 at the half. On the first play of that drive, Lawrence hit EDDIE HOPPE for a 47-yard gain and a face-mask penalty tacked on another 15 yards. Four plays later, Lawrence again found Barnes in the end zone for a 3-yard score.

At intermission, Ramona had run 42 plays and gained 336 yards, while Grossmont had 24 plays for 206 yards.

On their first possession of the second half, Grossmont again failed to convert on a fourth-down call, and the Bulldogs scored three plays later for a 39-14 lead. Another Grossmont fumble, this one recovered by Dallas Domnitz, led to another Gansch TD run to make it 46-14.

Lawrence's third TD pass – a 29-yarder to HUNTER REINER – softened the blow to 46-22, but the fourth quarter belonged to the Bulldogs.

Grossmont snapped only once in the final frame, and it resulted in A.J. Shaw intercepting Lawrence at the 10-yard line. The Bulldogs then reeled off 19 plays and capped their 90-yard scoring drive with a 1-yard dive by backup Justin Villagrana with 22 seconds left to play.

Lost in the blowout was a fine performance by Grossmont's CHRISTIAN BROOKS, who caught 10 passes for 110 yards. Barnes had three catches for 20 yards.

On defense, ANTHONY ALTON and KALVIN WATERS posted timely sacks for Grossmont, and B.J. GONZALES prevented a potential touchdown with a nice batted-down pass.

— Jim Lindgren

CHRISTIAN 66, EL CAJON VALLEY 3 – MICHAEL CARRILLO threw for four touchdowns in the first quarter, as the Patriots led 35-0 after one quarter.

TRENTON SAULS actually opened the scoring with a 73-yard run off right tackle, as PAUL LIEMGRUBER just pulled out and sealed the hole for the powerful back, who quickly got out to the right sideline and raced for the touchdown. It was Sauls' only carry of the game.

Carrillo had scoring passes to ZANE COFFMAN (44 yards), TREVOR HOWELL (47 yards), KAI ARVAN (15 yards) and SEBASTIAN SWIFT (31 yards) in the first 12 minutes. Coffman added a 5-yard TD run in the second quarter.

Carrillo finished 9-of-12 for 185 yards. Sophomore DAVID TODD JEREMIAH saw his first action under center, completing 2-for-3 passes for 16 yards.

Later in the second, Howell stepped in front of an errant pass and returned it 57 yards untouched down the left sideline for a 52-0 lead. It was one of two interceptions Howell grabbed. He also had two pass receptions, one for a touchdown.

"I like offense the best but I'm not afraid to play defense," said Howell. "I like running routes."

El Cajon Valley got a strong 39-yard field goal from MARTIN PATTI on the final play of the first half to allow the Braves to be the first team to score against Christian in three games (10 quarters). Patti came up just short on a 49-yarder late in the game against the Patriots, who are averaging 50 points per game.

In the third quarter, Christian's MICHAEL TOBIASON took an inside handoff for an end around and an 11-yard score, as the Patriot bigs of DAVID SUDA, LAITHE ISENMANN and CHAD HUMPHRIES had their way up front.

"This is probably the best team I've ever had," said Patriots head coach MATT OLIVER.

Offensive coordinator DAVID BEEZER agreed.


Freshman back JOEY MARONES had Christian's final score – a 5-yard run. Sophomore JACOB SANDUSKY caught two passes for 23 yards.

Friendly Neighbors
Madison's Kevin Moore (top) with the interception.
Following the runback, Moore gets clobbered
out-of-bounds on a late hit, starting the brawl.
(Photos by Tori Mills)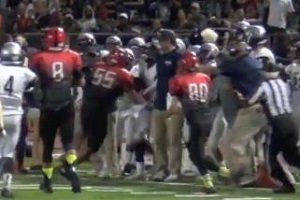 Mount Miguel's Miracle Tausaga (55) delivers
the late hit which ignited the game-ending fight.
(Photo and video by Ruben Mesa, from YouTube)
CLICK PHOTO FOR VIDEO

MADISON 20, MOUNT MIGUEL 7 – One would wonder how this playoff rematch would end, but even the Fearless Forecaster wouldn't have seen this in his crystal ball.

The first quarter of this Friday night (Sept. 13) contest in Spring Valley was a defensive battle on both fronts.

After a hard fought battle on the ground attack, Madison led 7-0 at intermission on a 7-yard scamper from Madison running back Kevin Moore. This contest looked to be another one with playoff implications although the season is very young.

Mount Miguel came out of the locker-room ready to showcase why they were the well-deserved 4-time Grossmont Valley League champs. The Matadors drove down the field only to stall as Madison defender Kameron Santos picked off a BRAD MORENO pass in the end zone. Capitalizing on the Matador gift, the Warhawks swiftly scored two plays later on an 83-yard score by speedster Moore, his second on the night, improving the Madison score to14-0.

The host Matadors sideline erupted with disbelief as the Warhawks were trying to pull away in this contest. The positive reinforcement paid off in dividends as the Matadors punched one in for 6 on a 1-yard burst from running back BEN LOMIBAO behind the surge blocking of MIRACLE TAUSAGA, KURESSA LAULU and JAMES SAVE. Lomibao finished the night with 72 yards on the ground on 12 carries.

The only other highlight for the Matadors would come on a pick from defensive back DAVAUGHN MURRAY and an impressive 30-yard return.

Bottom line was the Matadors struggled on offense like never before, but were playing against a very tough defensive unit. Madison would score one last time early in the fourth quarter, and had the PAT blocked, leaving Madison on top 20-7.

Mount Miguel would get the ball back and on the third play of the drive Madison defensive back Vincent Parrish intercepted a Moreno pass. This was to be the beginning of the end.

Yellow hankies flew as a Mount Miguel player hit Parrish late out of bounds. A little shoving on the Madison sideline took place, and before you could blink, a herd of Matadors cleared the bench and streamed across to the Madison sideline. A skirmish erupted, fans from both sides screaming and booing at each other, as in no time, law enforcement arrived. This was precautionary for all involved.

By Grossmont Conference rules, whoever clears their bench forfeits the game, therefore Mount Miguel (2-1) was tagged with a forfeit loss.

"There has always been a rivalry between us, but things just got out of control," stated a disappointed Matadors coach SHAUN McDADE. "I don't know what happened to escalate things."

The entire Madison sideline and supporters were escorted out of the stadium, as the Mount Miguel fans and team were left to wait to avoid any further confrontations, according to authorities onsite.

— Dave Dickens

VISTA 8, STEELE CANYON 6 – The visiting Cougars of Steele Canyon came within inches of knocking off host Vista in the final three minutes of Friday's (Sept. 13) non-league encounter in North County.

An interception and return by RYAN LARCEVAL put the Cougars in the red zone with less than three minutes to play. Trailing by 2 points the Cougars' drive stalled at the 2-yard line.

"We talked about it, but that should have been a chip shot," said Cougars coach SCOTT LONGERBONE. "So we went for it, but somehow the snap was off the mark and we missed the kick."

That added up to a loss for the Cougars (1-2).

All the scoring in this one would come in the first quarter, as two strong defenses battled the rest of the night.

The Cougars had a shot at excellent field position early, but a punt at midfield was muffed and the Panthers recovered just inside their own territory.

Vista's big-play offensive combo of David Lemon Rodriguez and Nate Johnson would hook up on a 51-yard touchdown pass after the miscue, as Johnson caught an underthrown ball between three lost Cougar defenders. The Panthers would go for two and convert, which would be key in the final result.

Steele Canyon had a nifty answer when they got down to the red zone. From the Vista 9, Cougar junior quarterback JORDAN JOHNSON took a high snap, tucked the ball and started to run, then shot-put a backwards lateral to MARKELL LINDLEY. The senior started to the left, then cutback against the overpursuit and smashed into a couple of defenders to get across the goal line.

In the fourth quarter, Johnson ran from punt formation fourth down at the Vista 40, but he was stopped short by the Blackshirts for just a 2-yard gain.

"Our defense was solid the whole night against a legit opponent," Longerbone said.

The coach pointed out middle linebackers SEAN McCARTHY and WILLIE FAIR and nose tackle MARVIN CALDWELL, who anchored the Steele Canyon defense all night.

SAN YSIDRO 48, FOOTHILLS CHRISTIAN 13 – Facing a school with more than seven times the enrollment, the Knights took a hit in the first half, yet made a nice showing in the second half to prepare for next week's Citrus League opener after falling to the Cougars at Seau Field.

Early on, San Ysidro out-muscled Foothills in bounding to a 32-0 cushion by the half. But the hosts believed the contest should have been closer.

"We made some mistakes and dropped four passes which were sure touchdowns and we threw an interception in the end zone to prevent another score," noted Knights coach THOM LUBIC. "But they did have a hard time stopping us, however, we came out of the game without any major injuries, so we should be in good shape for next week's league opener."

Quarterback CALEB HOFFMAN completed 13 passes for 145 yards, including a third-quarter scoring strike to TAYLOR BANKHEAD, while senior DANNY ZASTOUPIL added a 1-yard scoring run.

Hoffman has noticed the improved play for a squad which exited August with just a dozen players.

"We made the most of this opportunity and it was a good learning experience for us," said Hoffman, a senior playing his first season of football. "We ran the ball in the first half, but got shut down, but we started passing a lot more and had some success. We can win next week if we play physical."

On defense, CAMERON DESMONAIS blocked and recovered a San Ysidro punt, while finishing in a tie for third place on the team in tackles behind leaders ZAKARA DAVIS and RILEY HART.

DANIEL HOFFMAN paced the offense with five receptions for 65 yards. Defensively, MATTHEW KULCZYK forced a fumble for the Knights, which was recovered by freshman Daniel Hoffman.

WYATT BASSON made four catches for 36 yards, then returned four kickoffs for 108 yards (a solid average of 27.0).

"I'm proud that we never gave up and played tough the entire game against a team from a higher division," added the coach. "We won't see anybody this big, this fast or this physical from here on out in league."

"We have the ability to run, to throw, and another dimension in Caleb, who had his own game. We hope to tire out teams in our league by having them chase Caleb all night," added Lubic.

— Nick Pellegrino

CASTLE PARK 28, SANTANA 7 – The Trojans got an opening drive touchdown pass of 20 yards from Eric King to Adrian Tolbert in the back left corner of the end zone despite blanket coverage by Sultan junior FRANCISCO ESPINOZA.

The Santana defense did a nice job keeping the Trojans off the scoreboard the rest of the way in the first half, thanks in part to the efforts of MARK JAGER, MATT HOMAN, PETER FRANCHAK and OWEN BROWN.

The Sultans' defense continued its strong play through the third quarter, still keeping Castle Park's offense out of the end zone, but the Trojans did get a 6-yard punt return from Malik Steen to make it 14-0.

Santana got on the board in the fourth quarter and energized its home crown by making it a one-score game when quarterback FRANKIE GUTIERREZ hit ZACH LEWIS for a 12-yard screen pass to the right side. Gutierrez picked up a low snap and hit Lewis at the 10, where he easily outran one defender.

Castle Park's Fernando Vera scored on a 53-yard touchdown run up the gut, however, on the next drive to counter the score, while King had another touchdown pass later in the fourth for the final margin.
---
Junior Varsity

Freshmen

WEEK THREE
Valhalla 40, Monte Vista 6
El Capitan 6. Serra 3
Christian 56, ECVHS 0
West Hills 41, EC-Central 7
Ramona 8, Grossmont 6
Cathedral Catholic 13, Helix 6
Patrick Henry 41, Granite Hills 0
Vista 14, Steele Canyon 0
WEEK TWO
West Hills 41, Monte Vista 0
El Capitan 26, Mater Dei Catholic 0
Madison 23, Valhalla 21
Escondido 21, Grossmont12
Christian 42, Santana 0
St. Augustine 28, Steele Canyon 7
WEEK ONE
El Capitan 44, Earl Marriott (Albt). 0
Steele Canyon 34, Chula Vista 7
Valhalla 39, Mira Mesa 0
Christian 55, SLO-Mission Prep 6
West Hills 43, Santana 0
Patrick Henry 49, Grossmont 33
Eastlake 21, Helix 0
El Camino 39, Granite Hills 0
Only scores reported
WEEK THREE
Granite Hills 17, Patrick Henry 12
Santana 45, Castle Park 0
Ramona 17, Grossmont 14
Serra 21, El Capitan 20
Valhalla 42, Monte Vista 18
Steele Canyon 20, Rancho Buena Vista 14
WEEK TWO
Grossmont 27, Escondido 12
Santana 34, Clairemont 0
Monte Vista 38, West Hills 6
Madison 35, Valhalla 3
St. Augustine 16, Steele Canyon 6
Helix 35, Bonita Vista 6
WEEK ONE
Helix 16, Eastlake 0
Grossmont 31, Patrick Henry 7
Santana 32, West Hills 0
Valhalla 14, Mira Mesa 6
Steele Canyon 26, Chula Vista 13
El Camino 18, Granite Hills 13
Monte Vista 18, Serra 13
Only scores reported.

EMAIL YOUR SCORES HERE
---